2011 News
Seven Inducted into German National Honor Society
Monday, November 14, 2011
Seven Augustana College students were inducted into the Eta Delta chapter of Delta Phi Alpha, the National German Honor Society, on November 14. Dr. Stephan Lhotzky, the Eta Delta's chapter advisor, and his wife Dr. Monica Lhotzky hosted a German dinner for current, alumni and new members. Guests included Dr. Arlen Viste, honorary member of Delta Phi Alpha and Augustana Professor Emeritus. Delta Phi Alpha aims to promote the study of the German language, literature and civilization and endeavors to emphasize those aspects of German life and culture which are of universal value and which contribute to man's eternal search for peace and truth." Augie's Eta Delta chapter was installed in 1968. The new inductees are: Brooke DeJong, Jordan Erkens, Kristen Meidinger, Rebecca Pruitt, Jami Reller, Valerie Scott, and Zachari Wilson.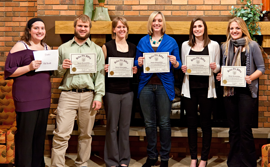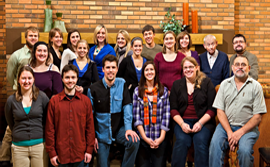 French Club Celebrates National French Week
Tuesday, November 8-Monday, November 14, 2011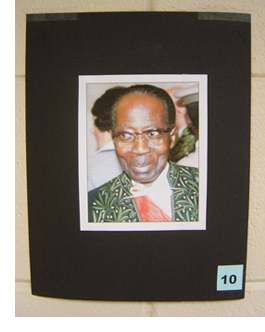 Le Cercle Français (French Club) at Augie is pleased to announce a series of events to help celebrate National French Week, November 8-14, organized by the American Association of Teachers of French (AATF). You're invited to help us celebrate the many contributions of the Francophone world by participating in any of our FREE events:
Tues Nov. 8-Mon. Nov. 14: visit the 3rd floor of the Humanities building and view our gallery of 54 famous French-speaking writers, scientists, architects, artists, actors, musicians, politicians and others; how many can you identify?
Thur. Nov. 10: join some of our international students who are also native French-speakers, along with French majors for our Thursday French conversation table, 10:00-10:40 A.M., HUM 325 (language lab); free coffee is provided.
Sat. Nov. 12: take a break and check out a classic and hilarious French comedy, Trois hommes et un couffin (Three Men and a Baby). Rated PG-13. In French with English subtitles. 6:00 P.M., HUM 325 (language lab). Free popcorn provided; bring your own soda.
Tue. Nov. 15: join students in MDFL 397: French Cinema to screen the award-winning drama Au Revoir les enfants (Goodbye My Children). Rated PG. In French with English subtitles. 10:40 A.M.-12:20 P.M., HUM 325 (language lab). Coffee and treats provided.
Spanish Films Announced for Celebration of Cultures Series
Monday, September 14, 2011
The Spanish films in this year's Celebration of Cultures series will offer a little something for everyone this semester: politics, drama, some supernatural thrills, and even a few laughs on the way. In keeping with the campus theme of hunger and poverty, many of the films will highlight the struggles and grim realities faced by human beings living in desperate situations, and our journey will take us to all corners of the hispanic world: the sometimes-controversial Oliver Stone will guide us throughout South America to hear the voices of a number of Latin American leaders in his documentary South of the Border (US); the gripping performance of Javier Bardem seeks a compassionate audience to comprehend harsh decisions made in an unforgiving environment in Iñárritu's Biutiful (Mexico-Spain); in the heartening Brazilian film The Middle of the World we follow the based-on-a-true-story of a man who takes his impoverished family on a 2,000-mile trek by bicycle across Brazil in search of employment. Free admission, open to the public, all films will be presented with English subtitles. You'll be glad you joined us!
Wed., Sept 28 (HUM 321) South of the Border 6:30-8:30 P.M. (Introduction by Cory Conover
Thurs., Oct 20 (HUM 323) Biutiful 6:30-8:30 P.M.
Mon., Nov 14 (HUM 321) The Middle of the World 6:30-8:30 P.M.
Sun., Dec 4, to be announced
Photographer's Work Documents German Students' Trip to Germany
Friday, July 14, 2011
| | |
| --- | --- |
| Photographer Dan Mueller has published a large collection of photos on his website that recount the 2011 spring break course to Germany, led by Professor of German Dr. Stephan Lhotzky. Photos include a meeting of the Augie group with the Bürgermeister (Mayor) of Potsdam, touring the Sanssouci Palace, meeting and playing soccer with students at the Humboldt Gymnasium (high school), and visits to Berlin and Wittenberg. To view all of the galleries of Dan's photos, visit: Reise nach Deutschland. | |
Seven Awarded Department Honors
Thursday, May 12, 2011
Seven senior language majors were awarded Department Honors by MDFL in a ceremony on May 12. Recipients were recognized for having achieved a minimum 3.7 G.P.A. in French, German or Spanish, a minimum 3.4 overall G.P.A., and a designated "distinction" for outstanding research on and quality of their Senior Projects. The 2011 recipients are (pictured left-to-right):

Danielle Doran—French
Jorgen Lervick—French
Natalie Ronning—Spanish
Kristyne Walth—German
Heidi Rittenhouse—German
Hannah Drewes—Spanish
Kristyne Yares—Spanish
German National Honor Society Welcomes Twelve New Members
Saturday, May 7, 2011
The Augustana College chapter of Delta Phi Alpha held a dinner at the Fellows' Presidential Residence on Saturday, May 7. Twelve new members were welcomed this spring: Jacob Gaarder Bury, Mikal Ray Dickey, Katherine Marie Foiles, Sarah Anne Harvieux, Jessica Haugo, Marissa Erin Knaak, Evan James Livermore, Dan Mueller, Tin Yan Ng, Hannah Elizabeth Rogers, Kristyne Katelyn Walth, and Ho Yip.
Other Delta Phi Alpha members who attended the event were Alexander Buffie, Kylie Dummer, Alex George, Heidi Rittenhouse, Nick Seliski, and Dr. Arlen Viste, honorary member of Delta Phi Alpha.
The dinner was preceded by two senior project presentations: Heidi Rittenhouse presented "Hitlers Obersalzberg" and Tin Yan Ng presented "Goethes 'Erlkönig': Die Vertonung."
Eta Delta, the Augustana chapter of Delta Phi Alpha, honors its members and their successful study of German language, culture, and civilization with a dinner event every semester. The advisor of Eta Delta is Dr. Stephan Lhotzky, Professor of German.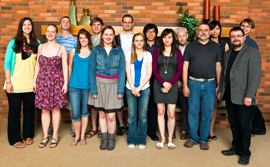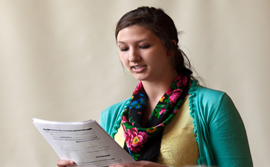 Nine Inducted into French National Honor Society
Thursday, May 4, 2011
Nine students of French were inducted into Augustana College's Mu Alpha Chapter of Pi Delta Phi, the French National Honor Society, at the spring induction ceremony. Krystal Anderson, Amanda Buhl, Stephanie Laska, Allyson Poston, Katrin Profilet, Meredith Reynolds, Daniel Schoen, Kelly Silvers and Chelsey Viger were recognized for their excellence and achievement in the French language, and Francophone cultures and literatures. Current members of the Society also attended. The program included two research presentations by seniors Stephanie Laska and Jorgen Lervick. A banquet at Grill26 to honor the new members and graduating senior French majors was held later in the evening. Mu Alpha's Faculty Advisor is Dr. Scott Fish.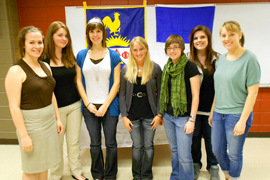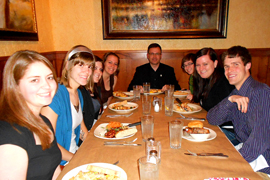 French Alumna Speaks About Leadership Institute for Women in Rwanda
Thursday, April 7, 2011
Monique Schmidt, a 1998 Augie Aluma (French & Communications), spoke to foreign language students about her current position and work as Program Director for the Akilah Institute for Women in Kigali, Rwanda. Schmidt, who is and invited speaker to Augie's Thought Leader Forum, spent her junior year while a student at Augie studying at the Université de Grenoble in France, and then worked for the American Institute of Foreign Studies in Paris before serving two years in the Peace Corps in Bénin, West Africa.
Following her work in the Peace Corps, Schmidt completed an M.F.A. in Creative Writing at Syracuse University where she also received a fellowship. She has taught at universities in the U.S. and abroad and has also spent several years volunteering as a poetry professor in prisons and directing community service programs in the West Indies and the Blackfeet Indian Reservation for Visions Service Adventures. Her first book, Last Moon Dancing, recounts her experiences while in Africa.
Schmidt received the 2007-2008 Horizon Award for outstanding Alum, and was awarded a Fulbright fellowship to teach at the University of Lomé, in Togo, where she also provided women's empowerment workshops at high schools. In her current position at the Akilah Institute in Rwanda, Schmidt oversees staff and daily operations at the school which grants scholarships for the young women, most of whom are orphans of the 1994 genocide.
Students Travel to Germany
Thursday, March 17-Saturday, March 26, 2011
| | |
| --- | --- |
| Several students of German are traveling in Germany during spring break while participating in a study course, The German Democratic Republic, led by Dr. Stephan Lhotzky, Professor of German. The students participants are maintaining a course blog that everyone is invited to follow. | |
French Major Receives National Scholarship
Monday, February 7, 2011
| | |
| --- | --- |
| Danielle (Dani) Doran, a senior French, English and Government major, has been awarded one of three national scholarships for summer study in France by Pi Delta Phi, the National French Honor Society. The award provides for eight weeks of summer study at the American University in Paris and includes a travel stipend of $1500.00. Dani is a member of Augie's Mu Alpha chapter of Pi Delta Phi, established in 1997. | |