2012-13 Art News
Sarah Schoepf Receives Harold Spitznagel Medal for Achievement in Art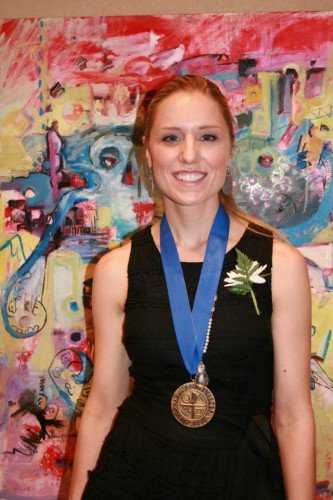 Friday, May 3, 2013
Senior art major Sarah Schoepf (Tea, S.D.) has been awarded the prestigious Harold Spitznagel Medal for Achievement in Art, the highest award presented by the Augustana College Department of Art to student-artists who demonstrate the highest standards of excellence in all their artistic endeavors throughout their Augustana careers. The award, which was presented during the opening reception for the 2013 Senior Art Show in the Eide/Dalrymple Gallery, is only bestowed occasionally and has been given only twice since 2007.
Augustana Senior Show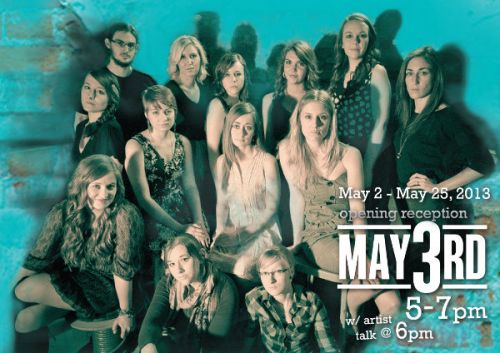 Wednesday, May 1, 2013
Graduating art students at Augustana College presented their senior show at the Eide/Dalrymple Gallery. The exhibit included a wide variety of mediums including: ceramics, sculptures, printmaking, paintings, drawings, digital photography and graphic design.
The 13 graduating artists are: Kelsey Hansen (Willmar, Minn.), Megan Johnson (Tea, S.D.), Sabrina Johnson (Bellevue, Neb.), Ana Knyazeva (Golden Valley, Minn.), Sean Lares (Lakeville, Minn.), Maxine Melber (Parker, S.D.), Annie Nance (Sioux Falls, S.D.), Laura Nerness (Windom, Minn.), Stephanie Ohden (Raymond, Minn.), Mariya Pabst (Sioux Falls, S.D.), Sarah Schoepf (Tea, S.D.), Mandy Seeley (Sheldon, Iowa), and Tessa VanRavenswaay (Sioux Center, Iowa).
Scott Parsons Dedicates Artwork at the Minneapolis-St. Paul Airport
Wednesday, October 10, 2012
Starwheel: Maps, Metaphors and Cairns for the Journey is a 16-color epoxy terrazzo mosaic floor design for the north end of the Humphrey Terminal (Terminal 2) at the Minneapolis-Saint Paul International Airport.