The 30 Day Challenge
We know that getting connected, creating relationships, and engaging in the Augie community is the best way for you to find success socially and academically.  We also know that it's much easier to do that if you are physically on campus.  The 30 Day Challenge is just that --a challenge to you to stay on campus for the first 30 days of the year.  The Challenge provides a wide variety of events and programs aimed at connecting you with the resources you need to be successful, while also having a ton of fun!      
For more information regarding 30 Day Challenge events, visit augie.edu/calendar or check out Viking Central!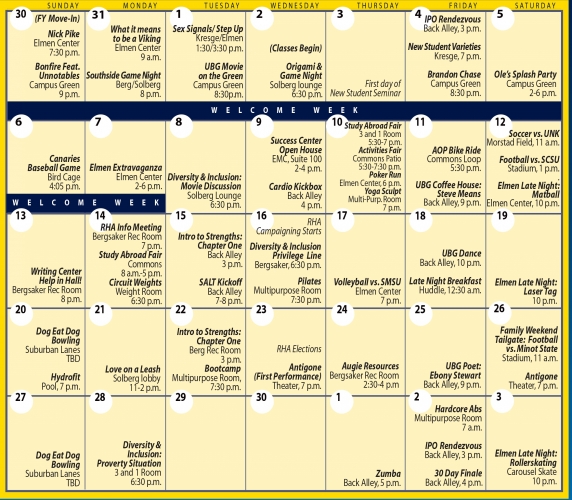 Group Component
The 30 Day Challenge is also a competition between New Student Seminar (NSS)/Welcome Week groups; throughout the month, there will be identified events at which you can check in at our table and get credit for attending. At the end, the top three groups with the highest attendance will get a prize of a group outing somewhere in Sioux Falls. We challenge each group to dive into this experience together!
Individual Component
 Periodically throughout The Challenge, we will hold drawings and give out prizes to those who have attended these events. Be on the look-out for special surprises throughout the month! (Past prizes have included gift cards, Augie apparel, and more.) Attached on your 30 Day brochure that you receive upon arriving to campus, there is a "First-Year Student Success Checklist"; successfully completing this and returning it to your hall director will result in an additional individual prize. Finally, the top 100 students who particpate in The Challenge (based on event attendance) will receive a t-shirt! 
We truly hope you will accept our challenge and fully immerse yourself in all Augustana has to offer.  Visit with your Viking Guides,  Residence Hall Director, or the Campus Life Office for more information or to ask any questions.