The Advocate
---
April 20, 1993, was arguably the most exciting and devastating day for Scott Peters '77. He and his colleague, Richard Johnson, presented their case, Austin v. United States, to the United States Supreme Court and came out after the argument believing they had lost.

They didn't lose, but the case marked a pivotal point in Peters' career.

Now retired, Peters reflects back on his 30-year career in law, his work as a mental health advocate and time at Augustana.
---
A Date with the Supreme Court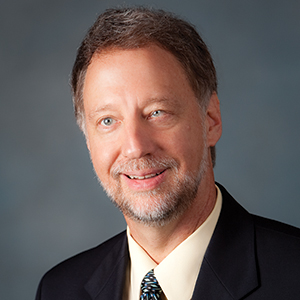 In 1993, a friend of Scott Peters', Richard Johnson, took him to lunch and asked him to help research and write briefs for a case of Johnson's that had recently been accepted by the United States Supreme Court.
The case involved Johnson's client, a man named Richard Austin, who was caught selling two grams of cocaine to an undercover agent. Austin ultimately pleaded guilty to one count of possessing cocaine with intent to distribute and was sentenced to the State Penitentiary for seven years. On top of this sentence, the federal government, under a civil forfeiture law, confiscated Austin's home and auto body shop, instruments the court said helped him sell the drugs.
"We felt that for the relatively small amount of drugs, this was a pretty severe civil penalty," Peters said. "This was in the heyday of federal civil forfeiture where the federal government was getting millions and millions of dollars' worth of property in forfeitures."
Those who thought this was an excessive practice challenged it on several constitutional grounds, including due process. But no one had succeeded.
"No one had ever challenged it on the ground that it violated the excessive fines clause of the 8th Amendment of the Constitution," Peters said.
For those who are rusty from their high school government class, the 8th Amendment prohibits the government from imposing excessive bail, excessive fines, or cruel and unusual punishment.
Peters agreed to write the briefs, and he spent the next month writing and researching from 8 a.m. to 2 a.m. His former political science professor at Augustana, Dr. Peter Schotten (government and international affairs), helped review one of the later drafts.
This extreme schedule may sound like one that only a procrastinating college student would have to follow, but Peters and Johnson were notified by the Supreme Court shortly after the case was accepted that the Court was setting the case on an expedited schedule with briefs due in a month.
"We had the government, and all 50 attorney generals against our case and supporting a long history of civil forfeiture in the United States," Peters said.
Standing not four feet away from the Supreme Court justices, including the late Justice Scalia and current Justices Thomas and Kennedy, they had an hour to present their case.
"There we were, in our $300 suits from Norman's, as four deputy solicitors for the government entered in tuxes and tails," he said. "We got about three minutes into our case and the Justices were already asking us extremely difficult questions.
"We just got skewered by the Justices. Justice Scalia asked tough questions, as did Justice Rehnquist, and we left the oral arguments feeling that we probably wouldn't get any votes in support of the premise that a forfeiture could be an excessive fine under the 8th Amendment. We thought for sure we had lost. The government seemed to have a fairly strong case."

– Scott Peters
Augustana Class of 1977
Several national organizations wanted to argue the case on behalf of Peters and Johnson's client, saying they had more experience before the Supreme Court.
"We had a lot of pressure to let someone else brief and argue this case, and we thought about what was best for our client; but Richard Austin wanted us to represent him."
In June, they received the Court's opinion. It was 9-­0 in their favor.
"It was incredible," Peters said. "When we got the opinion, our phones rang off the hook with calls from law reviews and journals and publications like Newsweek."
Peters still cites Dr. Schotten's "Constitutional Law" class as the wellspring of his interest in constitutional law practice.
After graduating from Augustana in 1977, Peters went to law school at the University of South Dakota where he served on the Law Review board and graduated in 1980.
He received clerking positions with two judges (state circuit court judge Robert Heege and federal district court judge John Jones) over the next three years before entering private practice in 1983. Then in 1986, Judge Heege appointed him as chair of the Minnehaha County Board of Mental Illness.
Working in Mental Health
"The Minnehaha County Board of Mental Illness is a civil commitment board that handles cases of people who are severely mentally ill, a danger to themselves or others, and in need of treatment," Peters said.
Peters says his class with Augustana psychology professor Dr. Michael Nedelsky, "Psychology and the Law," along with his general interest in medical and psychiatric issues piqued his interest in the job as chair. His wife, Dr. Patty (Jarratt) Peters '76, shares that medical interest.
In the beginning, the county's Board of Mental Illness was small — overseeing just 150 cases in 1986 — so Peters considered this a part­-time position.
His job as board chair was to review petitions for psychiatric commitment, to hear evaluation reports from mental health professionals and then to conduct commitment hearings if appropriate.
"The number of petitions for commitment rose dramatically over the next 25 years — from 150 in 1986 to nearly 1,300 in 2010. So in 2010, I quit private practice and worked full time for the Mental Illness Board," he said. "The cases also became more complicated, with such things as designer and prescription drugs entering the mix. It was demanding work, and it got to be too much for me to do along with a private practice."
He spent the next five years working for Minnehaha County doing exclusively mental illness commitment board adjudications, until his retirement in June of 2015.
Peters thinks the number of petitions for commitment rose quickly for several reasons:
"There was certainly more stigma and probably a lesser understanding of mental illness in 1986 than there is today. That could account for the fewer petitions for commitment of mentally ill people. Also, law enforcement and medical professionals became more concerned about liability, especially where someone was saying something that could be construed as being dangerous. We saw more co-occurring drug and alcohol disorders. Finally, with a recession and some security concerns, society has probably become a little more anxious and depressed, so that could account for some of the growth."
When the number of cases routinely exceeded 1,200 a year, Peters helped start a mobile crisis team in Sioux Falls to send mental health counselors out with law enforcement.
"The use of a mobile crisis team out in the field has been very successful," Peters said. "The police have a tool to better evaluate whether the person needs to be on a hold or just has an acute social problem. For example, it often seems very serious when police are called to a dispute with a girlfriend or boyfriend or another family member and one of the parties expresses some thoughts of self-harm or perhaps thoughts of harming others. When you delve into it a little bit deeper with a mental health counselor, however, one might find that it really didn't rise to the level of severe mental illness or that an actual danger to self or others does not exist. It was an acute social issue that could be de-escalated and resolved at the scene or with voluntary treatment."
The board found that most cases reviewed by the mobile crisis team could be handled without the need for a mental illness hold being placed by law enforcement.
"In October [2015] the mobile crisis team saw 68 people with law enforcement, and out of those over 90 percent were not placed on a mental illness hold," Peters said. "They either stayed home or went voluntarily to the hospital. So that's a successful way of handling potential commitment cases in a way that we didn't do before."
Not only does it prevent the police from having to put people on hold, but also it is less traumatic for those who would be placed on hold.
"When a person is placed on a police hold and they go to the psychiatric facility, their kids, if they have any, may have to go to social services," Peters said. "They might lose their job or have employment problems because they missed a couple days of work. Any number of problems might happen to them just by being detained for a mental illness evaluation.
"So we try to balance individual liberty with personal and community safety. The mobile crisis team helps us get that balance right and provides a less restrictive alternative in many cases."
Peters also sees his work as being an advocate for the recovery of severely mentally ill people.
"It's important for people who are severely mentally ill to have access to treatment," Peters said. "We are now finding out medically that the sooner you treat a person with a newly established mental illness, the better the outcome is. It makes sense because it's similar to if you had a heart attack or a stroke. If you can get to the hospital and get treatment right away, your outcome and the course of your long term medical condition is better. It's similar for severe mental illnesses."
Peters said tools and treatments have also evolved.
"Today, we have things like functional MRIs that can show changes in the brain for people with a severe mental illness. We also have genetic studies that will help in the treatment of mental illness. Now that we have more tools, it's lessened the stigma and also people have become more attuned to mental illness problems and treatment/recovery possibilities."
"Therefore, sometimes it is really important to at least temporarily divert people with severe mental illness from the criminal justice system where they might sit in jail for long periods of time without treatment. If they sit in jail without appropriate treatment, they may lose their ability to optimally recover from their disease, and then lose their employment, family, housing, practically everything, because they can't function. Whereas if you can get them into treatment successfully, they can lead a relatively normal life in a lot of cases, and the criminal justice system is then in a better position to deal with them appropriately, if that becomes necessary."
Peters' goal for his mental illness board work has been to place people in the optimal setting for safety first and then recovery, in the least restrictive alternative, and at an acceptable cost.
Starting in Small-Town South Dakota
Coming from a small farm in Britton, South Dakota, Peters heard about Augustana's reputation and was interested in its pre­-law program.
"My grandfather was a lawyer and a judge and I always thought I wanted to be a lawyer. Augie's political science department was highly regarded so I applied. It's the only place I applied.
During his sophomore year, Peters met Dr. Schotten, who was new to campus at the time. Schotten eventually became his pre-­law advisor.
"He was top notch in constitutional law," Peters said. "He and Dr. Michael Nedelsky taught me how to think critically. Peter Schotten was a stickler for critical thinking and the ability to have a broad base of educational experiences."
Dr. Nedelsky taught a class called "Psychology and the Law" which Peters says "ended up being instrumental in what I did after law school."
Peters was also influenced by Dr. Sandra Looney (English) and, after one class with her, added an English minor to his political science major.
"English majors from Augie do really well in law school," Peters said. "Communication and English are the fundamental things that a lawyer needs to express himself and advocate for clients. I became a good writer, and it helped me in law school, in drafting case briefs, in communicating, and later in preparing Supreme Court briefs for Austin v. United States."
When he wasn't jamming on the bass with J. Walker and the Pedestrians, a rock and roll band he formed with his classmates, Peters served as president of Blue Key and Political Science Honors Societies and worked in the political science department office.
Peters says he's had a true Augustana advantage throughout his life.
In a speech to the government and international affairs students at a banquet in 2012, Peters ended by saying ,"For me, this is the overarching truth, 'No one sees the world as it is; we only see the world as we are,' evidences both the need for and the value of a liberal arts education. It is a challenge to broaden who we are."