The Schotten File
---

Lawyers, public servants, teachers and advocates around the world count Dr. Peter Schotten, professor of government and international affairs, as a treasured teacher, advisor, mentor and friend. He looks back on more than four decades of teaching at Augustana.

---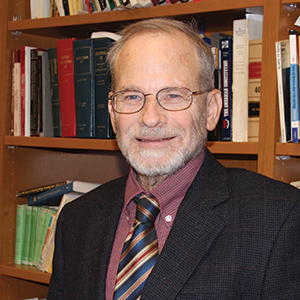 When Dr. Peter Schotten arrived at Augustana in 1974, he didn't quite know what to think.
He'd never been to South Dakota before. Or Minnesota. Or Iowa. Or Nebraska. Or anywhere in the Midwest for that matter.
He'd grown up in Seattle, attended graduate school in southern California, and had just come from teaching part-time in Long Beach.
He'd spent his life in large cities where the pace was fast, faces were nameless, cultural opportunities abounded, and living was sometimes cutthroat. At his old apartment in Los Angeles County, he remembers "everybody getting robbed at least once."
Here, he woke up one winter morning to find a neighbor shoveling his front walk. He shopped for groceries at the Piggly Wiggly, ate at restaurants that featured "country cooking," and found that everyone knew everyone. "Or, they were related to someone you knew. Or, they'd gone hunting with someone who was related to someone you knew."
California offered comfortable temperatures and ocean views.
Here, he realized early in his first winter that "if I left my office without a jacket on, I could freeze to death halfway between the old social science building and the Commons."
For Schotten – who is known as much for his quick wit and sense of humor as for his longstanding professorship and scholarly work – Augustana and the Midwest took some getting used to.
But today, more than four decades after his arrival, it's safe to say he's found his home.
"I came not knowing how long I'd stay and, I've ended up staying a very long time," he said.
Before Augustana
As a kid, Schotten says he was "pretty serious."
The only son of two refugees (his father emigrated from Austria and his mother fled Germany in 1940), he was forced to grow up quickly after his father died when Schotten was just 14.
"In high school, I ended up having to support myself. Except for debate, I wasn't involved in very many activities," he said.
When it came time for college, "I was pretty much on my own. So I had to more or less figure out my own life. But, there was no question about going. Sure, there were some financial issues. But, it was a prerequisite for anything I wanted to do in life," he said. "Plus, I thought school was marvelous. Why wouldn't one [want to continue on in school]?"
As an undergraduate, Schotten attended the University of Washington where he majored in political science, an area he was drawn to because "these were the questions that I wanted to understand better that puzzled me. The way to understand things better is either to listen to people who've studied much more than you have or to read books."
During his senior year, he considered pursuing law school, but, after thinking it through, decided teaching "might well be more rewarding in many ways."
He earned a Woodrow Wilson National Fellowship, along with other honors, and went on to earn his Ph.D. from Claremont Graduate University in Claremont, California. He taught part time at a couple schools along the West Coast before arriving at Augustana in 1974.
"As I taught a bit, I concluded that I really liked that a great deal. That wasn't the initial draw. But, I'd observed several very good teachers and I thought that with some training I could be competent at it and, in time, I grew to like it a great deal. The profession involves reading and teaching and seeking answers to questions I found intriguing. And, people were going to pay me for that? It was wonderful.
"It's almost a racket," he said, laughing.
Reflecting on Four Decades at Augustana
Thinking back on his early days at Augustana, Schotten smiles.
"I was a city guy. I grew up in Seattle. I never was near a farm. I have no capacity to fi x anything. The most frightening three words in the English language for me are 'some assembly required.' Then I came here. This was the smallest place I ever lived. But, for many of my students, this was the largest place they had ever lived," he said.
"I had to re-think about how to teach. I couldn't teach the same way here that I could in California. I had to use different examples. Living was different. The weather was different."
With time, Schotten found the right balance. As he looks back now, he calls his career gratifying.
"It's a little bit of a con game, really. We get really good kids here – students with good work ethic, good self-discipline, a good sense of how to work hard. But, they're not always aware of everything they can become.
"And, I get to contribute a bit – not very much; they do most of the work themselves. Sometimes with goading and sometimes with encouragement and sometimes with a little bit of fear – but they do it themselves. [As professors, we become] a kind of gateway to a different world. Sometimes that works – and when it works, it's very heartening."
In the classroom, Schotten teaches courses in constitutional law and political philosophy. Over more than 40 years of teaching, he said some things have changed, while others have remained the same.
"How we communicate has changed. How we study has changed. How we access information has changed. Culture has also changed somewhat," he said. "On the other hand, some questions never change, such as: What does it mean to live a good life? What's the relationship of political order to justice? What does the rule of law mean? Why is it important to be a thoughtful well-informed citizen?

– Dr. Peter Schotten
Some things are eternal and some things are variable," he said.
Jo Marie Alexander '79, an attorney in Minneapolis, had Schotten as a professor and advisor during her time at Augustana. She counts him among her most influential professors.
"In class, he was amazing. You could not, not pay attention in his class. When he used the Socratic Method in his constitutional law class, each and every student could be in the hot seat at any time. He taught attorneys to think like attorneys. He just kept you on your toes at all times," Alexander said.
Beyond the classroom, Schotten continues to pursue his longtime fascination with the U.S. Constitution, which fuels both his scholarly research and his teaching.
"[I became really interested in the Constitution] the first time I realized it wasn't just a random collection of provisions, but that it was informed by a political vision and an understanding of human nature – that it represented an elegant solution to the problem of democratic politics," he said. "I decided that was worth learning about. It's something I started as an undergraduate and continued into graduate school and continued as I've been teaching."
Schotten's research led him to co-author introductions to the nation's leading textbooks on politics and also serve as co-author of "Religion, Politics and the Law" and "Understanding Politics: Ideas, Institutions, and Issues." His latest research includes a chapter on Justice Joseph Story in "History of American Political Thought," edited by Bryan-Paul Frost and Jeffrey Sikkenga.
In recognition of his contributions in and outside the classroom, Schotten has earned numerous awards during his tenure at Augustana. He has held the Stanley Olson Chair of Moral Values, the Orin M. Lofthus Distinguished Professorship, and the Frederick Kohlmeyer Distinguished Teaching Professorship. He has also been awarded the Burlington Northern Excellence in Teaching Award and the Vernon and Mildred Niebuhr Faculty Excellence Award.
For Schotten, it's humbling to be recognized by an institution he holds in high regard.
"Augustana is a place that takes education and careers seriously. It doesn't sacrifice one for the other. It's concerned about students' intellectual development; about moral and ethical questions; and about what's important to think about as a person acquiring knowledge – but not to the exclusion of careers and professions and the practical stuff," he said.
Schotten said Augustana's foundation in the liberal arts is among the reasons why it stands out from other universities.
"The liberal arts ask students to consider timeless questions – they're appropriate in today's world, they were appropriate in yesterday's world, and they'll be appropriate in tomorrow's world. Those questions have to do with: What makes life worth living? What kind of ethical responsibilities do I have? How do I understand beauty and the natural world? What does it mean to be a thoughtful human being? The liberal arts are timeless in that respect."

– Dr. Peter Schotten
In the government and international affairs department today, Schotten says he enjoys being in good company. His fellow faculty members in the department are Professor and Chair Dr. Joseph Dondelinger, Associate Professor Dr. Joel Johnson, and Assistant Professor Dr. Emily Wanless.
"I'm struck by the classy colleagues I have – the good people who work here. They're genuinely wonderful human beings. We have a wonderful department. They're first-rate individuals. I couldn't imagine having better colleagues. They're easy to work with, well-informed and thoughtful. It's wonderful to come to work everyday."
Advising Pre-Law Students
In addition to serving as professor, Schotten has also served as chair of the department and chair of the Social Sciences Division. Upon arriving at Augustana in 1974, he became Augustana's pre-law advisor, a post he continues to hold today.
On advising pre-law students, Schotten has made some observations over the years.
"People think they want to go to law school for good and bad reasons. A good reason is: I know what lawyers do and I want to be one. A bad reason is: my relationship just ended; I don't know what I'm going to do with my life; I think I'll go to law school."
As an advisor, Schotten said he works hard to be straightforward with students because some don't always know what going to law school means, what being a lawyer will entail, or what financing a law school education requires.
"It's a profession that gets romanticized. It's also a profession that if you do any kind of litigation or adversarial work, will require a certain mental toughness," he said. "So there's a psychological match between wanting to go to law school and wanting to be an attorney, and that can be challenging to explain."
"For me, a lot of pre-law advising is talking about law school, but also talking about alternate careers. And there are a number of careers that students who are pre-law don't always think about. What we want to do is give them as much evidence as possible as to what law school is like and what their career will be like so they can make an intelligent decision."
To that end, Schotten says even though he's the pre-law advisor, law school often isn't his primary focus when advising students.
"I generally talk about careers – I don't lead with law school. It has to be up to them. What we're doing [as advisors] often is about being a good guesser."
Being a good guesser comes from asking good questions – a skill at which Alexander said Schotten excels.
"It was so obvious from being around him how much he cared about the students he taught. He was genuinely interested in students – not just academically, but for who they were as people. He was incredibly concerned and passionate about students," Alexander said. "Beyond that, he gave fabulous advice. He was able to give great advice because he asked great questions and listened really well. He listened for what students were passionate about. I always got the impression he knew me better than I knew myself."
Tricia Halling '98 is the assistant general counsel at the New York City Housing Development Corporation and a graduate of the New York University School of Law and the University of Edinburgh. Schotten was her pre-law advisor at Augustana.
"I very quickly had the feeling that he wanted to get to know me before he gave me advice. He wanted to take the time to know my goals and interests and where my talents were," Halling said. "Beyond that, he had a really good understanding of me, so his advice about which schools to apply to was really focused."
Schotten's impact as a teacher and advisor extends far and wide. In 2006, a number of his former students led an eff ort to establish an endowed scholarship in his name.
Today, the Dr. Peter Schotten Scholarship for Government and International Affairs has received gifts of nearly $100,000.
"The scholarship was just exceptional. That was a complete shock and was just remarkable. I was quite taken aback. And I'm not even dead yet," Schotten said, laughing. "Really, it was just a remarkable act of kindness and generosity."
This year, Schotten will turn 70 but he remains as passionate as ever about teaching.
"I've just felt extraordinarily fortunate for doing what I want to do. I have freedom to do that. I'm surrounded by good and serious people who are kind and thoughtful. For the most part, I have students who want to learn. I have colleagues who uphold academic standards. I'm just very fortunate because I was able to do what I wanted to do – what I thought was important to do. It's a blessing. It sounds a bit sentimental, but it's true."