Faith
Living. Growing. Learning. Testing. Sharing. Thinking. Transforming. Keeping. It all happens here. 
It was hot out — like South Dakota in late summer hot — when Rachel Wiener arrived in front of Solberg Hall on freshman move-in day.
It was 2003.
But by today's standards, it might as well have been 50 years ago. Still wounded and reeling from 9/11, Americans had just ushered in a new government agency called the Department of Homeland Security. In Cambridge, Massachusetts, a Harvard undergrad named Mark Zuckerberg was sketching ideas for some crazy thing called Facebook. Phones had actual buttons — with numbers — which meant texting "hi" required pushing "4" twice, then again three times. Tweeting was something only birds did.
Wiener had made the 3.5-hour drive from her home in the small town of Humboldt, Iowa, to Augustana's campus and set out to begin the next chapter in her story.
She found herself in a new place. In a bigger city. Meeting new people. Working through challenging classes.
It didn't take long for the homesickness to set in.
Looking for "a place to call home," Wiener soon found herself at the center of campus — where academics and student life intersect — at the door to Augustana's Chapel of Reconciliation.
It was a moment, she said, that changed her life forever.
"When I arrived at Augie, I was a scared freshman and very homesick. I first got involved in Chapel and campus ministry because I was searching for a place to call home, a place to center my faith and build a community," she said. "Chapel and campus ministry provided a safe place to explore what my faith meant to me and how I could make it my own, and also provided a community of love and support at a time I needed it most."
Wiener said she found love and encouragement to explore her faith across campus throughout her Augustana experience.
"What surprised me was (what) I found in other parts of my journey. I found faith at Augustana to be ubiquitous, found in every corner of campus, every day. During my four years at Augie, I found community, love and support everywhere — in the classroom, in conversations with professors, staff and fellow students, in the residence halls, and working at the Elmen."

— Rachel Wiener '07
Describing how faith exists and is nourished at Augustana isn't easy.
Faith means different things to different people at different times. Our faith is shaped by where we came from, our experiences and our religion. At Augustana today, 37 percent of students identify as Lutheran, 22 percent as other-Protestant, 20 percent as Catholic, 4 percent as non-Protestant, and 17 percent of students here say they do not identify with any religion.
Differences and numbers aside, one thing is for certain: Faith is here.
Freedom and Faith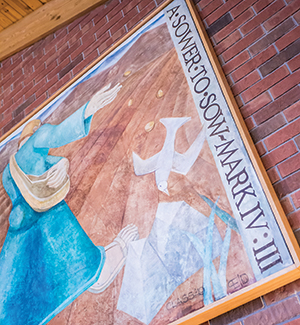 A huge, striking, colorful piece of art designed by Augustana art legend Ogden Dalrymple and assisted by fellow Augie art legend Palmer Eide hangs inside the Chapel of Reconciliation.
The eight-foot wide by six-foot high fresco depicts a man in blue tossing seeds into the soil. A dove is close by. It's called "The Sower" and it includes the words "Behold there went forth a sower to sow — Mark IV: III."
The piece is based on the "Parable of the Sower" as told by Jesus in three of the four Gospels. In the lesson, Jesus uses the seed to symbolize the word of God. The Sower, Jesus tells us, is steadfast in his role. Even though he knows only some of the seeds he sows will find good soil, grow and bear fruit, he continues to scatter seeds.
It's an ancient story with a timeless message — a story that, in many ways, illustrates the core of church-related higher education. As a Lutheran university, Augustana's commitment to sowing seeds — nurturing and supporting faith — has been, and continues to be, central to the institution's mission, said Rev. Dr. Paul Rohde, campus pastor.
In today's world, that's especially significant.
"One of the things that makes ministry in this moment unique is that culturally, there's so much emphasis on distinctiveness and individualization," Rohde said. "But really, ministry is so much more grounded in what makes us all alike. We all hunger. We all need to breathe. We all need to be loved. We're all going to die. We all need to matter. Above all — we all need grace."
Grace, he said, is what enables us to navigate life's challenges. And grace, coupled with faith, gives us the freedom to ask questions and seek the answers; calls us to love others; and leads us to vocation — the discovery of how we use our God-given gifts to serve others.
"Lutheran theology is about freedom — and it's about a freedom that's grounded. By grounding yourself in a vocational identity, you are freed to, and have access to, way more than you would without it. Faith involves every part of our lives. The gift of a church-related education is that we can be straight-forward about that, which is not to say that we try to sanctify everything. But it's to say 'God is creator, so God is involved in all parts of life.'"

— Rev. Dr. Paul Rohde
Campus Pastor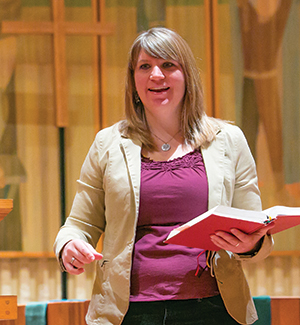 Rev. Ann Elizabeth Rosendale '04, campus pastor, agreed.
"At Augustana, we have a commitment to learning and thinking critically, especially about faith. We don't need to be afraid to ask tough questions of God or of our faith. It's this notion that our learning is for the sake of the world: vocation," she said. "So we come here to grow intellectually and otherwise, and we go from this place to serve our neighbor. And so it's this dance of knowing what our own gifts are and nurturing those gifts and then being attentive to the needs of the neighbor and then going out to meet those needs."
That dance of knowing, nurturing and attendinghappens throughout campus, Rosendale said.
"People are engaging their faith by more than just coming to Chapel on Mondays, Wednesdays and Fridays," she said.
"I think about the sophomore retreat we've done for the past few years. Certainly there are students who come to the retreat who are deeply faithful — students whose lives are intentionally scheduled around their faith. But there are others who come to the retreat who are not practicing their faith in the same way and yet, they're seeking answers to questions like, 'What's the meaning of my life? What's the purpose of my life? What is the direction of my life?' Those are all questions of faith," she said. "And questions that scripture and worship and living in community help us to get at. And so, when we're at the retreat, we don't shy away from talking about faith and vocation and how God calls us. And I think that resonates with all students — even those students who didn't come to Augustana because it is Christian, but land here and hopefully find that the Christian conviction of this place can inform their life and their work."
Faith in the Classroom and in the Field
Inside the Humanities Center, students and faculty study and create art, music and literature; explore classical studies, philosophy and religion; and build fluency and understanding of different languages cultures.
The Humanities Center was where Nicole (Lauck) Finnesand '11 met Dr. Sandra Looney, professor of English. Finnesand, now a seventh- and eighth-grade language arts teacher at Tri-Valley Middle School near Sioux Falls, said Looney provided her with faithful inspiration in more ways than one.
"I enjoyed our conversations during and outside of class, and her teaching was excellent. Her classes were always full of nuggets of truth about life amidst the important lessons about writing and literature. One of my very favorite classes was her writing seminar my senior year. A close second was a J-Term class about Japanese literature during which she showed such warm hospitality to invite our small class to her home for tea and Breadsmith and what I'm sure was enlightened conversation about Murakami and other literary texts and themes. I hope that I can be a teacher like her. She shows passion and knowledge of her content, a genuine interest in her students, a sense of humor, and wasn't afraid to learn and explore alongside us," Finnesand said.
Learning and exploring is a process of discovery that ultimately informs. Faith can inform life and work. And, life and work can inform faith.
It's something Dr. Janet Blank-Libra, professor and director of journalism, has witnessed.
"Whether my students are studying literature, writing or the law of the press, my hope is that they will take themselves as deeply as possible into the material," Blank-Libra said. "Once students (or any of us) begin to fully comprehend their potential — the depth and breadth of their many human capacities — they understand better their obligation to share their God-given gifts with the world."
Head to the second floor of the Humanities Center and you can always find students visiting the office of Dr. David O'Hara, department chair and associate professor of philosophy. They stop by to ask questions, engage in conversation, seek advice, enjoy a cup of tea or to learn the ancient Chinese game of "Go."
O'Hara said his faith provides him with strength to guide, support and teach his students.
"Each season I enter my classrooms before the term begins and I lay a hand on each desk and pray for the students who will sit in those desks. Similarly, each day during the term, I begin each day in prayer for my students, asking God to make me a blessing to them. I don't expect that I change God's mind about anything by my prayers but, if nothing else, I want to offer myself to God and to do the little that I can to invite God to change me and to use my teaching."

— Dr. David O'Hara
Department Chair, Associate Professor of Philosophy
In the Madsen Center, faith can be found inside classrooms and labs where tomorrow's teachers, business professionals, lawyers and social scientists are training.
"The most powerful opportunities for me to share my faith is when students come to me seeking a listening ear or heart and are asking for advice in their life journey," said Dr. Julie Ashworth, assistant professor of education. "As I listen to them share their fears and their hopes and dreams, I often find myself sharing my own faith journey full of valleys and mountains. I have a wooden cut-out word in my office window that simply says 'Pray'. Many times that is the best advice I can give them. And of course I can and do pray for them in their tough times. I also know that I am the recipient of prayers from students when I need them and this is a blessing beyond measure."
Across campus inside the Froiland Science Complex, professors and students engage in discussions around faith and science in classrooms, during labs and in one-on-one conversations.
The discussions aren't always easy.
Reconciling faith traditions with societal changes caused by innovations in science and technology can be challenging, according to biology professors Dr. Steven Matzner and Dr. Jennifer Gubbels.
"Unfortunately, conversations about the relationship between science and religion have not kept pace with these changes. Within the Natural Science Division, we spend time talking personally to students to reinforce that science and religion do not have to be in conflict and by example try to show students that scientists can have a robust faith life and a fulfilling career trying to understand God's creation," they said.
Interdisciplinary and interdepartmental efforts are also at work to examine the relationship between science and religion.
A number of years ago, Biology Professor Dr. Craig Spencer and Religion Professor Dr. Ann Milliken Peterson applied for and received a grant from the Templeton Foundation to set up a permanent course in religion and science. Pederson has taught an interdepartmental version of religion and science ever since.
Most recently, she has team-taught on religion and bioethics or medicine with a professor from the Natural Science Division or with multiple guest lecturers. The coursework ranges from discussions on reproductive medicine, artificial reproductive technology, cancer and more. (Learn more about Pederson's work.)
Rosendale said the ability to talk about faith — and the freedom to ask questions — is key to helping students on their journey to vocational discernment.
"Both (Pastor) Paul and I live for the conversations with students that just drop by the Chapel," she said. "Just yesterday, a student stopped by and wanted to talk about a question from his religion class. I live for those conversations — I love them. I can just see the wheels turning in their head. Sometimes in those conversations, their faith shifts. And what a holy moment — to be privy to their growth and development like that. It is a dramatic time in these students' lives. It's dramatic in all sorts of ways, but especially for their faith."
Beth Singleton '10 is a Ph.D. candidate in religion, ethics and society at the Claremont School of Theology.
As a student at Augustana, she had the opportunity to serve as chapel president. It was here, she said, where she learned to think critically about her beliefs and how they inform her actions — and how those beliefs might impact others.
"I learned that beliefs are not simply beliefs, but have implications for other beings. The professors fostered an environment of critical questioning that allowed my faith to transform. Through my friendships and conversations with people across campus I know that Augustana is unique in the way it nourishes a community of engaged thinkers, unafraid to take on the taboo topics of religion and politics at the dinner table even when opposing positions are presented. This environment allowed me to engage my faith in relation to others and to the world, giving my faith material and relational meaning," she said.
According to Whitney Brown, associate director of campus life, faith is a thread woven throughout the Augustana experience, including the residential living component.
"We try to incorporate discussions on faith and values because understanding one's purpose and priorities can help clarify many areas of everyday life at Augustana, such as getting along with their roommate and community, making healthy decisions and striving to prepare to lead and serve others on and off campus," Brown said. "We've worked hard to incorporate faith in several direct ways, such as: the sophomore retreat, which provides students an outlet for reflection on what it means to be called to a vocation; the creation of the campus Interfaith Reflection Room, which allows students to explore and live out their beliefs in harmony with others, and the addition of the Endeavor Learning Community, which will invite first-year students to dig deeper in their faith and use it to direct their journey at Augustana and beyond."
For a college student, "everyday life" is what happens before and after classes and on the weekend.
On Saturdays in the fall, Kirkeby-Over Stadium on the southwest side of campus roars with thousands of cheering football fans. Students, alumni, parents and friends fill the stands with a sea of blue and gold, enjoying time together, rooting for their beloved Vikings and, most of all, showing their Augie pride.
Gridiron and faith are two words that aren't frequently paired together. But at Augustana, head coach Jerry Olszewski said faith is a pillar of the University's football program.
"I am up-front with families during the recruiting process that we incorporate faith talks in our team often. In fact, our three program pillars are Faith, Family, Football or F3. We try to coach and teach with that order in mind as we work with our young men to be the best version of themselves. I also share with my players that the relationship is a personal journey but if I can assist in any way in that walk, I would be blessed to do so."

— Jerry Olszewski
Head Football Coach
"We start the season by going to worship service as a team the first Sunday of fall camp where we receive a team blessing and encourage conversation about all matters of growth, including spiritual growth. Our seniors go on a leadership retreat prior to fall camp where faith is at the core of the relationship and leadership building," he said.
Exploration and Faith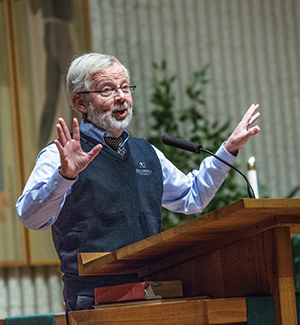 Last January, Rohde helped lead a J-Term course in Germany and Italy called "Living Reformation: the Context, Calling, and Contributions of Martin Luther, JS Bach, Dietrich Bonhoeffer, and St. Francis."
The course, Rohde said, was about "this moment in time compared to the 16th century — because so many people see this moment in a similar kind of way. Then it was from medieval to the Renaissance and Enlightenment. Now it's from modernity to whatever is going to be post-modernity and this challenge of authority and the diminishment of institutions."
The ultimate lesson, he said, was that no matter the context, change is constant.
"The world has been through these transformations before and will be again. My objective for that course was that we would learn from the 16th century to help navigate our own."
Helping people navigate with faith — through storms, in uncharted waters, over rough terrain — is no doubt Rohde's vocation. He's been a pastor for more than three decades.
"I'm one of those oddballs who, well, I can't remember a time when I did not think of being a pastor," he said.
A native of Webster, South Dakota, he came to Augustana in 2001 after spending nearly 20 years serving congregations in Lake Preston, South Dakota, Sioux Falls and New Ulm, Minnesota.
"When I came here I really saw this as a word andsacrament ministry. I treated it very much like a congregation and still do in lots of ways," he said.
From a ministry standpoint, Rohde said the call to Augustana has been an opportunity to help others synchronize and put things together.
"My approach to life is not balance, but rather imbalance and correction. I often say to students, 'To stay on balance, you can't walk. Walking is putting all your weight on one foot, then all your weight on the other foot, and then you go somewhere.'"
In other words, "do as much as you can with what comes."
Rosendale accepted Augustana's call for a second campus pastor in 2012 after serving at Peace Lutheran Church in Sioux Falls.
While Rohde was sure of his calling early on, Rosendale was not.
"I was a double major in religion and philosophy. I did not know that I was going to be a pastor. Surely I did not know I was going to be a campus pastor. And surely I did not know I was going to be a campus pastor at Augustana," she said. "I had some interest in ministry. I grew up in the church. My parents were really active in my home congregation in North Mankato, Minnesota. I had a youth director there who was really influential in my life and I'd had some great camp experiences that were really rich and meaningful to me."
As a student at Augustana, she became involved in campus ministry. She was a sophomore when Rohde accepted the call to become campus pastor. She went on to serve on the Chapel staff during her junior and senior years and lead the creation of FaithFest, a two-day event held on campus for middle school youth and their adult leaders.
After Augustana she went on to Princeton Seminary where, she said, her call evolved.
"As a student in seminary, I spent time working in a church and I got to know a pastor. I saw what he did Sunday after Sunday — preaching, administering the sacraments, meeting with people, shaping faith. And I wanted to do what he did," she said.
The call to Augustana has been an opportunity to help young people grow in their faith, and to grow in her own faith as well.
"This is a sweet spot for me. I get some of the fun youth ministry stuff that has always been with me, and I get the critical thinking piece and the learning piece. I get to think deeply and carefully. I'm pushed and stretched to become smarter, wiser, more faithful, more accepting, more open. It's Ecumenical, which I love," she said.
Faith and Vocation
Together, Rohde and Rosendale are committed to promoting understanding and perspective through ministry.
Case in point is the new Interfaith Reflection Room that opened on campus this spring inside Morrison Commons.
The space is designed to provide a safe place for people of all religions and non-religious traditions to pray, meditate, worship, reflect, study and practice their faith.
Rosendale said the room grew out of an effort on campus to acknowledge, accommodate and celebrate religious and non-religious diversity at AU.
It's important for the campus community, Rosendale said, because it serves as a space where Christian and non-Christian students alike can grow in their religious literacy and deepen their own faith.
To that end, the room includes sacred texts from a variety of religious traditions, encouraging visitors to learn about faiths they may be less familiar with.
"Augustana's Christian students will deepen their Christian conviction as they learn and talk with their brothers and sisters of other faiths," Rosendale said. "The Bible is filled with stories of Jesus crossing boundaries, even religious boundaries, to share life with the neighbor. Jesus is constantly reaching out to the other, meeting their need, and encouraging others to do the same as a way of faithfully living out God's mission. It is not in spite of our Christian faith, but precisely because of it, that we are called to develop spaces and opportunities like this at Augustana. We're convinced that doing so only makes us more faithful followers of Jesus."
Rising senior Hannah Norem worked on the effort to create the Interfaith Reflection Room. She said the new space will help students feel safe and comfortable.
"People are so welcome to come in and really realize that we are more alike than we are different, which is super cool for a Lutheran college to do."
For Rohde, the space illustrates how Augustana has grown and evolved over time.
"When I came here 16 years ago, I don't think I could've envisioned that one day we would have something like an Interfaith Reflection Room but, you know, it was very clear to me when I got here that there was a lot more we needed to do," he said. "The hardest thing about the job is that there's still so much more we need to do in terms of global understanding and perspective."
This year, Christians around the world will remember the 500th anniversary of Martin Luther's 95 theses.
Rohde said the anniversary is an occasion to "claim and strengthen our vocations in learning, reconciliation and celebration."
"As inheritors of reform, we listen to our roots for the call of God to claim the Gospel anew. As servants in higher education, we reach out to be called, gathered and enlightened with neighbors; to rediscover and extend freedom in Christ; and to continue the legacies of learning, research, song and service that characterize Lutheran schools."
According to O'Hara, the anniversary is also a reminder of Augustana's commitment to helping students discern their vocations.
"Martin Luther urged the leaders of his day to resist the temptation to just get vocational training, or just to think about income. He wrote that all of us should try to learn broadly in classics, law, literature and theology. Each of those disciplines gives us tools for learning still more, and for helping others," he said.
Rohde agreed.
"The Lutheran understanding of vocation is that our calls come from our neighbors and that we're all called to all that we do. The calls to citizenship, community, service, family, church — as well as our calls to work. For those of us who serve Augustana, that's part of our vocation — to equip people in their vocations."
Faith as a Compass
As a student, Rachel Wiener '07 went on to major in nursing and serve as chapel president.
Today, she is a neonatal nurse practitioner in the newborn/infant intensive care unit at Children's Hospital of Philadelphia. In her career, and in life, she said her faith continues to guide her.
"Without my faith, I honestly can say I don't know where I would be," she said. "Life has brought many challenges and heartaches, and through every one of them, God has been constant, never changing or wavering. He has proven over and over again that His plans for my life are bigger and better than any plan I can ever fathom or imagine. So many times I have been faced with a burden I just don't think I have the strength to bear, and then God steps in and reminds me who He is, that He is for me. He has kept that promise for me throughout my life."