Inaugural Gifts: Building the President's Personal Library
---
Author and business guru Charles Jones once said, "You are the same today that you are going to be five years from now except for two things: the people with whom you associate and the books you read."

We want to ensure Stephanie is surrounded by the best — in both cases!
---
The campus community's love of inspiring words has inspired gifts to the President's personal library.
Given to Stephanie by representatives of the following groups during the Inauguration Ceremony, the books contain the inscriptions that follow.
---
Students (ASA)
Outliers
By Malcolm Gladwell
Presented by Katelyn Graber '18 and Luke Hurley '18
President Herseth Sandlin,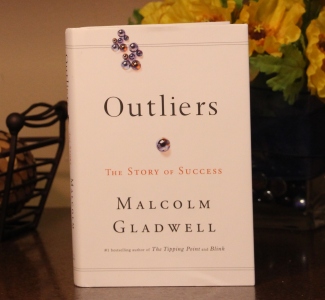 On behalf of the Augustana Student Association, encompassing all students within Augustana University, we are excited as you begin your presidency. Representing the voice of the student body, ASA looks forward to working hand-in-hand with you to continue developing and fostering an environment on campus that creates the truly unique Augustana experience. We anticipate your relationship that will develop with ASA, and are confident this relationship will create nothing short of success as Augustana continues empowering students to learn and to serve.
Presented here is "Outliers: The Story of Success." You will find in the story of "Outliers" that it takes many hours to truly master a skill, such as leading a university. As students, we will strive to support and encourage you throughout this journey. Augustana as an institution is an outlier, with its unparalleled opportunities and community that have set it apart since its inception. Much like Augustana, you, Stephanie Herseth Sandlin, are an outlier. Success has followed your progression through life, and we envision your previous experiences and success will translate into a role that leads Augustana and its students to new heights.
May God bless you and your family as you serve the Augustana community today and in the years to come.
— The Augustana Student Association
---
Faculty
From the Social Sciences Division
The Plains Political Tradition, Essays on South Dakota Political Culture 
— Volumes 1 & 2
Edited by Jon K. Lauck, John E. Miller and Donald C. Simmons, Jr.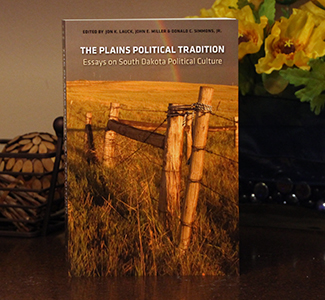 Presented by Dr. Margaret Preston
For Stephanie Herseth Sandlin on the occasion of her inauguration as the 24th president of Augustana University:
May these volumes serve as a token of appreciation for your many contributions to our state and nation; a celebration of the rich history and culture of the region surrounding our campus; and an inspiration as you lead us toward ever-greater achievement and service.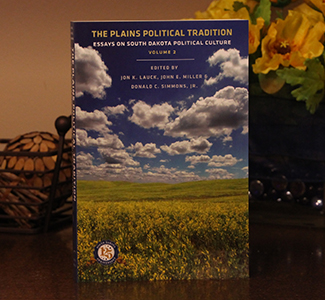 We welcome the opportunity to work with you to provide an education of enduring worth, cherishing the legacies of our past while boldly engaging the opportunities before us.
From the faculty and staff of the Social Sciences Division, Augustana University
From the Natural Sciences Division
Astrophysics for People in a Hurry (Natural Sciences)
By Neil deGrasse Tyson
Presented by Dr. Margaret Preston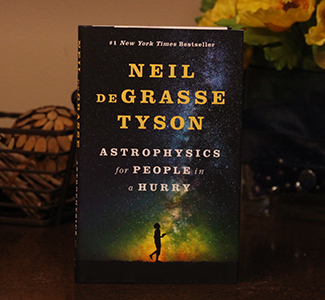 To President Stephanie Herseth Sandlin on the occasion of her inauguration as 24th president of Augustana University:
We hope that this book inspires wonder and drives your curiosity about the natural world. The spirit of exploration and discovery are drivers for learning science. We look forward to working with you to build programs that enhance our exploration and training of life-long learners.
From the faculty and staff of the Natural Science Division, Augustana University
From the Humanities division
Adoptable
By Patrick Hicks

Presented by Dr. Margaret Preston
To President Stephanie Herseth Sandlin on the occasion of her inauguration as 24th president of Augustana University:
This poetry collection is about language and communication.
It is about faith and hope and love.
It is about creation, both biological and aesthetic.
Most important, it is a book about the joys and difficulties of finding a home and then building it to be as big as the world, and yet as small as the touch of a hand.
With this book, the Humanities Division welcomes you to Augustana.
May the home we build in our new relationship have the strength, compassion and wisdom of the home featured in this collection of poems.
From the faculty and staff of the Humanities Division, Augustana University
---
Support Staff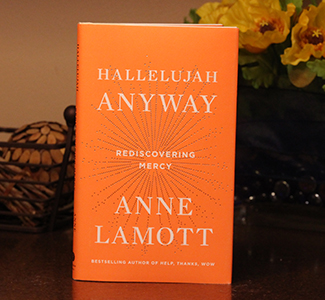 Hallelujah Anyway: Rediscovering Mercy
By Anne Lamott
Presented by Patty Grinsell
The Support Staff of Augustana would like to present you with Anne Lamott's book, "Hallelujah Anyway: Rediscovering Mercy." Anne Lamott is a novelist and non-fiction writer. She is also a progressive political activist, public speaker and writing teacher.
Lamott says of her work, "I try to write the books I would love to come upon, that are honest, concerned with real lives, human hearts, spiritual transformation, families, secrets, wonder, craziness — and that can make me laugh."
Stephanie, as you lead us in writing the next chapter of Augustana's history, we promise to work with you to pen words that are honest, authentic, transformative and filled with wonder. We will support you in learning about this place, about the students who live and learn here, and about ourselves. There will be twists and turns in our story which make it all the more real, knowing and trusting that these are means of grace and mercy for us. Through hard work, service, togetherness and plenty of laughter, we experience the kindness and generosity of God as we continue to honor the legacy of this place, our home — Augustana.
May God bless you, Stephanie, as you begin this new call as President of Augustana University.
---
Administrators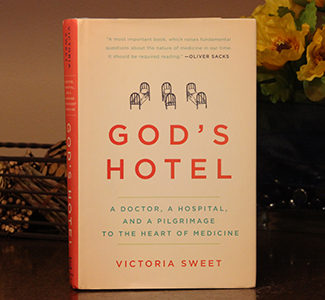 God's Hotel
By Victoria Sweet
Presented by Mary Toso '90
"Still other seeds fell on good soil and produced a crop — a hundredfold, sixty-fold, or thirty-fold."
— Matthew 13:8
Dear President Herseth Sandlin,
"God's Hotel," by Victoria Sweet, is the author's account of her journey to explore the historical roots of health care. As part of her study, Dr. Sweet arrived at San Francisco's Laguna Honda Hospital — the last almhouse in the country — intending to stay just a short time.
A descendant of the Hôtel-Dieu (God's Hotel), Laguna Honda was considered a "human-paced" hospital. There, Sweet had the opportunity to practice a kind of medicine that considered the body not just as a machine to be fixed, but also as a garden to be tended.
Sweet discovered that in order to weather storms, grow and produce, a garden must be cared for. It must be loved, fed and nurtured.
Much like our students. Much like all of us, really.
"God's Hotel" calls us to remember the importance of caring for the spiritus anima — or in other words, the body and the soul. In practice at Laguna Honda, Dr. Sweet deployed technology to help her diagnose conditions affecting the bodies of her patients while at the same time, looking, feeling and listening with empathy and compassion to tend to their souls.
In choosing a book to commemorate your inauguration as Augustana's 24th president, we considered the task before you.
You have been selected to lead an extraordinary institution — a place rooted in faith, history and tradition with a focus on innovation, exploration and discovery. One could say you have been asked to care for the body and the soul of Augustana.
As we celebrate you and the next chapter for Augustana, we look forward to working with you to help care for, tend to, nurture and strengthen the garden that is Augustana.
From the Administrators of Augustana University
---
Alumni Council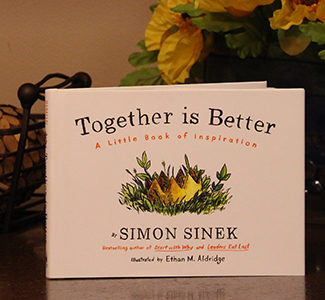 Together is Better
By Simon Sinek
Presented by Pam Miller '94
Stephanie,
In choosing this book for you, we, as Augustana Alumni, were inspired by Simon Sinek's charge to discover our courage through change. This step you are taking, to lead this fine institution — an institution with history, tradition, enduring values and purpose — will take persistence, trust, wisdom and courage. And it will take a knack to adapt to ever-changing environments, ways of learning, technological advancements and an uncertain world. But most of all, this path you have chosen will need relationships — those folks who are willing to join you on this journey to success.
We, as alumni, place our trust in you as you navigate this Viking ship toward the new horizon.
Sinek writes, "The stronger our relationships, the stronger the bonds of trust and cooperation, the more we can accomplish, and the more joy and fulfillment we get from our work and personal lives."
As you embark on this journey, know we are here to support you as you take our Augustana into the future. As alumni, we go confidently with you, bridging our rich history with a new and exciting future for our students, faculty, staff, alumni and friends.
Sinek reminds us the gift of a true leader, "A star wants to see himself rise to the top. A leader wants to see those around him — or her — become stars."
---
Board of Trustees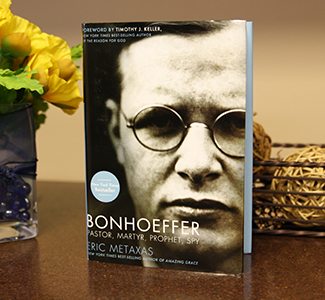 "Bonhoeffer: Pastor, Martyr, Prophet, Spy"
By Eric Metaxas
Presented by Becky Blue '81
"Bonhoeffer: Pastor, Martyr, Prophet, Spy" by Eric Metaxas
given to President Stephanie Herseth Sandlin from the Board of Trustees on the occasion of her inauguration as 24th President of Augustana University
Stephanie,
We are incredibly grateful that you listened to that "still small voice" inside of you calling you to serve Augustana University as our next President. Your empathy, fearlessness, truth telling, curiosity, sense of community, and ability to communicate are God-given, prairie-honed qualities that drew us to you. You carry yourself as one who knows who you are and whose you are: a Child of God, freed by Christ, called, equipped, and sent — to us!
We were drawn to this biography of famous Lutheran pastor and theologian, Dietrich Bonhoeffer, for many of the same reasons. May this powerful book detailing his courageous and faithful life bring you inspiration and confidence in leading our beloved Augustana University and an ever sharpening heart to hear and to act on that "still small voice."
Presented by Becky Blue '81
on behalf of the AU Board of Trustees
September 15, 2017
---
SD Synod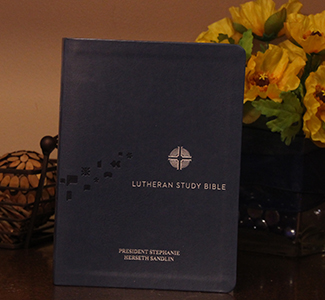 Lutheran Study Bible
Presented by Synod Vice President, Carla Borchardt
"Be wise in the way you act toward outsiders; make the most of every opportunity. Let your conversation be always full of grace, seasoned with salt, so that you may know how to answer everyone."
Colossians 4:5-6 | NIV
Blessings of wisdom and courage as you begin this new call.
South Dakota Synod, ELCA
Bishop David Zellmer