Tickets are SOLD OUT for The Spark, the gala event to celebrate the Augustana Sesquicentennial on Saturday, April 16, at the Washington Pavilion of Arts and Science. Augustana College is excited to celebrate its history with the campus community, alumni and friends.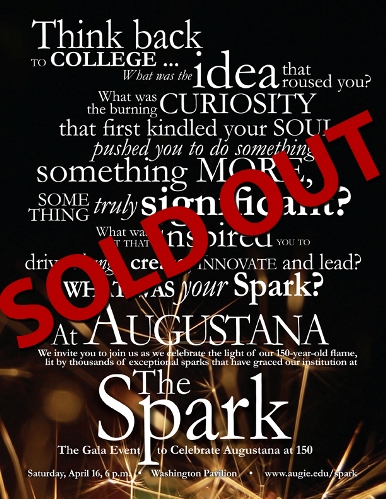 Tickets are no longer available.
Thanks for everyone's support of the celebration!
Items of interest
The Spark! was a blue tie affair that celebrated the Augustana like always and gave you a taste of the Augustana like never before. Tickets are no longer available.

Get tickets to Viking athletics, music, theatre and more at www.augietickets.com. Purchase tickets for multiple events at your convenience.

The Spirit of Augustana Awards were presented to five individuals at the gala event on Saturday, April 16, to celebrate the College's 150th anniversary.
For more information about the history of Augustana College and the 2010-11 Sesquicentennial celebration, visit www.augie.edu/150