Verdier 2014
This spring, Augustana will mark the 12th anniversary of the Covenant Award, the honor recognizing students who exemplify the College's five core values: Christian, Liberal Arts, Excellence, Community and Service. We will celebrate this milestone during Verdier 2014, a week-long celebration of the morals and ethics that have guided Augustana since 1860.
From Norwegian to English, "verdier" translates to "values; the moral principles and beliefs or accepted standards of a person or community."
See the 2014 Covenant Award nominees.
Join us the week of March 31 - April 4 for Verdier 2014 events:
Passport: Attend each award presentation to receive a stamp on your Verdier passport. Collect all five stamps and have your name entered into a grand prize drawing for a $50 gift certificate of your choice; all passports will be entered into other drawings.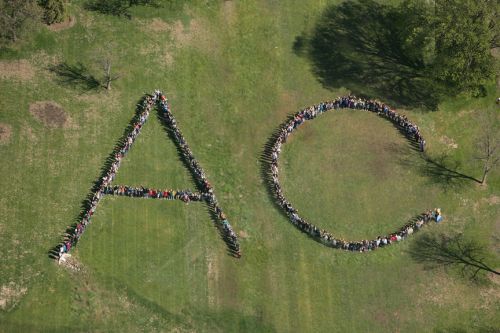 During Verdier 2012, students and faculty/staff gathered on the Campus Green to form a human "A-C" in celebration of the value of Community.