Verdier 2013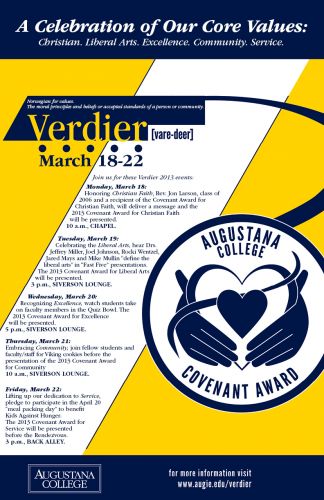 This spring, Augustana will mark the 11th anniversary of the Covenant Award, the honor recognizing students who exemplify the College's five core values: Christian, Liberal Arts, Excellence, Community and Service. We will celebrate this milestone during Verdier 2013, a week-long celebration of the morals and ethics that have guided Augustana since 1860.
From Norwegian to English, "verdier" translates to "values; the moral principles and beliefs or accepted standards of a person or community."
Join us on campus any time during the week of March 18-22 to participate in Verdier 2013 events. One of the College's core values will be celebrated each day during the week and student Covenant Award nominees will be recognized.
Monday, March 18: Honoring Christian Faith
Rev. Jon Larson, class of 2006 and a recipient of the Covenant Award for Christian Faith, will deliver a message and the 2013 Covenant Award for Christian Faith will be presented at 10 a.m. in the Chapel.
Tuesday, March 19: Celebrating the Liberal Arts
Hear Drs. Jeffrey Miller (English & Journalism), Joel Johnson (Political Science/Government and International Affairs), Rocki Wentzel (Classics), Jared Mays (Chemistry) and Mike Mullin (History) "define the liberal arts" in "Fast Five" presentations. The 2013 Covenant Award for Liberal Arts will be presented at 3 p.m. in the Siverson Lounge.
Wednesday, March 20: Recognizing Excellence
Watch students take on faculty members in the Quiz Bowl. The 2013 Covenant Award for Excellence will be presented at 5 p.m. in the Siverson Lounge.
Thursday, March 21: Embracing Community
Join fellow students and faculty/staff for Viking cookies before the presentation of the 2013 Covenant Award for Community at 10 a.m. in the Siverson Lounge.
Friday, March 22: Lifting up our dedication to Service
Pledge to participate in the April 20 "meal packing day" to benefit Kids Against Hunger. The 2013 Covenant Award for Service will be presented before the Rendezvous at 3 p.m. in the Back Alley.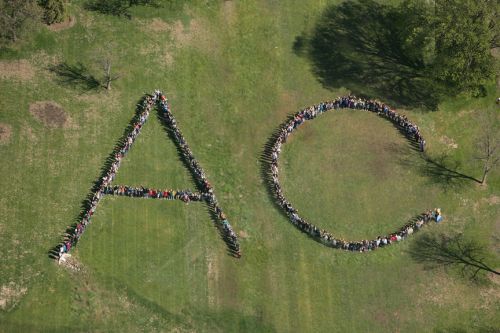 During Verdier 2012, students and faculty/staff gathered on the Campus Green to form a human "A-C" in celebration of the value of Community.