The Accidental Researcher
Any scientist will tell you that the delicate maze of lines that curve and twist around our fingertips create an intricate pattern unique to every one of us – a signature stamp that stands the test of time. It doesn't matter who we meet, where we travel, what we experience – those circular lines of who we really are remain unchanged.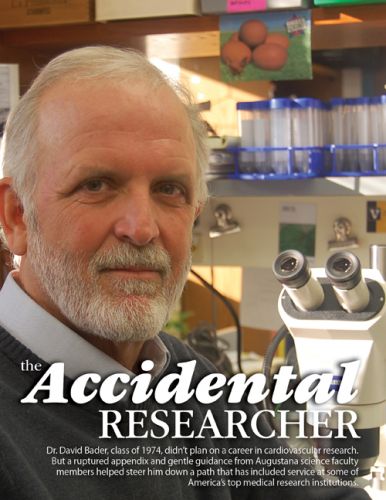 Dr. David Bader likes to say that dust from the rich soil of his hometown of Slayton, Minn., is still lodged deep within the circular swirls of his fingertips and still rests lovingly wedged underneath his fingernails. 
He's worked for some of America's premier medical research institutions – iconic giants like the University of Michigan, Cornell and Vanderbilt Universities – but he's never forgotten where his roots are and he never underestimates the important role his Augustana biology professors played in helping him get to where he is today.
Bader the Student
One of four children, Bader's father was a country doctor. He came to Augustana in 1970 planning to major in political science with hopes of one day going on to law school.
His plans changed quickly after he suffered a ruptured appendix during his freshman year. While in the hospital, he received a visit from Biology Professor Dr. Gil Blankenspoor.
The visit made an impression on him. After taking time over J-Term to catch up on the work he had missed while sick, he changed his major to biology.
"I just liked biology; I thought it was really fun. What's interesting is that I thought biology would be really tough. It was the opposite. I understood all the equations."
And, he was curious.
"Ever since I was a kid, I've always been curious. I remember being six or seven years old and being in my backyard. The charcoal grill was on. I put a can with dirt in it on the coals. My dad asked me what I was doing. I said, 'I just want to know what happens when you put dirt on fire.' I'm curious about everything. I don't have an 'off' switch. I like nature. Evolution and nature are really interesting to me – from human behavior to molecules – this constant struggle that is life. Action and reaction – that's life. That's fascinating to me."
After getting good grades and graduating in 1974, he was still uncertain about his future. He'd thought about becoming a doctor and made what he calls a "half-hearted effort" to apply to med school but, he didn't get in.
"I would have gone, had I gotten in but, given who I think I am, the world and I are better off with what did transpire," he said.
So, he went home to Minnesota and began working road construction.
About a year later, he was in Sioux Falls and decided to pay a visit to Augustana to see his former professors.
"I ran in to [Professor of Biology] Dr. Leland Johnson. He asked me what I was doing and I told him I was working construction. He told me to think seriously about going to grad school."
Bader thought about it. He remembered with fondness a research project he'd worked on with his classmate John Sellevold titled "The Biology of Wintering Organisms." He decided to give it a try and applied to graduate school at the University of North Dakota in Grand Forks.
"There was a guy there – Dr. John Oberpiller – he was a really, really smart guy working in cardiovascular research. He allowed me to work on this really, really good project."
After UND, he completed his post-doctoral studies at the University of Michigan. He completed another post-doc at SUNY-Brooklyn in New York City, then took a position teaching medical school and doing research at Cornell University, eventually rising to the rank of professor.
"I wanted to go to graduate school because I liked college/university life. I like being around people who are always questioning things. I like the excitement of academics. I like the idea of doing … producing."
As a native of Minnesota and a graduate of a small, Lutheran liberal arts college in South Dakota, Bader admits he was an anomaly among his Ivy League colleagues.
"Yeah, I stuck out – I was the only one who wasn't from an Ivy League school. Yet, I've learned that these so-called 'geographically challenged' areas like the Dakotas or Minnesota are anything but challenged. I got a great education in my small town and got a great education at Augustana. I was never challenged as hard as I was in those settings. They set me up for what I was able to go ahead and do."
"My teachers inspired me but they also trained me well. After I started grad school I somehow got accepted into the Embryology course at Murine Biological Laboratories at Woods Hole, Mass. This was and remains the most prestigious and competitive class on Developmental Biology in the world. There were about 20 students and I was scared to death. Then, a funny thing happened. I realized that no student had a better understanding of the fundamentals of development than I did. My professors at Augustana inspired me but they also trained me. That training was the foundation for my career in science."
Bader the Researcher
More than 17 years ago, while still at Cornell, Bader was recruited to an endowed chair at Vanderbilt University in Nashville, Tenn., home of the largest repository of human DNA in the world. Today, at age 60, he serves as professor of medicine, professor of cell and developmental biology, holds the Gladys Parkinson Stahlman Chair in Cardiovascular Research and is chair of the institution's Medical School admissions committee. He serves on the BRIN Advisory Board and has served as chair on committees for the National Institute of Health and the American Heart Association.
He and his wife, Cathy, are the parents to John (Augustana class of 2008) and Will.
"My whole career, I've studied heart development and regeneration. At its core, my research tries to understand the genetic basis of heart development and disease. We've made significant discoveries of genes that are important to heart and blood vessel development. "
He says he's proud that his research, fueled by his own curiosity and training, has a direct impact on human health.
"I'm just curious. Back in the day I thought, 'maybe I'll use my curiosity to find things that might impact human health.' You have to juxtapose curiosity with careful observation and protocol. If you want to determine what a specific gene's function is, you might have to work for months or years to get the background you need to do the right experiment. To be a scientist you need to be patient and curious and observant. It's art, too. It's the idea that you're creating an experimental model so that you can discover something – so that you'll be able to see something that no one else saw before. You have to go through all this training to position yourself to where you can use your curiosity. I'm still curious – I'm getting old, but I'm still curious," he says, laughing.
"I had a wonderful childhood with loving parents and three beautiful sisters. I am also very fortunate to have classmates from kindergarten who have been life-long friends.I also got a great education at Augustana. I was as well-trained to do biomedical research as anyone – as any of my colleagues from any other institution. Yes, my innate curiosity and my work ethic were important, but beyond that technical aspect, the fact is my professors took the time to help me."
"I'm also so grateful to all the students, researchers and post-docs who have worked with me over the years – many of whom have their own labs now."
Today, he calls himself happily content.
"I still love my job. I still love science, still love teaching, still love being at a university. And I'm not fat, yet," he says, laughing.