The Amplifier
Dominick Washington '00 is communications director for the Bush Foundation, St. Paul, Minn.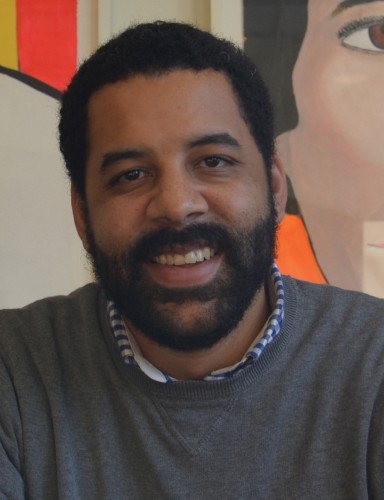 At 22 years old, Sioux Falls native Dominick Washington was sitting at Nutty's pub with classmate David Johnson '00 as they both neared their graduation from Augustana. That conversation in a bar led to a life-changing decision.
Johnson was interviewing for a job in U.S. Sen. Tom Daschle's office in Washington, D.C., and he encouraged his friend to apply there instead of to law school. At the time, Augustana alumna Nancy Erickson '84 – now the secretary of the Senate – worked in Daschle's office. Dr. James Meader (Government/International Affairs, former chair of the Social Science Division) connected Washington with Erickson, and he got the job.
Yes, Mr. Washington went to Washington.
He has since worked on Barack Obama's 2008 presidential campaign in Minnesota, followed by communications jobs in health insurance and higher education in Chicago. He recently was named communications director for the Bush Foundation, a nonprofit headquartered in Minnesota. Now 35, he recently spoke with Augustana about what he does, why he started college on a theatre scholarship, and how a senator ruined his birthday.
Q. What are your major responsibilities at the Bush Foundation?
A. The foundation is in its 60th year of existence, and really, over the course of those 60 years, what's really distinguished it is that it's focused on great ideas and the people who power them. The work, which is super gratifying for me, is focused on North Dakota, South Dakota, Minnesota, and 23 native nations that share its geography. What we're really known for is the Bush Fellowship – really, investments in people. The Bush Fellowship is awarded annually, and it's really a way to help develop and support leaders to be better networked, better supported, and improve their communities. People tell us what they need to be better leaders, and we help make that happen. We provide that support – to pursue an academic degree, or a self-designed experiential program.
My responsibilities are for the foundation's external and internal communications – at its most basic, I'm the person responsible for ensuring that we are able to broadly and effectively communicate who we are, what we do and why we do it. I might be developing annual reports, or executing rollout starts for various grant or fellowship programs, but really at the end of the day, it's amplifying the impact of the work.
Q. Greatest accomplishment of your career so far, and why?
A. It seems with every new job I take, I move into a new sector, so it's been diverse. When I look back on it, among the accomplishments I'm the most proud of is working on President Obama's campaign as political director in Minnesota for his 2008 campaign, and also working in Sen. Daschle's office after graduating from Augie and going out there (to Washington, D.C.). Without that experience, I don't think I would've been able to go on to do the great things I've been able to do.
The 2000 presidential election went into overtime. With the Senate split 50-50, Sen. Jim Jeffords switched parties on my birthday, so he sort of stole my thunder. I was in Washington, D.C., on Sept. 11. I was in Sen. Daschle's office when the anthrax letter was opened. My office was right across from the mailroom, but I happened to move two weeks earlier. I got to be part of historic moments in the history of our government, really the history of our nation. And I met my wife (Summer Martins) there.
Q. Favorite professor at Augustana and why?
A. When I think about the professors at Augie who really shaped me, three come to mind: Heather Aldridge (Bart) (communications), Mike Mullin (history) – his lectures taught me as much about communication as history, just the way he was able to create narratives by piecing together moments in time – and of course Peter Schotten, really the entire government department at that time: (Dennis) Stevens, (James) Meader, (Joseph) Dondelinger.
Q. Favorite class?
A. Constitutional Law. As government majors, that was sort of the class that you aspired to get to. I remember majors a couple years ahead of me. I thought, 'You guys are so smart and so brilliant, and I can't wait to be in that class. I can't wait for people to think I'm smart and brilliant.' That's where the cool kids landed! That class, more than any other class, appealed to the way that I learned and my strengths. The way Dr. Schotten taught the class, in true Socratic Method, challenged your assumptions and your beliefs about what was right and what was wrong, forcing you to be rigorous in developing your own perspective and conclusions in anything, really.
Q. Looking ahead, what's next for you? Professional goals, personal plans, etc.
A. I just started here at the Bush Foundation, so eventually I'll find the coffee maker. So that's a big goal. I really feel fortunate to be here at the foundation as a steward of resources that can have a real impact both here in Minnesota and South Dakota, places that I love. That's what I'm focused on now. I'm intrigued by the possibility of running for elected office in the future, but where, what and when are to be determined. Likely when my daughters (Charlotte, 4, and Elsa, 2) are a little older.