Biologist Turned Artist
Domonique Venzant is proof that even the best laid plans are no match for the power of a heart awakened.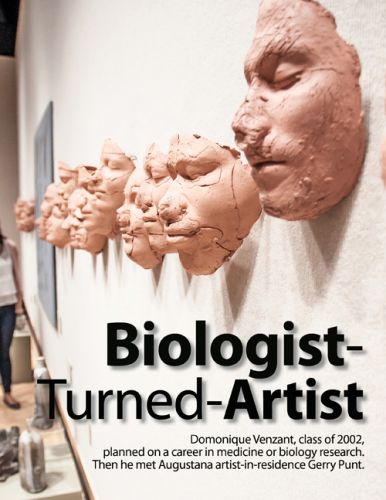 In 2002, Venzant was a senior biology major intent on pursuing a career in medicine or biology field research. On the final stretch of his senior year, he took an elective ceramics class from Gerry Punt, assistant professor of art and Augustana's Artist in Residence, during his last semester. Maybe, he figured, the course would be a breeze – an easy way to rack up three more credits.
It was, Venzant found out early on, anything but easy. The course ended up changing his life.
"You know, I always knew I wanted to work with people. I was good at biology; I had good aptitude, but I wasn't passionate about it. Then I took this ceramics class and, well, it was mind-opening. I had no idea you could use this 'stuff' to talk about all things – to engage people in dialogue. I thought ceramics was just about playing with dirt. I found it to be the most difficult class I'd ever taken."
He experienced, he said, a powerful awakening – one that changed the direction of his life. After graduating in 2002, he became an apprentice in ceramics under Richard Bresnahan at the Saint John's Pottery Studio and then completed a second apprenticeship under Simon Levin at Mill Creek Pottery. He then went on to earn an M.F.A. in ceramics and sculpture from the University of Missouri-Columbia.
He currently serves as a full-time instructor of ceramics and sculpture at the Minneapolis Community and Technical College. An exhibition of his work, entitled "Sine Qua Non" was held at Augustana's Eide/Dalrymple Gallery earlier this fall.
"'Sine Qua Non' is Latin for 'without which, not,'" Venzant says. "There are essential qualities and characteristics that give identity to a thing, to a place, to a person. Without eyes or lips, we wouldn't be able to identify a face. Each piece in this exhibit illustrates human interactions – the relationships between individuals and the larger whole."
One example is his newest work, entitled "One and the Same: Onlookers."  It features masks of 49 faces – some tall and skinny; others round and plump; long noses, short noses, wide noses; all with their eyes closed; all with varied imperfections – a dimpled chin, a gashed cheek, a droopy eyelid. They are the faces of Venzant's students. He formed the masks in plaster, then filled them with clay.
"The masks all have their eyes closed. Together, they ask the viewer to think about how we see each other – to think about how we see relationships – and to ask, 'are we present' in our relationships?"
One painting on display is a clear throw-back to his biology training. To the untrained eye, it looks like brown squiggles on a blue canvas. But to a biologist it is, without question, a karyotype – the set of 23 chromosomes that are, as Venzant says, "a roadmap for what all people are – under our skin, under our bones, under our blood. That's our genetic map – it's what we all have in common."
His carefully crafted shapes and spaces ask his audience to contemplate the relationship of individual parts to the whole as a means to invoke simple questions with complex answers: "Who am I?" "Who are you?" "Who are we?"
Another example of his efforts to create dialogue through art shows in his piece, "Necessary Imbalance." At its face, the piece looks like a large scale or balance – one end holds a collection of white globes fused together; the other holds a singular brown globe.
"This piece really shows the power of one – our unique ability to leverage," Venzant says. "The center isn't set – it allows the scale to balance at different points," he explains, showing how the arm can balance at different points on the fulcrum.
"Science tells us that stem cells have the ability to become any other thing. The reality is that human beings can do the same thing. I hope this leads viewers to the conclusion that relationships are really important. We can work to take good care of them or, we can do nothing."
Finding Himself
Prior to taking Punt's class, Venzant says he never considered himself an artist.
The process to becoming one didn't take long.
Punt remembers watching Venzant realize both the power of art and the passion he felt for it. He saw it begin to happen, Punt says, on the first day of class.
"That first day, he asked questions most students don't even know are questions after three semesters," Punt said, smiling at the memory. "It was really something to watch him discover the relationships between himself and the materials and to discover the significance found in the layers of things."
"[Through art] he really did find another way to communicate – and learned how to understand who he was in the process," Punt said. "That's what happens with artists. We don't 'make' things just to communicate, we do it to deepen our understanding of ourselves and our relationships with others."
"He's really brilliant – he's got this great way of connecting his artwork with the history of being human and with time and space."