The Community Builder
Lowell Kruse '65 doesn't mind being called audacious. After all, he's working to change the world, one community at a time. What's more audacious than that?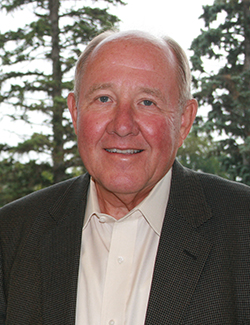 Lowell Kruse was in his early 50s and at the height of his career in health care administration when he made an offer that would radically change the course of his life.
As CEO of Heartland Health in St. Joseph, Mo., an award-winning health care system serving an economically and culturally diverse community, he'd been reflecting on his work over the last 30 years.
Since earning his bachelor's degree from Augustana in 1965 and later his master's degree in health care administration from the University of Minnesota, he'd held executive leadership roles at small hospitals and major health care systems throughout the U.S.
He'd seen medicine from all sides – from the view of administrators tasked with balancing budgets; of physicians, nurses and other care providers; of patients seeking care; and of the communities each considered home – towns and cities charged with educating their youth, sustaining their economies and serving those in need.
From Kruse's perspective, there were cracks in the system. Cracks he wanted to help repair.
So he approached his Board of Directors with a proposition: After his retirement, would the board work with him on efforts to build healthy communities?
The board's response:  "Absolutely."
Board members even offered to provide him with office space and administrative support.
After retiring in 2010, Kruse and a team of like-minded individuals formed Communities of Excellence 2026, a nonprofit organization whose mission is to address "grand challenges facing the nation in the inextricably interwoven sectors of health care, education and economic vitality."
The ultimate goal is to employ principles of community performance excellence and foster collaboration and integration among the various generations and multiple sectors that make up a community, with specific emphasis on our health, education and business sectors, in order to create stronger communities for future generations.
"Hospitals are essential, so ultimately I'm a big fan of hospitals. But, I truly believe, in some respects, we lost our way in terms of focusing so much on competition – so much on the business and measuring success by how many patients a day we see or how much market share we have," Kruse said during a visit to campus this fall.
"It's important, as a country, that we refocus some of our efforts by placing  more attention on the 'public good' and move back a bit more to serving our public interest. In particular, I believe there are three sectors of society that exist to serve public interest: education, government and health care. Clearly the leadership of those sectors has to think in terms of running very high quality organizations – cost-effective, good quality services. But we, together, have to serve the public interest, that is, to produce healthy, productive, well-educated citizens so that they can perform the activities that create a good, strong economy."
The key to building strong communities, he says, is education.
"It takes about 20 years to produce an entry level young adult," he said. "At about 20 years old, you're going to school, you're doing service, you're in your first job, but you're just starting. You've got to work and find out what you like and what you don't like. It takes another 20 years to produce an emerging leader. My thought is, everything has to go right during that first 20 years. It's 20 years just to get started. We have about 4 million babies born in the U.S. every year and about 40 percent of those births are paid for by Medicaid – meaning there are a lot of kids born into poverty. In some communities, take inner cities for example, upwards of 80 percent of births are paid for by Medicaid."
"Of those 4 million babies, approximately 1 million won't graduate from high school. Of the 3 million that will graduate, many won't go on to develop or improve themselves unless the community they call home offers them opportunities. We also know from research that 80 percent of brain development happens within the first four years of life."
What's needed, Kruse says, is a new focus on bringing all the sectors of a community together using quality principles.
"We need a whole new way of leading communities. We need a new generation of leaders that think in a more holistic way."
Communities of Excellence intends to test its model of creating that new way of thinking in four "pilot" communities: Lake City, Iowa; Rochester, Minn.; an 18-county area in northwest Missouri, including St. Joseph; and a large, urban area yet to be identified.
Kruse and his team will start by asking leaders in each community to identify key stakeholders to the project, including elected officials, major employers, content experts in health care, education and business, safety and law enforcement officials, church leaders, social service agencies, and representatives from the arts and culture.
From there, steering committees will emerge and an overall vision and process will be identified specific to each community.
Once the pilot work begins, a community coach will be assigned. Kruse and his team will continue to provide training and education, modeled after the Baldrige Criteria for Performance Excellence, a program managed by the U.S. Commerce Department's National Institute of Standards and Technology. According to its website, the Baldrige Performance Excellence Program is designed to "raise awareness about the importance of performance excellence in driving the U.S. and global economy, provide organizational assessment tools and criteria, and educate leaders in businesses, schools, health care organizations and government and nonprofit organizations about the practices of national role models."
Kruse acknowledges that building communities of excellence will be no small task. But, he said, history has shown that the status quo does not breed the kind of change America needs.
"Look at the history of America. Look at the founding fathers – they established the principles of democracy out of nothing. Somebody had to think that up, write it down, and have the courage to do something about it. They signed our Declaration of Independence and put in motion this thing called democracy. For the last 250 years, we've been in the process of perfecting that, and we're far from perfect. There's nothing that says our country will continue to grow and prosper for the next 250 years so we need to talk about being audacious like these people were back in 1776. We're trying to change the course of human events, and for the next 250 years, we need to put in place a new generation of leaders who think and work differently and operate under new levels of collaboration. That's what I'm going to spend the rest of my life doing."
"For the most part, I believe people do understand that we have to do something different in order for our country to continue to grow and prosper during its next 250 years. At the end of the day it's relatively clear that children are educated in communities, that jobs are created in communities, that people lead healthy lives (or unhealthy lives) in communities. Said another way: For America to maintain its vitality and prosperity over the long term, it's essential that our communities maintain their vitality and prosperity. It all starts in communities. America truly succeeds one community at a time, just as communities succeed one person at a time."