Disorder on the Border
Drug smuggling. Human smuggling. Death by dehydration.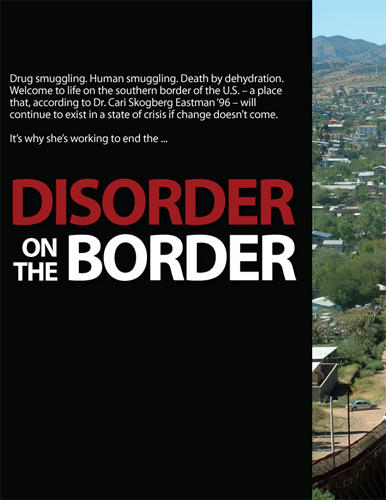 Welcome to life on the southern border of the U.S. – a place that, according to Dr. Cari Skogberg Eastman '96 – will continue to exist in a state of crisis if change doesn't come.
It's why she's working to end the "Disorder on the Border."
Just after sunrise, starry-eyed teenagers, hopeful young mothers and fathers, and desperate old men with bony, calloused hands pile into a rusty, dusty van with dark tinted windows and ripped upholstery at a pick-up stop in Altar, Sonora, Mexico. They carry a few things – a backpack, a water bottle, a change of clothes, a paperback guide to the English language. From their squished spots inside the vehicle, they watch brown billows of dust blow by as the van rumbles over the rough, unpaved terrain of the Sonoran Desert.
Through the dirt, weaving a path between cactus plants and venomous snakes, the van heads north, toward the border into the United States.
When it reaches the "drop-off" point, the driver slams to a stop and the door slides open. The passengers are ordered to get out and are given directions to the "pick-up" point where they'll board "the magic bus" – the vehicle that will put their dreams within reach. Their excitement and nervousness is palpable. Soon they'll be working – they'll have a decent job that pays enough to send money home – for food, for medicine, for shoes.
As a group, they begin to walk in the direction of the "pick-up" point. They walk for hours, crossing over ranchland, through dusty pastures and beside Gila Monsters and deadly scorpions. Days pass. Their water bottles empty. The snacks they packed inside their backpacks are gone. They are covered in dust. In the sunlight, the temperatures can top 100 degrees and they sweat constantly.
After nightfall, the air turns cold. Shivering, teeth chattering, most walk on. Others stop to rest, losing track of the group.
Most will make it to the pick-up point and make their way into the U.S. Some will not.
At the same time, the rusty, dusty van returns to Altar where it will refuel and re-fill with another group of starry-eyed teenagers, hopeful young mothers and fathers, and desperate old men for another trip north.
This is the troubling and unforgiving cycle of immigration on the border between southern Arizona and Mexico – a harsh stretch of desert where a staggering 250 souls died during 2010 alone. How, where and why foreigners cross the border, or die trying, has ignited a heated debate throughout the U.S., especially among the nation's border states.
It's a highly complex issue experts have called mentally draining, socially dividing and financially exhausting  – one with no right or wrong answer. Do we have a responsibility to help those in need find a better life?
Or, is our first and foremost responsibility to protect the property, jobs and livelihoods of tax-paying Americans?
Many have simply thrown up their hands, calling the situation hopeless.
But not Dr. Cari Skogberg Eastman '96.
Skogberg Eastman's hands are dirty – literally – from countless trips to the desert to research the issues of border control and the social responsibilities of two nations living amid a global financial crisis.
Her goal in doing so, she says, is to open the lines of communication.
"I want to restore dialogue – not just to this debate, but to any contentious issue. We need to be a more civil society. There's so much polarization; so much black-white. That leaves no room for discussion. The truth is, there is no one right answer. There are a myriad of problems and we need a myriad of solutions. To find them, we need cooperative dialogue," she says.
Her recent book, "Shaping the Immigration Debate, Contending Civil Societies on the U.S.-Mexico Border," seeks to create that dialogue. It is dedicated to "those who have lost their lives crossing borders and [to] those who have dedicated their lives to making a difference on this complex issue."
By the Grace of God
From her research, Skogberg Eastman comes across as a tough debater; a no-nonsense critic of sensationalistic journalists who have "lost their way" as watchdogs for the public. Her arguments paint her as a citizen journalist who follows the footprints of migrant immigrants and talks at length with border-patrolling, camouflage-clad officers from the Minuteman Civil Defense Corps in an effort to get the "real story" in order to share it with others.
In person, Skogberg Eastman is a petite, 38-year-old mother of two. She speaks with a soft, rolling voice and offers the kind of genuine handshake that comes from growing up in Belle Fourche, S.D.
She is part renegade-advocate, part compassionate-citizen. And at the heart of who she is, she says, is a commitment to making the world a better place.
"By the grace of God I was born where I was. I got the education I did and now, I feel like I'm being called to educate others on how we can help others," she said. "Any one of us could have just as easily been born into the desperation and economic poverty that so many of our neighbors face. Christ is so apparent in the faces, stories and journeys of those neighbors. It is important that their stories are told fairly and that the stories of all those affected by immigration are considered thoughtfully – without the hateful rhetoric that has so often filled the airwaves," she says.
At Augustana, she double majored in Secondary Education, with an emphasis on English, and Modern Foreign Languages, focusing on Spanish and Norwegian.
After two years and a semester in Oslo, Norway, on an exchange program, she'd exhausted all the Norwegian classes that were available. She took her first-ever Spanish course as a junior.
That course, she says, "was the start of a grand journey I'd never imagined."
After graduating in 1996, she taught Spanish in Spearfish, S.D. She used her summer and holiday breaks to spend time in Mexico and Costa Rica to sharpen her language skills and also spent a year in Spain as a Rotary Ambassadorial Scholar.
While in Spain, she was accepted into an accelerated master's program for the teaching of Spanish as a foreign language.
She also taught at Black Hills State University and eventually returned to Augustana to teach Spanish before deciding to pursue her Ph.D. in journalism and mass communication, with an emphasis on development communication. The doctoral program, Skogberg Eastman says, was a way to bridge her love of language, culture and writing.
Coinciding with her Ph.D. studies, "immigration" was becoming a household word. The public debate about who should, and shouldn't, be allowed to pass through the border had become a heated issue. New legislation had sealed the borders in California and Texas which resulted in a "ballooning" of people coming in through the border in southern Arizona.
The immigrants trying to enter didn't understand the area's terrain or realize the stark, bleakness of the landscape. They didn't realize that if they ran into trouble or needed help there would be nowhere to go. 
"I began to investigate the issue more. Eventually, I felt like this was what I was called to do – to research and study this issue. It ignited a passion in me. It tied together all of my interests – language, culture and development."
For more perspective, Skogberg Eastman began visiting some of the border sights she'd been studying.
"Seeing those sites completely reinforced the fact that this is an incredible issue that people don't fully understand. I knew I needed to look more deeply into this and describe it to others because there's no way they could know what was happening simply through mediated reports of the situation.
"I've always been a teacher at heart and I've always dreamed of being able to make life better for others. God gives us gifts. It's our job to use them to make the world better in whatever way we can."
Disorder on the Border
Early on in her research, Skogberg Eastman read "Dying to Cross," a book chronicling the illegal immigration attempt of some 70 individuals. In an effort to reach a better life, the men, women and children stuffed themselves into the back of a truck in hopes of a quick trip across the Mexico-Texas border. Instead, after hours of riding in the overcrowded trailer without fresh air, the passengers began dying. Even after two passengers popped out the truck's tail lights and began waving their arms to alert someone of the group's presence, the truck did not stop. When the doors finally opened, body after body simply fell out. Fourteen people had died from suffocation.
"That book made such an impression on me. The sheer injustice of the situation – these people were coming here to work. They were promised an easy passage. The inhumanity of it all really hit me," she said.
She visited the Pima County Cemetery in Tucson and witnessed the "pauper" graves firsthand – mass graves for unidentified individuals found in the desert, most of whom had died during immigration attempts.
"I saw one spot that had 14 grave markers – most that read John Doe. I thought, 'every single one of these is a person who was trying to come to the U.S. to fulfill a dream. Do their families even know they're here?'"
The gruesome reality, Skogberg Eastman says, is that because of the desert's environment – including extreme heat and predator animals such as buzzards and coyotes, the dead bodies aren't preserved in a way that allows for easy identification.
"The remains are sent to the Pima County Medical Examiner's office and are put on record. The hope is they'll be identified. When I thought of the rituals we have in the U.S. around burying the dead – all in order for loved ones to come to peace – I just stood there and cried. Their stories aren't being told. I knew I needed to get to the bottom of it. My mind and heart opened up to the humanitarian aspect of the whole situation."
"I began to concentrate on how the stories of immigration are told through the media and how they compare to what's really happening. I wanted to uncover the motivating factors – the push-pull that happens on both sides of the border that causes people to risk their lives coming here."
"I learned a great deal about security issues from groups like the Minuteman Civil Defense Corps and I acknowledge and respect the views of those who are active along the border because they see [illegal immigration] as a security risk. Yet, according to the U.S. Border Patrol, 70 percent of people who are coming here are coming to work – they want to send money home to their families. At the same time, 25-30 percent of illegal immigrants have some kind of criminal record. We need to assess how our policies address that reality."
Immigration and the Media
Immigration issues and life on the border are far too complex for a 30-second sound bite or two column inches, Skogberg Eastman argues. Yet, short stories or quick videos showing immigration raids or showdowns between immigration advocates and opponents are ultimately what fill the papers and cover the airwaves.
"I don't want to discount the security concerns. My ultimate goal is to help people think more broadly about the issues and to refuse to allow simplified mediated versions of what's happening along the border to become known as what's really happening."
"What we have here are legitimate concerns about security, safety, humanitarian issues and our trade policies. The government pushed the balloon effect in hopes that it would diminish illegal immigration. Instead, we saw increases in people coming through in nontraditional areas. It just re-directed them. In spite of that, we've refused to change the policies and figure out the root of the problem – why are people coming? We need to figure out legal remedies to help these people who need work so badly that they're willing to risk their lives to find it."
The ideas are out there, Skogberg Eastman says. It's just a matter of separating them from the rhetoric.
"We know the majority of immigrants come here to work. I heard one idea for a program that gives Mexicans legal visas to come to the U.S. and work. A percentage of their paycheck is then deposited in their hometown bank in Mexico and only payable upon their return. That's just one idea. There are so many creative strategies out there to enable a more humane migration cycle."
"I can understand Americans who say they are concerned about security. I can also understand the humanitarian sentiment that says 'wait, we're called to welcome the stranger and treat our neighbor with love and justice.' Regardless of their viewpoints, people understand one thing: the system is broken. It has to be changed. It's destructive for our country; it's destructive for people coming across; and it's costing us millions of dollars."
"My work is not for a political purpose or to convince people to believe one thing or another. I just want desperately for people to know that what's presented to them through the media is just a fraction of what's going on. I want to help paint a more accurate picture of what's happening along the border so people can understand the points on all sides of the issue. From there, we can focus on the heart of these problems, study the effects, and propose effective solutions."