Dr. Trailblazer
She was six years old with wide brown eyes, tan skin and black hair. Her smile took your breath away.
Her name was Sulmy. And from afar, she looked like millions of other children in her home country of Honduras.
But, she was different.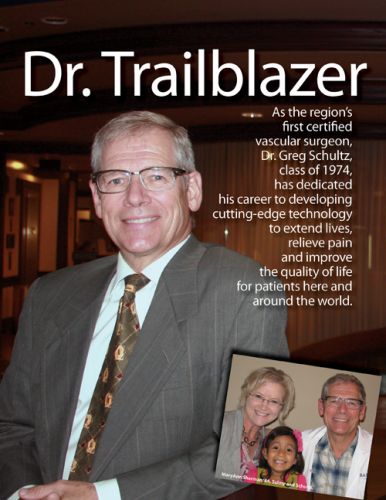 Born with a severe congenital anomaly called imperforate anus, Sulmy needed an emergency colostomy as a newborn. With no access to advanced medical care, she'd been plagued by ongoing, uncontrolled soilage throughout her short life. Her friends were care-free – happily running, dancing and jumping. Sulmy still wore diapers and struggled with feelings of embarrassment and a fear of ridicule.
Her grandfather was desperate to find a way to help her. What kind of life could she have, he wondered, if she had to continue living this way? He had to do something.
As luck, or hope, or prayers would have it, about a year ago Sulmy's grandfather learned of a group of American doctors and medical professionals in Honduras on a medical mission trip. His pastor, who also served as the medical director at the clinic the American doctors were visiting, arranged for the grandfather and the doctors to meet.
Could these doctors help his little Sulmy, the grandfather asked, after describing her condition.
Two of the medical missionaries, Dr. Greg Schultz, a vascular physician and surgeon with Sanford Vascular Associates in Sioux Falls, and his Physician's Assistant, MaryAnn Sherman, listened to the grandfather carefully. Schultz saw the pain in the old man's eyes and the ache in his heart.
He'd do anything for this little girl, the old man said. She'd been through so much already. He could barely think about the challenges her future would bring if she didn't get help, soon.
Schultz told the grandfather he would do everything he could do to try to make it better.
He returned to Sioux Falls and began researching the condition. He consulted with colleagues and worked with Sanford Health to donate the cost of the care Sulmy would need.
Several months later, Sulmy was flown to Sioux Falls and had the first of two operations to correct her condition. During her time here, she stayed with Sherman and her husband, Steve, both Augustana alumni from the class of 1984, who served as her foster parents.
The final surgery has been successful and Sulmy no longer feels embarrassed or shy. She is, wonderfully, just like any other six-year-old girl. Soon, she'll return home to Honduras to re-join her family.
The experience of helping Sulmy is something Schultz calls "amazing." It is just one example of the many ways this class of 1974 graduate has worked to improve and extend human life through the practice of medicine.
A Passion for Excellence
The oldest of five kids, Schultz was the first in his family to attend college. He grew up in Madison, S.D., and chose Augustana, he says, because of his Lutheran/Norwegian heritage and also because he "felt the warmth of the place" the first time he stepped on campus.
He arrived in 1970 not knowing for sure what he wanted for a career but found himself influenced early on by iconic figures like Dr. Arlen Viste (chemistry), Dr. Lansing Prescott (biology), Dr. Leland Johnson (biology) and Dr. Sandra Looney (English).
"Those people – they touched my life. They all did."
After graduating from Augustana with majors in biology and chemistry, he went on to the University of Minnesota Medical School. He did an internship in general surgery and completed his residency at Hennepin County Medical Center in Minneapolis. He did vascular surgery
training at Mayo Clinic in Rochester, Minn., followed by a fellowship in vascular surgery at Providence Medical Center in Seattle, Wash.
He returned to Sioux Falls in 1986 as the first trained certified vascular surgeon in the region and has been providing vascular care since. Eight years ago, he added a partner, Dr. Pat Kelly. His practice has continued to grow and, today, Sanford Vascular Associates includes a team of physicians dedicated to providing state-of-the-art vascular care, utilizing minimally invasive techniques.
What that means, Schultz says, is simply this: "our focus has been on how to provide care without having major operations."
"People come in and they're scared. They hear all the stories about how major surgeries have impacted people's lives. So, when they come in and I can tell them, 'You know what, we can do this minimally-invasively, with minimal pain and with minimal down time,' and people sometimes just look at me like, 'You're kidding.'
He's definitely not kidding.
Today, thanks to advances in technology and his efforts to pioneer new procedures and methods of care, Schultz says only 10-20 percent of his work involves standard open surgical procedures. "The majority of what we do is medicine and endovascular therapy and that's very unique."
"In that vein, we've saved lives by repairing abdominal aneurysms by using stent grafts. We've avoided strokes by treating carotid arteries by using carotid stents in patients. We've prevented amputations by doing all we can do to open blocked arteries by using catheter-based technologies. We've decreased pain and discomfort in patients with venous disease by using minimally invasive treatment options to take care of the veins," he said. "Vascular surgery is so exciting because it's continuously evolving. What I do today is so much different than what I trained doing 25 years ago. That's been very exciting."
Schultz and his team also have a strong commitment to research. Sanford Vascular Associates has been involved in nearly 30 national research studies as either principal investigator or co-investigator. The team has multiple publications to its credit and members of the practice have given talks about their approach to vascular care nationally and internationally.
"Some say that a physician is a perpetual student," he says. "That's certainly served me well in my field of vascular surgery."
Schultz's own work as a physician and surgeon, and his commitment to teaching tomorrow's doctors, has been recognized as well.
He has been a recipient of the "Best Doctors in America" award and the "America's Top Surgeon" award. He received the "Outstanding Clinical Faculty Award" from the University of South Dakota School of Medicine and the "Clinical Teaching Award" from Sioux Falls Family Practice Residency.
"In terms of what we've developed here – it's been unbelievable – beyond my wildest expectations," Schultz said. "I'm really proud of what we've done but, more importantly, I believe that the key to pioneering a program is to bring in people as good, or better, than you are. And I've done that here. That's how you continue the tradition of care into the future.
"It's been a tremendous joy to bring this back to my home – to where I grew up. It's been very humbling to take care of people I've known all my life."
Growing the Program
"If you want to succeed in anything, you have to be visionary – in terms of patient care and in terms of new technology. And, most importantly, determining how that technology best serves patients."
For Schultz and his team, that vision involves looking beyond the city limits of Sioux Falls to the broader region. The group serves 17 outreach sites in South Dakota, Iowa and Minnesota.
"We live in a very geriatric-rich area. The reality is, many people grow up here, move away and build their careers, then come back here to retire. For elderly people, we've seen that either due to transportation difficulties, the cost of gas, or other issues, our patients need us to come to them. So we go. What we've seen is that they're willing to be advised and evaluated in their own communities, come to Sioux Falls to be treated, then return to their hometowns."
"The bottom line is that many people would choose not to receive care [if it meant having to travel back and forth]. We've made a commitment to the region to go to them. That's been important."
"I think we've really developed a world-class program with Sanford," Schultz says, citing passion, a willingness to work hard and a vision for patient care as the keys to the program's success.
"We couldn't have done this without Sanford and their vision too. They've been incredibly supportive."
Dave Melemseter, class of 1984, an executive with W.L. Gore & Associates, Inc., a medical device manufacturer, calls Schultz one of a kind.
"When I think of Greg, two words come to mind: outcomes and outreach. I've worked for device manufacturers for 16 years and have traveled all over North America. I have the unique perspective of having been in community hospitals and in major academic centers. I can say with complete objectivity that this guy is truly, truly good. The service he provides is, in my mind, truly remarkable," Melemseter said.
Giving Back
After more than 30 years in medicine, Schultz, 60, says he still feels an "indescribable" sense of gratification from providing care to his patients.
Still an active researcher, the future of medicine and science is always on his mind – not far from the memories of when he first discovered a love for the disciplines during his time at Augustana.
That combination of past and future, fueled by the importance of the present, prompted Schultz and his wife, Karen (Augustana class of 1975), to put forth a $1 million commitment to Augustana's recently announced science project. The couple is also planning to commit another $1 million into an endowed faculty position within the Natural Sciences.
"You give back because of the students who are going to come. You give back because of the community that Augustana is; because of the amazing faculty – all of those are reasons you give back," Schultz said.
"I thought a lot about Dr. Lansing Prescott. It was really early on in his career when I  took his bio-chemistry course. Then I went to medical school and took bio-chem. Only then did I realize how outstanding Lansing's class was. Bio-chem was a breeze for me in medical school because of Lansing's class. I learned later that his textbook had become the major textbook for bio-chemistry across the country. He could've gone and taught whereever he wanted to teach."
"So I asked him why he had stayed here at Augustana. He looked at me for a second, then said, 'it's the students. They're phenomenal.'
"The students at Augustana are phenomenal. I was fortunate enough to be one of them years ago. The concentration of really good kids is so high at Augustana. So, yeah, we're excited to be able to give back to this place – and to watch what the kids that come through here will do."