Eight Decades of Augustana History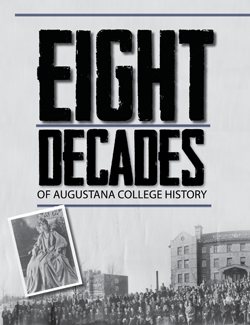 Calvin Coolidge was president; Charles Lindbergh made the first-ever solo trip across the Atlantic from New York to Paris non-stop; and the first transatlantic telephone call was successfully transmitted between callers in New York City and London, England. The year was 1927 and the Rev. Dave Johnson's Augustana story was just beginning.
His parents met each other on campus.
His mother, Esther Loftesness, went to the Lutheran Normal School and later graduated from Augustana in 1928. She was involved in debate at the College and holds the distinction of being Augustana's second-ever Homecoming Queen.
His father, Clarence Johnson, was a native of Jackson, Minn., and was involved in music at Augustana. After graduating in 1927, he served as a pastor in Oldham, S.D.
Growing up in eastern South Dakota, Dave Johnson was an avid sports fan. He had a job delivering Argus Leader newspapers and devoured every article he could find about Viking basketball.
After attending high school in Oldham for one year, he transferred to the Augustana Academy, a residential high school in Canton, S.D. After graduation, he enrolled at Augustana College in Sioux Falls.
At the College, Johnson played basketball and considered careers in coaching or medicine, until his first chemistry class.
"Chemistry sort of dissuaded me from a career in medicine," he says, laughing.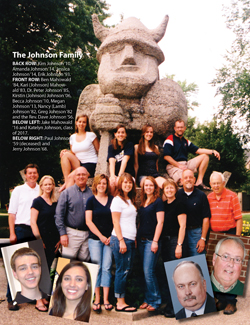 After majoring in English and graduating in 1956, he enrolled at Luther Seminary in St. Paul, Minn. After being ordained in 1960, he began what would become a 53-year-long career in the ministry. He took his first parish in Fowler, Colo. He then served as campus pastor at the University of Kansas; youth pastor at East Side Lutheran in Sioux Falls; campus pastor at the University of South Dakota in Vermillion; head pastor at Lutheran Church of Our Redeemer in Watertown, S.D.; and senior pastor at Peace Lutheran Church in Sioux Falls.
He met his wife, Glenice, a former nurse, at the Augustana Academy in Canton.
His younger brothers are also Augustana graduates, Paul Johnson (deceased), class of 1959, and Jerome (Jerry) Johnson, class of 1968.
His four children followed in his footsteps and all studied at Augustana: Greg '82, a pastor who shifted his focus and now leads the Innovation Project for Good Samaritan; Kari (Johnson) Mahowald '83, a teacher; Peter '85, a physician with Sanford Health in Sioux Falls; and Erik '93, a high school science teacher in Bellevue, Neb. Greg's wife, Nancy (Lamb) Johnson, a nurse at Sanford Health, and Kari's husband, Ben Mahowald, a chemical sales executive, are also both Augustana graduates from 1982 and 1984, respectively.
As to how they all chose Augustana, well, Johnson says, it just seemed natural.
"Sure, they all had strong encouragement from their father," he says, laughing. "Honestly though, I'm not sure they ever really considered any other school."
He says his daughter, Kari, considered transferring at one point during her time at Augustana.
"We had a good father-daughter talk, then she reconsidered," he says, chuckling.
"Really, it all comes down to this: I thought Augustana was the best place for my kids to go because of the quality of teaching, the commitment of the faculty and the values upheld here. I think Augie instilled in the kids a great appreciation for the values of loyalty and excellence."
He's not bashful about saying that he's "batting a thousand" when it comes to his 12 grandchildren and their college choices as well.
So far, they have each selected Augustana, including Greg's children: Kirstin (Johnson) Johnson '06, a teacher in Madison, S.D.; Becca Johnson '10, a graduate student in genetics; and Megan Johnson '13, an art education major. Kari's son, Jake Mahowald, just completed his freshman year at Augustana. Peter's four daughters will all eventually be Augustana alumni: Kim Johnson '10, twins Amanda and Jessica Johnson '14, and Katelyn Johnson '17.
Of his four remaining grandchildren, one has already committed to Augustana after graduation. The others are younger.
"So I have many years to work on them," he says with a laugh.
Looking back at his time as a student, Johnson says he remembers the quality education he received, the lasting friendships he formed, the values he honed, and the awe he felt at faculty members who he says "were dedicated to the cause of what Augie stands for" including, he said, Drs. Don and Lucy Fryxell (English), Dr. Sven Froiland (Biology), Dr. Orv Westby (Sociology), Dr. Herb Krause (English and founder of the Center for Western Studies) and Palmer Eide (Art).
PHOTO ABOVE: BACK ROW: Kim Johnson '10, Amanda Johnson '14, Jessica Johnson '14, Erik Johnson '93.FRONT ROW: Ben Mahowald '84, Kari (Johnson) Mahowald '83, Dr. Peter Johnson '85, Kirstin (Johnson) Johnson '06, Becca Johnson '10, Megan Johnson '13, Nancy (Lamb) Johnson '82, Greg Johnson '82 and the Rev. Dave Johnson '56. BELOW LEFT: Jake Mahowald '16 and Katelyn Johnson, class of 2017. BELOW RIGHT: Paul Johnson '59 (deceased) and Jerry Johnson '68.