The Entrepreneur
Jackie Just '99, is a designer and business owner living in Minneapolis, Minn.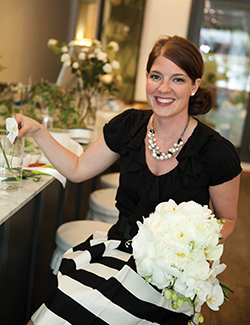 Jackie (Freeberg) Just '99, who majored in business with a marketing emphasis at Augustana, is the owner and principal designer at Just Bloomed — a Minneapolis floral design company focusing primarily on weddings and lavish social events. She plans and designs events and works with clients on what she calls "bringing their floral vision full circle." She is the lead contact for the vendors Just Bloomed works with, and she sources flowers from all over the world.
Q. How has the popularity of Pinterest changed your interactions with clients?
A. When we started Just Bloomed almost 10 years ago we were armed with magazine clippings and 3x5 glossy photos of previous work to show a client the direction we were suggesting for their wedding floral and overall design. Enter Pinterest — not only one of the fastest growing websites, but a major player in the world of current brides. They've all heard of it, and chances are, they likely have a "wedding" board with ideas already pinned to it before they even meet with our company. This new wave of wedding inspiration has been mostly positive. We get a snapshot into their style immediately and have found the development process much less time-consuming in today's age. We do on occasion get a bride with the trigger-finger, pinning everything wedding with no rhyme or reason, but we will gladly help them navigate through it all and get them in a direction that best reflects the couple and what they are trying to accomplish on their big day. And even in this instance, we'd rather have something to start with than nothing at all.
We use old-school tactics in this process, like keeping up on which colors Pantone is forecasting for the upcoming year and which colors we are seeing in clothing and textiles for the following season. But truth be told, much of where we find our inspiration and current trends are from the time spent monitoring and using Pinterest.
Q. Your sister (Jennie Sewell of Sewell Photography) is a professional photographer. How much have you two collaborated on events?
A. We share a studio in Minneapolis, so by default our clients will see both of our work. So we are lucky that, while we are separate businesses, we do end up with the same clients from time to time. I find a lot of inspiration from Jennie's work.
Q. How did you end up choosing Augustana?
A. I was very involved with both the vocal program at my high school as well as the captain of our tennis team. Augustana had both, and when I came for the music scholarship weekend, I just loved the feel of the school and the size of the community.
Q. Best memory from your time on campus?
A. Dorm life. My girlfriends and I decided to live on campus all four years, and developing that bond with those ladies is something I still cherish today. I also met my husband (David Just '99) that first day on campus. I told my roommate that day, 'I'd like to marry a guy like that someday.' We started dating our junior year at Augie and wed three years later. And recently we renewed our vows after 10 years of marriage.
Q. Favorite professor and why?
A. Without hesitation, Jaciel Keltgen (business administration). She had just started with Augustana when I was there, and I loved how much real-world experience she brought to class. She connected me with so many great people along the way.
Q. How did Augustana prepare you for your career
A. Internships were such a focus for Jaciel, and I'm so grateful for that. The internship I did with Lawrence & Schiller prepared me for the marketing and public relations career in Minneapolis that was a large part of my early career and shaped even the event business I own today.
Q. What's next for you?
A. I am constantly looking for the right balance between motherhood and business ownership. It's an ever-evolving process for me that I work diligently towards.