Faces of Our Alumni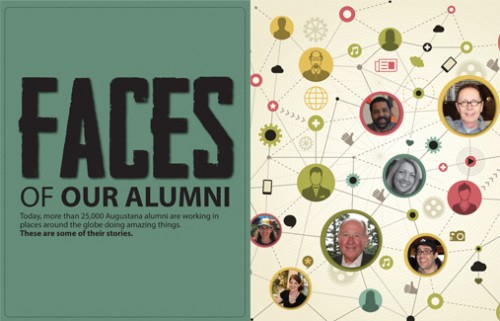 The Artist: Audrey Stommes '10
After studying under Augustana's Scott Parsons, Audrey Stommes '10 is making her own art and teaching budding artists .
The Amplifier: Dominick Washington '00
Dominick Washington '00 is communications director for the Bush Foundation, St. Paul, Minn.
The Googler: Laura (Pfeifer) Vardoulakis '02
Laura (Pfeifer) Vardoulakis '02 is a user experience researcher at Google's Silicon Valley headquarters.
The Stage Manager: Sean McCain '09
Augustana's campus is 1,360 miles away from the sights and sounds of Broadway. For Sean McCain '09, it's been the journey of a lifetime.
Running a Revolution: Dale Hoiberg '71
History, facts and statistics no longer live in print among 32 leather-bound volumes on a bookshelf. Today, information lives on the internet and, for the most part, it's free. But, how reliable is it? Encyclopædia Britannica Editor-in-Chief Dale Hoiberg '71 has helped lead the iconic company's  transition from print to a combination free and fee-based digital delivery. He maintains that  thoroughly researched and vetted content should, and does, have a place in today's world.
The Entrepreneur: Jackie Just '99
Jackie Just '99, is a designer and business owner living in Minneapolis, Minn.
The Community Builder: Lowell Kruse '65
Lowell Kruse '65 doesn't mind being called audacious. After all, he's working to change the world, one community at a time. What's more audacious than that?