Field of Dreams
After playing baseball in the basement of Bergsaker Hall, Don Karras, class of 1976, dreamed of the day when Augustana might have first-class playing and practice facilities. Today, his dream is a reality.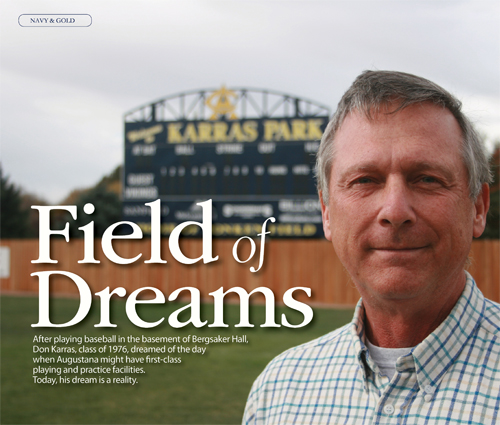 Don Karras, class of 1976, grew to love baseball as a kid, watching his favorite player, the great Roger Maris, on TV. From the crack of the bat, to the the green of the outfield, to the feel of a worn leather glove, to Karras, the game had it all.
When Karras came to Augustana in the early 1970s, the College's Baseball program was growing. The facilities to support it, on the other hand, were not.
"I remember playing ball in the basement of Bergsaker Hall," Karras says, laughing.
After graduating, he watched with interest as Viking baseball continued to evolve. In 1993, Ronken Field, the first on-campus baseball diamond, was dedicated following an estate gift from Maurus and Anna Ronken. Then, in 2011, Lee "Goldy" Goldammer made a lead gift to the College's "Step Up to the Plate" field renovation project to provide a synthetic turf surface for the infield of the venue.
Inspired by the momentum, Karras and his wife, Donna, decided to make a naming gift to renovate the existing baseball stadium on campus earlier this year.
Work began on the project this spring. In October, Karras visited the soon-to-be-complete Karras Park at Ronken Field, a state-of-the-art facility that features a new grandstand, press box, dugouts, suite, back stop and netting system.
In addition, Augustana was recently awarded a grant in the amount of $84,700 from Major League Baseball's Baseball Tomorrow Fund (BTF). The grant will provide funding for the purchase and installation of Musco Lighting equipment at Ronken Baseball Field at Karras Park.
Standing on the field for the first time this fall, Karras' joy and excitement was palpable.
It's a far cry from the basement of Bergsaker, he said, with a laugh.
Karras, a business administration and economics major at Augustana, went on to earn a master's of business administration degree and law degree from the University of South Dakota in 1980 and 1981, respectively.
A native of Sioux Falls, Karras pulled double duty in athletics and the arts while a student at Augustana. He was on the baseball team in 1973 and 1975 and was a member of The Augustana Choir from 1972 to 1976 during semesters in which he wasn't playing baseball.
Karras served as vice president of Newmont Mining Corporation from 1992 until his retirement in 2006. He is currently active in men's senior baseball in Colorado and South Dakota.
He resides in Denver, Colo., and Keystone, S.D., with his wife, Donna. They have two sons, Dane and Dillon, Augustana class of 2010.