Honoring a Legend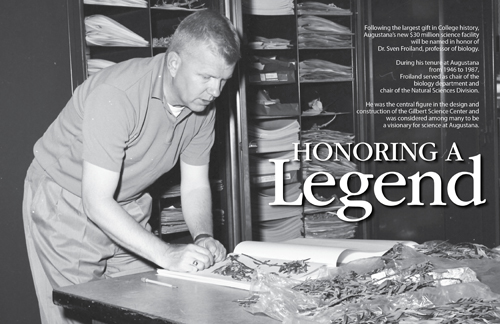 "A strong science program is a must for college and university survival. This is more true today than ever before. We would be derelict in our duty if we permitted our science program to deteriorate for lack of vision and planning for the future."
– Dr. Sven Froiland
"The Case for an Increased Emphasis
on Research at Augustana."
March 1, 1964
Those are the powerful words written by Dr. Sven Froiland in his 1964 paper, "The Case for an Increased Emphasis on Research at Augustana."
Two years later in 1966, Froiland stood excited and proud at the dedication of the College's new Gilbert Science Center. Built for $2.1 million, at the time the facility was considered to be among the region's finest centers for undergraduate science and research.
Today, Augustana is preparing to take Froiland's vision to new heights.
In September, the College announced plans to build a new, state-of-the-art science facility following the largest gift in College history.
A $20 million challenge gift from Sanford Health, in conjunction with commitments from the Momentum Augustana Campaign, the most aggressive fundraising effort in the College's 152-year history, will launch a new $30 million science facility featuring eco-friendly, modern classrooms and laboratories for basic and advanced courses in the natural sciences, along with flexible research laboratories to accommodate growing student-faculty research initiatives.

This artist rendering shows what the new facility, to be named in honor of Augustana science icon Dr. Sven G. Froiland, could look like.
The new building will be named in honor of Froiland, a man many consider to be among the iconic pioneers of scientific research during his four decades of service to Augustana.
The new facility represents the first phase of the project. The second phase involves a $10 million renovation of the Gilbert Science Center.
"The future of science at Augustana begins today," said Rob Oliver, president. "This transformational gift will enable us to achieve our vision of becoming a leading institution for scientific and biomedical exploration and discovery and will pave the way for our undergraduate research efforts to grow and thrive."
"Words cannot express our gratitude to Sanford Health and to the many supportive alumni and friends who have brought us to this point. Thankful, humbled and honored simply don't do justice to how we're feeling."
"Excited as we are, there is still much work to do," Oliver said. "In order to make this vision a reality, we need our alumni and friends to think thoughtfully and prayerfully about ways they can support us as we work to raise the remaining funds necessary to complete this project."
News of the project comes at a critical time for Augustana. Students who are pursuing majors within the Natural Sciences have been steadily on the rise. For the 2011-2012 academic year, the College reported a 42 percent increase in biology majors from five years prior; a 51 percent increase in chemistry majors; and a 28 percent increase in physics majors.
Of the students enrolled during the 2011- 2012 academic year, roughly 40 percent identified themselves as natural science majors, most of whom will pursue graduate and professional school training upon their graduation.
At a recent meeting, the Augustana Board of Trustees voted unanimously to move forward on the project.
"Now is the time. This endeavor paves the way for our strong programs to grow stronger and for our already extraordinary student outcomes to advance to new levels," said Board Chair John Thomas. "This project will allow Augustana to combine the best of the liberal arts with the best of scientific research and discovery to create an even better learning environment for generations to come, particularly the doctors, nurses, teachers, engineers and scientists who will lead our world tomorrow."
The College's undergraduate Summer Research Program is also growing. From May through August, 69 Augustana students were hard at work conducting scientific and biomedical research and/or completing internships or volunteer positions at facilities throughout the U.S. as part of the Program, an initiative that places undergraduates in the field at laboratories, hospitals and study tanks throughout the U.S.
The existing 85,550-square foot Gilbert Science Center is home to the Natural Science Division that includes the departments of biology, chemistry, physics, nursing, computer science and mathematics. The building was named in honor of Gerhard A. Gilbert, a South Dakota-based businessman who served as mayor of Watertown, S.D., from 1948-1954.
With a new science facility, College officials say, Augustana has the potential to send even more graduates on to master's and Ph.D. programs within the sciences, as well as to top-ranking medical schools. Over the last three years alone, Augustana graduates have enrolled at Duke, Princeton, Kansas, the University of South Dakota School of Medicine, South Dakota State University, Yale, Harvard, North Carolina, Mayo and Washington University, among others.
About Dr. Sven Froiland
Born in Astoria, S.D., in 1922, Froiland attended Clear Lake High School and graduated from South Dakota State University in 1942. He earned his master's and doctoral degrees from the University of Colorado. Additional study included work at the University of Minnesota; a visiting scholar appointment at the University of Arizona; and work at the National Science Foundation Institutes at the Universities of Michigan, Indiana and North Carolina. He was awarded a honorary doctorate in the humanities from Luther College.
The new facility will be named in honor of Dr. Sven G. Froiland, professor of biology, who served Augustana from 1946 to 1987.
Froiland entered the U.S. Army immediately upon graduating from SDSU in 1942. He served four years and was wounded in the second wave of the Normandy invasion in 1944 and was awarded a Purple Heart. He was honorably discharged from the Army at the rank of captain in 1946.
Froiland began his teaching career at Augustana in 1946 as a biology instructor. He moved through the faculty ranks to full professor in 1958 and served as chairman of the biology department for 17 years until 1970 and the Division of Natural Sciences for 20 years until 1976. He was also heavily involved in the Center for Western Studies, serving as its executive director on a part-time basis from 1976-1983 and full-time from 1983-1987.
During his academic career, Froiland was active in other positions, including the Research Association with the USDA Forest Service and served as director of the Black Hills Natural Sciences Field Station. He was recognized as South Dakota Conservation Educator of the Year in 1976, named to American Men of Science, Outstanding Educators of America, Who's Who in American Education, Faculty-Administrator of the Year in 1976 and received the 125th Anniversary Award from Augustana College in 1986. He was inducted into the South Dakota Hall of Fame in 1987 as an "Outstanding Educator."
Veteran and retired professors and administrators at Augustana always identify Froiland as the driving force behind biological research at the College and the construction of Gilbert Science Center. At the critical juncture when the decision to build a new science building was reached, President Lawrence Stavig, content that the funding for a new facility was secured and plans were approved, retired. His successor, Dr. Charles Balcer, also felt that being new precluded him from making decisions on the new building and assigned the final planning and supervision of the construction to Froiland.
Froiland has been identified as one of the true giants who served Augustana with distinction. He influenced the lives of thousands of future physicians, nurses, researchers, educators and business leaders. Athletic coaches sought him out to meet with talented student-athletes who desired to pursue careers in medicine.
His love for his family; hunting, fishing and the Black Hills; history; and Augustana were core to his being. His legacy lives on in the lives of those he taught; those with whom he served; and has been a major influence on those who teach and learn at Augustana today.