Making an Impact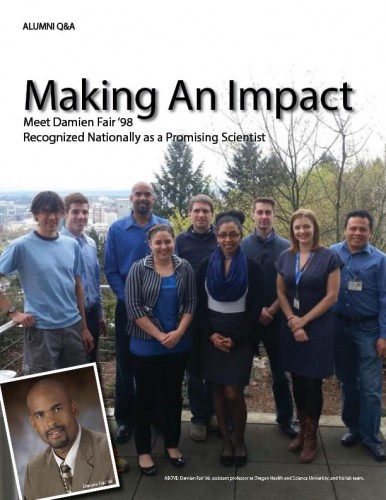 Meet Damien Fair, a 1998 Augustana alumnus who studies the developing brain.
A biology major at Augustana, Fair, now 38, was recently honored with the Presidential Early Career Award for Scientists and Engineers, the highest honor bestowed by the U.S. government on science and engineering professionals in the early stages of their careers.
We caught up with Fair, a native of Winona, Minn., now at Oregon Health and Science University, to learn more about his career and his memories of Augustana.
Q. How did you choose Augustana?
A. I ended up at Augie for two reasons: basketball and academics. I played basketball in high school and was being recruited at various schools in the Midwest. Augustana provided me with a full scholarship to play basketball in a strong conference (at the time it was the NCC whose make up was quite a bit different than it is today) but also provided an institution that excelled at academics. While I had the opportunity to attend other institutions, this combination grabbed me and made the decision to attend Augustana quite easy.
Q. What's your best memory from your time on campus?
A. This is a great question, as I have so many fond memories of my time at Augie. It is difficult for me to pinpoint one specific "best" memory. I had generated so many memories and my time there has gifted me with several lifelong bonds that narrowing it down to one is nearly impossible. I certainly miss the jokes/pranks and the time with my teammates during the grind of our season and training. I also am quite appreciative of my Sioux Falls family and friends who often put food in my mouth and a place to sleep when I was a struggling student.
Q. Favorite professor and why?
A. My favorite professor without question was Dr. Gary Earl.
This might be surprising because he was my organic chemistry professor – a class/topic that is typically not very high on the student wish list. While our relationship perhaps started off kind of "rocky," it really blossomed into an invaluable mentor/mentee relationship that I value quite highly even today.
When I began in his course, I didn't really present myself in a manor that screamed success – slouched in my chair, hat backwards, baggy shorts, etc. I also didn't take many notes, which Dr. Earl noticed, and worried that I would not do well in his class. Well, little did he know that I had already taken much of the material in an advanced course in high school. So after our first quiz/exam, on which I did quite well, he called me to his office to ask me how I did it. From there on, we had a bond and he kept very close tabs on me. College is a place where there are lots of distractions and having somebody make sure you don't get too distracted is quite important. Dr. Earl was one of very few professors/mentors that I've had over the years who could see right through me, he made sure I stayed focused and reached for high goals. He used to tell us 'confidence and competence' are the two words that one needs to accomplish your goals. He was right, and even today I use this experience and his example to mentor students. His guidance really kept me on track academically throughout my time at Augie, and my appreciation for that guidance cannot be overstated. 
Q. Tell us about your career.
A. I am an assistant professor at Oregon Health and Science University. I run my own neuroscience laboratory, which now has about 16 people in it whose expertise varies widely. I have students and postdoctoral fellows who I mentor and who are continuing their neuroscience training. I have biomedical engineers and computer scientists who develop software and run experiments for the laboratory. I have clinicians who do diagnostic visits on the patients and families we see, and I have coordinators who do a lot of the administrative and organizational work of the studies.
My laboratory focuses on mechanisms and principles that underlie the developing brain. The majority of this work uses functional MRI and resting state functional connectivity MRI to assess typical and atypical populations. A second focus has become testing the feasibility of using various functional and structural MRI techniques in translational studies of developmental neuropsyciatric disorders (e.g., attention deficit hyperactivity disorder, and autism). We are exploring ways to better characterize individual patients with these psychopathologies to help guide future diagnostic, therapeutic and genetic studies.
My day typically revolves around managing the lab and the various projects that are being conducted. I also write grants to help maintain our funding as well as papers. Teaching students in the lab and assisting with their writing is also a duty.  Last, I get to travel quite a bit around the U.S. and various other countries around the world to give talks about the lab's work and to meet with other scientists who share my interests.
Q. Greatest professional accomplishment so far, and why?
A. I would say my greatest professional accomplishment besides simply finishing a long road of scientific training (which in many ways is still continuing), would be the Presidential Early-Career Award for Scientists and Engineers that I recently received from President Barack Obama at the White House. While I think that my scientific accomplishments are certainly in the early stages and our outreach work is still growing, it was gratifying to get the award. It represents the culmination of several mentors and institutions, such as Augustana, that have guided my training, a large and talented staff who conduct much of the work, and the families and community partners who feel it important to participate in our research.
The other accomplishment that is still growing, but for which I am quite proud of thus far is the lab's Youth Engaged in Science program (YES!). The program was created to address educational and health disparities in underrepresented communities. It offers enriching science educational programs to middle and high school students. It also offers information and resources for families on mental health disorders. The program has been growing and been run very well by two talented directors in the lab. We think it is making a difference.
Q. Greatest personal accomplishment so far, and why?
A. No question my greatest personal accomplishment has been my family. Most of my closest friends from Augie tell me regularly (hopefully in jest) that there are very surprised I was able to find such a beautiful, well rounded, and accomplished wife. Equally surprising, considering their father, is how even-keeled and "put together" my 8-year-old boy and 19-month-old girl are!
Q. Looking ahead, what's next for you, professionally and personally?
A. Right now its full steam ahead for myself and my laboratory. We are currently making good progress with regard to our programmatic goals and in due time can hopefully improve our understanding of brain development in the context of these complex mental disorders.
My personal plans revolve around getting back on the golf course to improve my increasing handicap. I've also been working with my boy as a coach for his soccer and basketball teams, so I will be spending some needed time in the gym and on the field.