Meet the Dean
Dr. Susan Hasseler shares her thoughts on her first four months as Augustana's new senior vice president for academic affairs and dean of the college.
Q. What excites you most about your role here?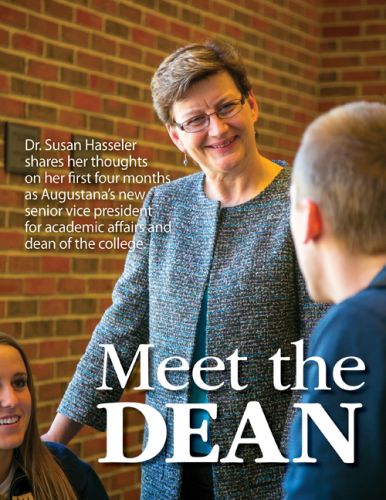 A. The Academic Affairs Office often compares our role to that of trainmasters in a busy railway station. We are constantly working with division and department chairs, 250 full and part-time faculty, and directors of multiple programs, centers and institutes to not only avoid collisions but to provide a coherent and meaningful educational journey for every student who chooses Augustana as their college destination. I am lucky to have a great leadership team who makes this complicated task possible.
The infinite number of opportunities to learn and explore in this complex world excites me. The dual role of Dean of the College – with its focus on providing support and accountability to faculty, staff and students as we try to truly live the College mission – and Vice President of Academic Affairs, with its focus on making connections with partners on- and off-campus, excites me.
The challenge of combining a firm grounding in a rich faith and educa- tional tradition with new and innovative approaches to doing higher education excites me.
The presence of a group of talented, committed and energetic colleagues and students excites me.
There is so much to build on and so much to be done. I can't imagine a job I would enjoy more right now. 
Q. What are your impressions of the College after your first few months on the job?
A. When I was greeting faculty and staff as they returned to campus this fall, many of them asked, "How was your summer?"
I found myself frequently responding to that question with the statement, "It was wonderful." I realized after saying this a few times that this wasn't simply a social pleasantry, it was an accurate description of how I felt about my first few months at Augustana and how I continue to feel about the College. It is a place full of opportunities for wonder – used both as a noun and a verb!
Of course, when you take on a new position in a new institution, you wonder about so many things connected with the place and the people in it. I continue to learn more about the deeply held beliefs and values of this place every day. I've had some vivid opportunities to experience an unexpected state of wonder in the past few months, including hearing amazingly articulate student presentations about the life cycle of the burying beetle and the potentially healing properties of cruciferous vegetables as part of our extensive student-faculty summer research program; learning about Lakota culture through art exhibitions and speakers at the Center for Western Studies; seeing magnificent stained glass windows and mosaic floors created by one of our many talented Art Department faculty; hearing our Augustana Choir sing in Chapel with precision and beauty after only three weeks of rehearsals; being treated to lunch by our Augustana Student Association leadership team and hearing their plans and goals for the coming year; standing in our state-of-the-art stadium cheering for the football team, who is part of a group of student-athletes who have been recognized in multiple venues for their academic achievement; traveling to Mitchell, S.D., to see the fascinating archeological site being excavated by faculty and students from our Anthropology program; welcoming new international students who will be enriching the learning experience for all of us; and engaging in rigorous debates about ways to do our work better with my leadership team, department chairs, and faculty.
Just like our students, I've been brought into new worlds of art and culture, have seen research into the cycles of life and death, have witnessed examples of transformative leadership and have engaged in challenging conversations about how we can make our mission real. I know I am in the company of passionate thinkers and learners. My impression after four months on the job? Augustana is a wonderful place and I am delighted to be here.
Q. Any major goals or initiatives planned for the future?

A. One of the most important goals of higher education is to engage all the participants (students, staff and faculty) in ever-widening circles of exploration that broaden their perspectives and prepare them to serve wherever they are called to live.
We need to constantly review our educational programs to make sure we are providing the most powerful learning experiences we can to accomplish this goal.
The new science facilities planning process is providing an excellent opportunity for us to make our educational program even better as we design new spaces to support teaching, faculty-student research and other innovative programs in the natural and health sciences.
Another major initiative that is engaging faculty, staff and students from across the campus is a complete review of the General Education Plan, the framework for the broad liberal arts education that provides a foundation for specialized study in our 52 majors.
In addition to reshaping many of the disciplinary and interdisciplinary "areas" from which our students select courses, faculty, student services staff, and stu- dents are working together to design an integrated first-year experience that pulls together knowledge from multiple disciplines while connecting new students with peer and adult mentors who will help them successfully navigate the college experience.
The growing number of international students who choose to study at Augustana and the increasing involvement of our North American students in study abroad experiences is providing us with great opportunities to think about how we integrate global perspectives throughout the whole curriculum.
A growing and dynamic local community is providing more and more opportunities for internships and other community-based learning that we need to explore and develop.
My goal is to provide the encouragement, support and resources for this wonderful group of faculty, staff and students to design powerful learning experiences like the ones I've just described and envision even more possibilities as we create an Augustana like never before.
Q. Despite the challenges that continue to face the economy, Augustana continues to thrive with high job placement rates, national recognition and major capital improvements planned, just to name a few. Coming from the "outside," can you put a finger on what makes this place so successful?
A. Augie's most powerful resource is its people, of course. Energized, talented, and hard-working students and the dedicated families who make it possible for them to be here; creative faculty who embody the true teacher-scholar model; leaders who keep an eye on the future while enjoying the present; fascinating alumni who stay closely connected while serving all over the world.
I believe Augustana continues to thrive because it is made up of people deeply committed to living out our mission in daily life – a mission that is built on a rich tradition but lives in the present and seeks to shape the future.