Mobile Ministry
In Chicago, a city where a staggering 10,000 young people between the ages of 14-21 are experiencing homelessness, a run-of-the mill blue Dodge van pulls up at a street corner in one of its most diverse neighborhoods, Lakeview.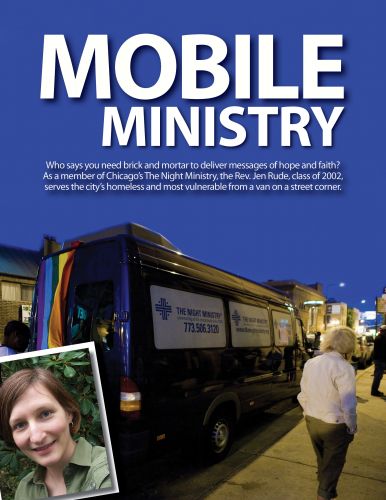 It's just after dusk on a Thursday when the van's doors open and its passengers unload a series of tables on which they place food and other items such as socks, coffee and cookies.
They set up a radio and drape the van's exterior in colorful flags that wave and billow in sync with the music and the breeze in the air.
Soon, some of the city's most vulnerable young people approach the van – they are the struggling souls who are experiencing, or are at risk for, homelessness, abuse, neglect and exploitation. They are young men, women and transgender individuals from a range of ethnic, religious and racial backgrounds who are in desperate need of basic care and, oftentimes more importantly, someone to talk to.
That someone is the Rev. Jen Rude, class of 2002, a member of The Night Ministry's Youth Outreach Team, a non-profit organization that has served Chicago's most vulnerable and at-risk population for more than 35 years.
Rude, 32, joined the organization seven years ago. It's been an experience she calls both heartbreaking and hopeful.
"There's a lot of hope. I think teens are optimistic – they believe their dreams are possible. To watch people who are so resilient and to see their strength is amazing. Even though they may not have a home or a family, they're strong – they are survivors. When we help them build on those strengths, they realize their potential."
"We celebrate the spirit – the stuff that keeps them going. So many people rely on their faith in order to keep going. What's amazing is that they're able to continue in their faith even when they've had so many challenges."
Building relationships with the youths who visit the van takes time, Rude says. So, as she helps pass out things like toothpaste, socks and nutritious food items, she listens quietly and without judgment.
"People need someone to listen to them and to share their feelings. What's amazing about it is that when you spend time getting to know people over the long term, you develop a trusting relationship where people feel comfortable telling you both the hard parts of their life and the good parts. We try to be there for the long haul."
Rude says the fact that help and messages of hope can come from a van on a street corner is attractive to its attendees. 
"We're outside where people really are. People don't have to sign in or open some big door. Many of these folks have been rejected by other churches or social services. We want to be welcoming and inviting," Rude says.
"It's like a church coffee hour – there's a lot of hugging and laughter. These are moments where they can feel safe and cared for and get the basic supplies they need. It's a chance for them to be around people who ask how their day was, listen to job prospects, comfort broken hearts and celebrate successes."
If numbers are any indication, The Night Ministry's Youth Outreach Program is much more than just a church coffee hour.
In 2011, Rude and her Youth Outreach Team colleagues made more than 11,000 contacts with street-based youths in Chicago. In doing so, they provided vital referrals to medical health and behavioral services and made recommendations to housing services officials in an effort to find safe and secure housing solutions.
In addition to the efforts to reach Chicago's homeless youth, The Night Ministry also operate a 38-foot Health Outreach Bus, a mobile unit that, in 2011, made nearly 79,000 contacts with homeless adults, youth and children in Chicago neighborhoods. The bus, which operates six nights a week throughout the year, includes a nurse practitioner who provides health care services such as treatment for injuries or minor illnesses, HIV and STD testing, health care education and referrals for further treatment.
Destiny
A native of Minnesota who grew up in Buffalo, N.Y., and Denver, Colo., Rude majored in religion and minored in psychology and gender studies at Augustana. After graduation, she attended the Pacific School of Religion in Berkeley, Calif.
As a student, she says, she felt a call to be a pastor, but also felt a pull to ministry in a broader sense.  
"When I was at Augie, I worked with an "Into the Streets" program for the Chapel that connected the College and its students with the community on local, national, and international social justice issues. This call to justice – to work with people who have been sort of pushed aside in our society – is in my blood. I can see how my path has been leading me here."
Developing Leaders
In her role with The Night Ministry, Rude also runs a youth leadership program to help young people develop leadership skills, design peer outreach programs, celebrate education and build self-esteem.
"People who experience homelessness are often the recipients of services. As human beings, we need to feel like we can give something. We feel empowered when we can help others. This program recognizes their gifts and the things they have to offer," she said.
Another component of the Youth Outreach Program is the Adventure Club, an effort to take young people out of the city and expose them to nature.
"We go hiking, kayaking, wall climbing and visit wildlife centers. Nature is really healing. It's a chance for these kids to find room to breathe, see natural beauty and get away from the loudness and concrete of the city."
Her work is hard but, Rude says, the rewards are immeasurable.
"Two weeks ago, someone in our leadership program came back and told us the skills he learned in our program helped him land a job in a local theatre," she said. "For some, that's success. For others, success is maybe a stable place to live, returning to school or reuniting with their family. Sometimes, maybe it's just making it every day. Each individual has different goals they're working toward."
"Yes, some days are really challenging and heart-breaking yet, what makes The Night Ministry unique is that we don't do the work alone. Our team does a lot of reflection and processing. I believe God is involved. When we go home at night and the people outside are left outdoors to wonder where they're going to sleep, I believe that God holds them. That helps sustain me and helps me not to carry it all when I come home. I feel honored that people invite me into their lives. What fascinates me about the youth community is that they form families together. They call each other brother and sister and they form bonds across so many lines – race, gender, sexual orientation – in ways the larger society hasn't figured out yet. That gives me hope. I think it's a microcosm of what the kingdom of God looks like – a place where people care about each other, depend on each other and build communities that are sustaining. It's an honor to be part of."