One Man's Journey in Faith
O Lamb of God, you bear the sin of all the world away; Eternal peace with God you made: give us your peace, we pray.
       – "Lamb of God"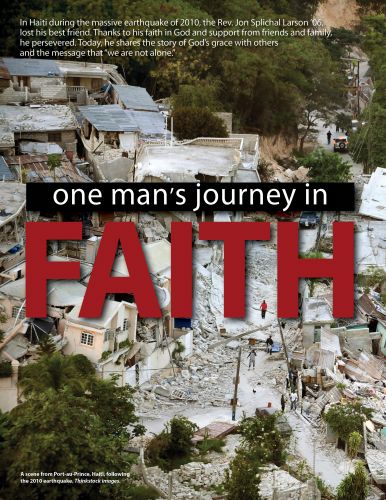 At a church in Bismarck, N.D., where the Missouri River stretches and bends behind fierce winters and short, cherished summers, young and old parishioners have connected with a soft-spoken, 28-year-old pastor who has an uncanny ability to listen, empathize and provide hope even in their darkest and most challenging times.
That's because, although he is just 28, Rev. Jon Splichal Larson, class of 2006, has, by all accounts, already lived a lifetime's worth of experiences.
Haiti
A native of Red Wing, Minn., Larson majored in religion and philosophy at Augustana and went on to pursue his Master of Divinity from the Wartburg Theological Seminary in Dubuque, Iowa, with hopes of one day becoming a pastor.
Joining him as fellow classmates at Wartburg were his cousin and best friend, Ben Splichal Larson, and Ben's wife, Renee Splichal Larson. Born just two months apart, Larson and his cousin grew up together and shared a brother-like bond.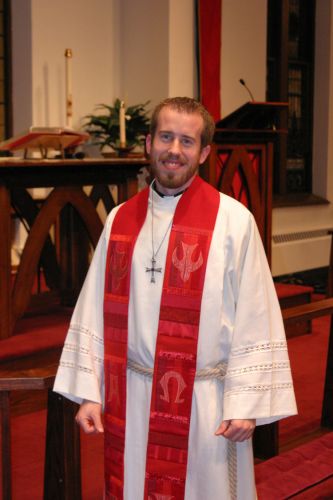 "You have those friends who just know you so intimately … so much so that you don't even have to say anything and they know how you feel. That's how we were," Larson said.
In early 2010, the three were invited to Haiti over Wartburg's "January Term" to teach Lutheran theology with the people of Elise Lutterienne d'Haiti, learn about the history of Lutheranism in Haiti and study Haitian culture.
On Tuesday, Jan. 12, the three were on the "Resurrection Dance Theatre" floor at St. Joseph's Home for Boys in Port-au-Prince when a massive 7.0 magnitude earthquake struck the country. Its epicenter was a mere 16 miles away from where they were.
The force of the quake shook the five-story building they were in and the top two floors collapsed on top of them.
Miraculously, Jon and Renee were unharmed – sheltered from the collapse by a "pocket" of stable walls and roofing. Ben, who was standing just 20 feet away at the time of the quake, was not as lucky.  
Jon and Renee dug through the debris and escaped onto the roof of the building, frantically calling out for Ben as they maneuvered through the heavy, broken concrete.
He was nowhere to be seen. Renee, however, could hear his voice coming from deep down inside the rubble. He was singing:
O Lamb of God, you bear the sin of all the world away;
Eternal peace with God you made: give us your peace, we pray.
"It's a prayer for peace and mercy," Jon said. "That was the last time anyone heard Ben's voice."
Scared and unsure what to do next, Jon and Renee ran to an abandoned lot near the building – a safe zone where people were gathering to escape the ongoing wreckage.
"There were maybe 400-500 people gathered but we were the only white people there. The Haitian people took care of us. They brought us water. They brought us a sheet to sleep with. All through that night, as we heard buildings collapsing in the distance, they sang songs praying for mercy and thanking God for life."
After the sun came up the next morning, Jon and Renee returned to the building to look for Ben. They couldn't find him, nor could they hear his voice. They knew they needed help to dig him out so they set off for the American Embassy some six miles away. The scene was unimaginable – streets covered by rubble, injured and dazed people frantically looking for loved ones, dead bodies scattered across the crumpled pavement.
"When we reached the Embassy, we soon realized that help was not going to come. It was such a massive situation. The Embassy sent email messages to our family – one to Renee's dad; one to Ben's mom. Through the gift of God, we met another group of Americans who had a cell phone that could text. I texted my sister and told her we thought Ben had been killed. I asked her to talk to our families. They pled with us to come home," Jon said through tears.
Three days later, Jon and Renee returned to the U.S. on a Marine aircraft.
Back in the U.S., they prayed.
"We didn't want him to suffer. We didn't want to imagine him alive, under the rubble, suffering, clinging to life. Sure, we wanted him to live – we wanted a miracle but, after three days, we were pretty sure he was gone. We never saw him again."
"You always cling to hope but hope is multi-balanced. You hope for people not to have to suffer. As Christians, we cling to the hope that God takes care of people."
After Jon and Renee left Haiti, members of the Lutheran World Federation, which is connected to the church the three had been working with at the time of the earthquake, rounded up volunteers to search for Ben's body.
They dug through the rubble by hand and recovered his body three weeks later.
It was official. Ben was gone. He was just 25 years old.
Today, Ben is among more than 316,000 people who died following the earthquake and the more than 50 aftershocks that followed. The Haitian government estimates that more than 300,000 people were injured by the catastrophe and more than 1 million have been left homeless. 
Asking Why
In the days, weeks and months that followed, Jon struggled with a grief that at times seemed overwhelming. His faith, he says, helped him survive.
"Sure, I asked 'why.' Part of my perspective on faith and God is that we're given the strength to ask God 'why' and to ask God our toughest questions, knowing that we may never get an answer, or one that we want to hear, in this lifetime."
"Yes, I'm disappointed in God for allowing this to happen, but I don't believe that God caused the earthquake to happen or that he desired for more than 300,000 people to die. I don't think God wanted that. I don't think it was a test. I think it's the reality of life. We're fragile and death exists in the world. As Christians, we say that death isn't the last word. That's what Easter is about. Resurrection is the last word; death is not. We're given new life every day as well – and the strength to survive and move forward."
Jon says that strength, and the close community of Wartburg, made it possible for he and Renee to complete their studies and graduate that spring.
"It would've become so easy for us to become depressed. By the grace of God, the communities we returned to wouldn't let us give up," he said.
In an attempt to find closure, Jon and Renee have returned to Haiti twice since the earthquake, once in early 2011 and again this past January.
"Those were tough journeys. We wanted to visit the friends who had taken care of us – the people of the Lutheran church there, of St. Joseph's home, and some of the other churches. We also wanted to be there to witness recovery."
Moving Forward
After being ordained, Jon served as an interim youth director before receiving the call as associate pastor for Faith Lutheran Church in Bismarck earlier this year.
In his current role, he often reflects on his time at Augustana.
Following the death of his mother during his freshman year, he says he fell in love with thinking theologically. He enjoyed his religion courses, became especially connected with the Chapel, serving as president of Chapel staff during his senior year, and formed strong bonds with a number of his professors, including Dr. Ann Pederson and the Rev. Dr. Paul Rohde.
"As I reflect on [Pederson's] presence in my life, she was there for me when my mom died. It was a big blow for me as a freshman in college. She helped me in a lot of ways."
"Pastor Paul has definitely been a mentor to me. We still keep in touch via email. He's someone I always feel I can turn to, even today. I consider him my friend. We can talk about faith and struggles and perseverance."
He says his mentors and the lessons they taught him, along with the experiences of losing his mother and his best friend, have prepared him for the role he holds today – a position, he says, that is, in some ways, similar to other professions.
"The big difference is that you're called to talk about God and to live in a way that helps people discover how God is there in their lives – in every stage, for every generation. That's one of the reasons I wanted to become a pastor – I wanted to work with all the generations. I get a ton of life. I teach Sunday school lessons with elementary schoolers. I teach confirmation with junior high kids. I help coordinate activities with senior high kids. I have conversations with young adults. I meet with people from older generations through Bible study, worship and committees. One of the greatest gifts I've been given is to work with them."
While he admits he can't possibly relate to everything his parishioners are going through, he can, he says, offer an open heart and a listening ear.
"I don't know what it's like to be retired and on a limited income. I don't know what it's like to be a widow or widower. To say there aren't barriers would be misleading but, at the same time, I believe that everybody, regardless of where you are in life, is called to be a learner. I have the self-confidence to know that I have something to share myself – maybe through experiences I've had. In church, we claim there's something much bigger than ourselves – bigger than age or time or anything else – which bonds us together. That's God. We all read the same scripture and we all have many of the same questions about God and life. Sure, we read scripture with different lenses yet, that's how we grow."
"Especially when they are hurting, people want and need to hear about God's grace. I have the privilege to share the message about God with them – to be a vessel of God. I know what it feels like to feel broken and abandoned and struggling to survive. My experiences influence how I speak and how I act."
"The biggest thing I do in my job is to listen to people … to try to hear them where they're at. There's not a day that goes by that I don't feel extremely humbled and honored to do what I do. Just with the title pastor, people will tell me things they won't tell anyone else. To some extent, that's really sad. I wish people felt they could talk more."
His experiences, he says, have helped him especially when it comes to counseling others in grief.
"I believe one of the best things a pastor can say is 'I don't know. But I know that God cares for you and walks with you through this.' I know that. I know that. And so, the message I try to proclaim has an extra punch to it."
"To go through what I've gone through, it's made me a better pastor. I do recognize that I have insights into suffering in this world. Pastors who are 28 like me – most don't have that same insight. I have a better ability to preach into those circumstances because I've been there. I wouldn't be the same pastor without those experiences."
New Beginnings
In April, more than 600 guests turned out to witness Jon marry the woman who had become his best friend – someone with whom he had journeyed through the unimaginable. A fellow pastor who, like him, had suffered unspeakable grief and loss and who, by the grace of God, had survived.
Her name is Renee Splichal Larson.
"Renee's been one of my best friends for a long time. We both continue to love Ben everyday. After the earthquake, we supported each other. That support grew over time and we came to love each other and give each other new life. It's a beautiful thing. We've been totally supported by our family and friends and our congregations."
It is a bittersweet ending to a tragic period in their lives and one, as Jon says, that symbolizes how hope and faith can offer new beginnings.
"We know that Ben is a huge part of our relationship. His parents are my aunt and uncle and are also my Godparents. They've always supported us. It's a beautiful sign of resurrection for me. In our house, Ben's guitar is here, as are pictures of him. His memory is scattered throughout this space. It's still deeply painful. We'd give anything for him to be alive. We're still learning how to do this thing without him here."
Without question, the couple, who have combined their names and now go by Jon and Renee Splichal Larson, share an immeasurable bond. As Jon says, they inspire each other.
His wife, he says, is an amazing preacher. She currently serves as a pastor for Heart River Lutheran Church, a small parish in Mandan, N.D., that meets in the chapel on the campus of the Youth Correctional Center.
"The kids she ministers with have had tough lives – most have been abused or neglected and have never felt love from their families. What she's been through in Haiti gives new legitimacy to her message. She has insight into their pain and suffering."
As he looks back, and as he reflects on his life now, Jon says he knows one thing for certain.
"God doesn't want us to be alone. We're always called to live in community and to support each other. When we're alone, brokenness can creep in. I have bad days and some days are excruciatingly painful. But through the gift of my family, my community and my church – I've been given new life. I give thanks to God for that."
"No matter what we've gone through, as Christians, we can have the hope and trust to know that God cares for us, and walks with us through anything. People who know these parts of my story take it really seriously. People in my congregation who know my history are more prone to tell me things than if I was just some regular 28-year-old. There's redemption in that."