Q&A With Andrea Halverson '06
Meet 28-year-old Andrea Halverson, class of 2006, a Health Programs Analyst for the U.S. Agency for International Development (USAID).

Q. You've traveled the world, but you're from Veblen, S.D. – population 300 or so. Talk about how growing up in a small town paved the way for your work in international public service.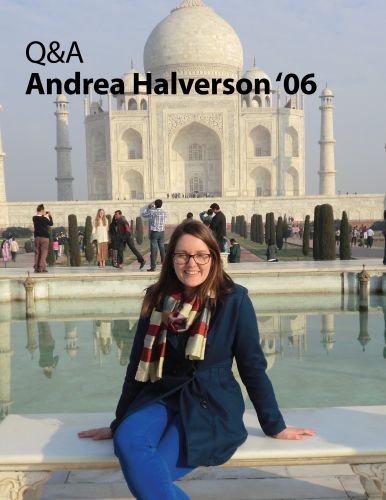 A. I had strong role models in my parents – they were really involved in our community. I think in any rural community, people are expected to be involved in order to keep the community running. I knew I wanted to go into public service from the get-go. I had my first glimpse of public service in high school, while I was in Washington, D.C., working as a Page for U.S. Senate. That experience exposed me to different ideas and how I might work in public service within the Federal Government.
While at Augustana, the Government faculty supported and mentored my interest in public service, and helped me to successfully win a Truman Scholarship. This grant, awarded to 75 students per year, funded a graduate degree in International Relations at the University of Chicago and helped me to hone my interest and focus on international public service as a career. At Augustana, I had also received a Bush Grant to do an internship at the Lutheran World Federation's Office of International Affairs and Human rights in Geneva, Switzerland, which shifted my focus to international affairs and human rights. Both of these experiences at Augustana College were fundamental to helping me towards a career in global public service.
After graduate school at the University of Chicago, I completed a Presidential Management Fellowship, a program that places graduate students with leadership potential into the Federal Government, allowing participants to do rotations to experience a variety of positions. Through this program, I have worked for the United States Agency for International Development for almost four years, and during this time I completed rotations to the Cambodia USAID Mission and to the U.S. State Department.
Q. Talk about your current role.
A. Currently I'm serving as a Health Programs Analyst for the U.S. Agency for International Development where I manage programs designed to combat HIV-AIDS internationally. I also provide technical guidance on how our programs work with women and gender. We look at how women or men might be impacted by the virus because of gender norms, then work to mitigate that impact.
The work is part of the President's Emergency Plan for AIDS Relief (PEPFAR) Program, the single largest financial commitment by one Government  to combat a disease in history. To date, the program has saved more than 1 million lives by focusing on prevention, treatment and care of HIV/AIDS.
Q. What's the best part of your job?
A. It's the ability to work with amazing people. I'm able to learn so much from them and their experiences; especially working in the field. In addition, another great part of my job is meeting program beneficiaries – the people our programs help.
I also feel really fortunate to have been able to visit programs throughout Africa and Southern Asia. Each time I've been able to visit a program that we help develop and fund, I come away with a better perspective about the challenges and how hard people are working. I'm able to see the impacts the programs have had. It's absolutely affected my global perspective.