Remembering Borgie
Larry Borgum '61, a longtime and beloved Athletics and Financial Aid administrator for Augustana, died on Monday, Aug. 6, in Sioux Falls. He was 73.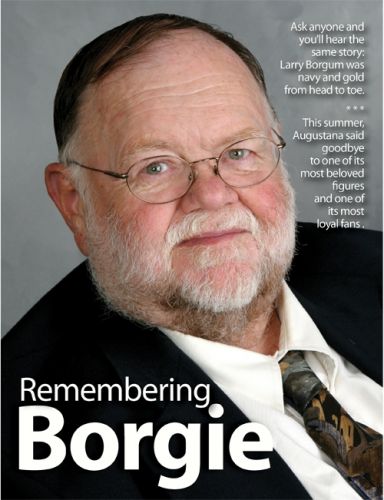 Borgum joined Augustana in 1967 and served in various roles during his tenure, supporting Athletic Services, Sports Information, the Athletic Business Office and Financial Aid. Before he retired in 2009, he served as associate director of Financial Aid and manager of Athletics Statistics.
"Augustana has lost one of its truly unique characters. Borgie, as all who knew him well called him, was Augustana Vikings loyal – navy and gold from head to toe," said Director of Athletics Bill Gross. "From his student-manager days at the College in the late 50s/early 60s, to his time as everything from trainer, sports information director, athletic department business manager, admissions representative and financial aid associate, Borgie was Mr. Augie. He knew the school like the back of his hand."
"Over the years, Larry attended a multitude of athletic, musical and social events at the College. He loved to smile and laugh and tell stories. Borgie also had lots of friendly advice for the coaches on who they should be playing. And as far as the officials went – when Augustana won, they were great but, when the Vikings lost, Borgie said they were rotten. A loyal Viking, that Borgie!"
"Athletes who got their ankles taped in the 50s and 60s by Larry are still recovering today. And Borgie's spirit is still floating in the clouds above the Edith Mortenson Center on campus, which in the 70s and 80s was the old gym and affectionately dubbed 'The BorgieDome' in honor of Larry. I'm certain memories of the time Larry miraculously ran the College's athletic transportation system are still vivid in the minds of numerous student-athletes."
"Through all the fun memories of Borgie, one thing stands out. Larry truly loved Augustana, its traditions and its people. Borgie gave his heart and soul to Augustana College and he had a positive impact on countless young people. So when all is said and done, there is just one thing to say: thank you, Lord, for blessing Augustana College with Larry Borgum," Gross said.
A native of Rapid City, S.D., Borgum graduated from Augustana in 1961, majoring in math and psychology. Prior to joining Augustana, he taught and coached at schools in Garretson and Lennox.
Others remember him fondly, as well.
"Borgie impacted my days at Augie as he was someone I could turn to for guidance in times when I needed it. I cherish the many valuable discussions I had with him while I was a student, and we know there was not a more loyal Viking fan than Borgie," said Lee Pulse, class of 1994.
"Larry Borgum exemplified loyalty, honor and tradition, qualities that are rarely seen today and are only taught by example," said Erika Paladino-Hazlett, class of 1997.
Borgum was a member of Our Savior's Lutheran Church, the Sports Information Director's Association, the South Dakota Association of Student Financial Aid Administrators, Augustana Fellows, the Heritage Club and the Augustana Athletic Club. He was awarded the "Augie Pride" award for exceptional service to the College in 2001. In 1984, he was inducted into the North Central Conference Hall of Fame. In 1994, he was awarded the Lefty Olson Award for significant lifetime service or achievement in athletics or athletic administration.
The Larry Borgum Scholarship Fund at Augustana has been established to honor Borgum's memory.