Rendered for the Future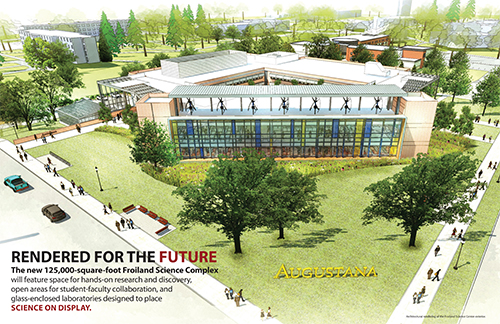 After months of planning, architectural renderings for Augustana's new Froiland Science Complex are now complete. Designed by Smithgroup JJR and TSP, the $35 million project will begin with a 41,000-square-foot addition to the existing Gilbert Science Center (GSC) and will include a complete renovation of the current building. When it's complete, College officials say the new, LEED-certified 125,000-square-foot facility will enable Augustana's Natural Science Division faculty to incorporate modern pedagogies proven to equip students with enhanced critical thinking skills and hands-on experience.
"It's hard to overstate what this project will mean," said Dr. Paul Egland, associate professor, chief health professions advisor and chair of the Biology Department. "We've simply outgrown our current facility in about every way we can think of."
Learn More
Learn more about the Froiland Complex and see additional photos.
Outgrown, indeed. Today biology is one of Augustana's largest majors – up 22 percent over the last decade.
That same upward trend extends throughout the entire Natural Science Division.
For the 2013-14 academic year, Natural Science majors represented 36 percent of all majors at Augustana – up nearly 10 percent from a decade ago. College officials cite a number of reasons for the growth, including an increased demand for health care professionals, a growing interest in the natural sciences among high school students and Augustana's reputation for delivering high job placement rates among its graduates.
Named in honor of Dr. Sven Froiland, longtime biology professor and a champion of scientific research at Augustana, the new facility will feature six new, technology-rich "classatories," rooms featuring traditional classroom elements and laboratory components. These rooms will enable faculty to build "active learning" philosophies into their curriculum – a proven teaching method pairing traditional lecture with group work and hands-on exercises.
"We want our graduates to feel confident and competent," said Dr. Karen Younger, professor of nursing and chair of the natural sciences division.
"Take nursing, for example. These new 'classatories' will help us create more complex instruction around the physical, relational and psycho-motor elements of nursing care. Our students truly will be able to 'practice becoming' nurses before they enter their first job."
Dr. Eric Wells, associate professor and chair of the Physics Department, agrees.
"The idea of 'practice becoming' is a good way of saying it," Wells said. "Among our physics majors, about 60 percent go on to graduate school and become scientists. They're going to do research in their graduate program so they need to practice being a scientist as an undergraduate student."
Physics majors have skyrocketed in recent years, charting a 219-percent increase over the last decade. The growth, Wells says, is due to marketplace demand, particularly for engineers.
Augustana offers a dual-degree physics-engineering program in which students spend three years studying on campus and two years at a partner school: Columbia University, Washington University or the University of Minnesota.
"It's an awesome program – many of our students who pursue it have multiple job offers when they're finished," Wells said. "At the end of five years, students receive a bachelor's degree from Augustana and a bachelor's in science in engineering from the partner school. These graduates are really sought after in the job market because if you've got an engineer who can, say, design a bridge and tell the city council why the bridge looks that way, well, that's a pretty nice person to have on your team."
Health, Physical Education and Recreation (HPER) is another department that has seen significant growth – its majors are up 181 percent over the last 10 years.
"Exercise science is really an emerging field that's growing all over the country and it can take people in a lot of different directions," said Dr. Sherry Barkley, professor and chair of the HPER Department. "Our graduates go on to become physical therapists, occupational therapists, athletic trainers and other wellness professionals. They're working in clinical settings, nursing homes, cardiac rehab units, with pregnant women, and with people with neurological issues."
Currently located in the Elmen Center, the HPER Department will move to the Froiland Complex and will be housed near the new Nursing Department, a design configuration that will enable HPER students to share the Nursing Department's new, high-fidelity health care simulation labs.
The new facility will also feature core research areas for faculty researchers and their student collaborators and glass-enclosed laboratories, designs College officials say will put "science on display" for all students and further enhance the culture of research that exists on the campus today.
Along with more research space, the Froiland Complex will include numerous open study areas for students near faculty offices.
Mark David Kranz, principal and design director for Smithgroup JJR, said the design of the study spaces will encourage the exchange of ideas and build community among students and their faculty mentors.
"These spaces will have tack-able surfaces, wipe boards, tables and chairs, and the technology students need to study and collaborate," Kranz said. "And, they'll be flooded with light."
GSC's largest existing classroom, the auditorium-style GSC 100, will be replaced with a larger space that can be divided into two, 100-seat classrooms featuring retractable seating. When it's not divided, the room will be able to hold 300 people for research presentations, meetings and other gatherings.
Plans are also underway that will enable students to discover science outdoors, through the use of region-specific plants, trees and grasses in the facility's landscaping design around its perimeter and in its courtyard area.
To date, Augustana has received nearly $18.8 million in gifts and pledges in support of the Froiland Science Complex. College officials say construction will break ground once gifts and pledges reach $20 million.
"The Froiland Science Complex will absolutely position Augustana as a center for undergraduate scientific research and discovery," said Rob Oliver, president. "We already have the best faculty teaching the brightest students. Now, we'll have a facility that will support and enhance all the amazing teaching and learning that happens today."
"Augustana is already revered as the training ground for many of the country's top doctors, nurses, scientists, engineers, teachers and wellness professionals," Oliver said. "Just imagine how we'll be able to impact tomorrow with this new facility."
"We are incredibly grateful to all those who have made gifts or pledges in support of this project, the largest and most complex building endeavor in our 153-year history," he said. "And we are excited beyond measure to break ground and begin construction."
College officials say they hope to reach the fundraising milestone early this summer and break ground by late August. Ahead of construction, an open house and celebration of the Gilbert Science Center is being planned for Viking Days weekend, Sept. 26-28. More details on this event will be announced in June.