Running a Revolution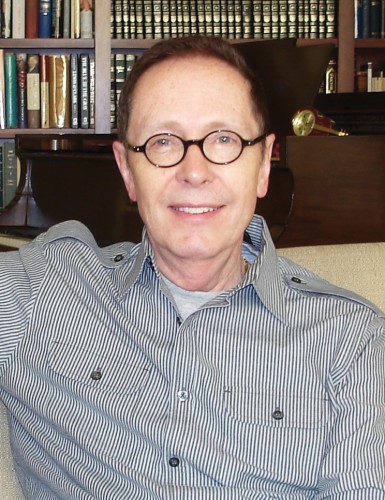 History, facts and statistics no longer live in print among 32 leather-bound volumes on a bookshelf. Today, information lives on the internet and, for the most part, it's free.
But, how reliable is it?
Encyclopædia Britannica Editor-in-Chief Dale Hoiberg '71 has helped lead the iconic company's transition from print to a combination free and fee-based digital delivery. He maintains that thoroughly researched and vetted content should, and does, have a place in today's world.
When Encyclopædia Britannica announced in March 2012 that it was ceasing production of its print edition after 244 years, Editor-in-Chief Dale Hoiberg, class of 1971, took a deep breath and braced for the reaction.
"I'm sorry I was unfaithful to you, EB," one Britannica loyalist tweeted. "Wikipedia was just there, and convenient. It meant nothing. Please come back."
What most people didn't realize, Hoiberg says, was that Britannica's decision to move its content entirely online was not a rash one.
"That day had been in the making. It had been coming for about 25 years," he said.
And, while it did mark the end of an era, it also gave way to a new beginning.
In response to the tweet, Encyclopædia Britannica is indeed back. In fact, it never left. And today, it's serving a growing number of users around the globe who rely on expertly researched, vetted and timely electronic information on everything and everyone from A-Z.
As for Hoiberg? He is optimistic and realistic. 
"Change itself is not the problem; it's inevitable. From there it's deciding what your value proposition is and sticking to it. You have to convince people that content that is fact-checked and vetted and thoroughly fits within a framework of knowledge is worth paying for, worth the trouble that it takes. It's a hard sell among some people, because as we know, for many people, close enough is good enough. Close enough is not something we strive for."
From Augustana to Britannica
A native of Devils Lake, N.D., Hoiberg majored in comparative literature and philosophy at Augustana and today counts Dr. Don Fryxell, professor of English and former chair of the English department, among his most influential professors.
Hoiberg's roommate during his sophomore year was an engineering student from Hong Kong who read Chinese literature as a way to escape the demands of his intense courses. Hoiberg said his roommate would often read the works out loud.
That year marked the beginning of his fascination with the Chinese language. He would go on to spend the next two summers in California studying Chinese.
After graduating in 1971, he went on to earn his A.M. and Ph.D. in Chinese literature from the University of Chicago. His A.M. thesis was on the modern Chinese poet Xu Zhimo, and his Ph.D. dissertation was on the traditional Chinese opera "The Broken-Down Kiln."
He said the strong foundation of knowledge and understanding instilled in undergraduates at Augustana provided him with the solid footing he needed to persevere in graduate school.
"That's one of the things that was so true about Augustana: There's an optimism, the positive attitude that you can really do a lot of things if you can set your mind to it. I found that I was really well-prepared for graduate school," he said.
Hoiberg joined Encyclopædia Britannica in 1978 as an index editor. In 1982, he was promoted to senior index editor. He went on to serve as liaison to the Encyclopædia of China in Beijing, People's Republic of China, during the development of the Concise Encyclopædia Britannica in Chinese; senior editor for Asian Products; and director of Asian Product Development, respectively.
In 1993, Hoiberg was promoted to vice president, international product development. He became editor-in-chief in 1997 and was promoted to senior vice president in 2001.
Today, as senior vice president and editor-in-chief, Hoiberg is responsible for the revision and maintenance of Britannica's 55-million-word core content. He has been a driving force behind the expansion of the company's product line in both electronic and print publishing.
Britannica's Digital Revolution
Hoiberg returned to Augustana this fall to discuss Britannica's digital revolution at an Augustana Thought Leader Forum. While here, he also spoke at the Mountain Plains Library Association conference.
He said the business peaked in 1990, thanks to its 2,000-plus member sales force who sold the product the old school way: door-to-door. That year, Britannica sold more than 100,000 sets in the U.S alone.
A year later, Hoiberg said the landscape began to change.
"Door-to-door selling became more problematic – we could see it. Less and less people wanted to open the door up to somebody that was there to sell them something."
In addition, consumers were beginning to purchase personal computers.
"At the time, probably nobody really understood what that would mean. We certainly didn't. It was a big factor. The reference industry, try, encyclopedias especially, was about to become one of the first real targets of the technology revolution. And it happened fast."
The first major blow came in 1993 when Microsoft published its own encyclopedia, Encarta, and began bundling it with its PCs. The next year, Hoiberg said, Britannica offered its content on CD for the first time. Its price: $1,200, the same as the print set.
Britannica's print sales continued to decline. In 1996, only about 3,000 sets were sold in the United States. Later that year, door-to-door sales were eliminated.
In 1999, amid the dot-com era, the company introduced a free, online model called Britannica.com, which was designed to be ad- and e-commerce supported. User traffic to the site skyrocketed, but ad sales didn't take off. In 2001, Britannica.com changed its model to become fee-based.
As technology pushed the Britannica team to consider new models, it also gave way to new competitors.
"We'd always been in competition with Encyclopedia Americana, or World Book, and we watched them carefully and we tried to compete effectively against them. Suddenly, they weren't really our competitor anymore. Microsoft was our competitor. Google was our competitor. Ultimately, Wikipedia became a kind of a competitor," Hoiberg said.
Key words: kind of.
"There's been a sort of transition in our reaction to Wikipedia. At first, we made it clear they weren't a competitor; rather they're another initiative completely. We've seen, however, a remarkable change in attitude towards user-generated content. Today, we feel, Wikipedia has some good articles; there's no question about that. Yet schools generally do not want their students using them. Because of the fact that all of our works are edited and fact-checked, we are preferred by schools and most parents."
"The other thing that happened is the plethora of free content on the internet. It's a problem, not just for us, but for all of us, in many ways. You have to convince people that content that is fact-checked and vetted and thoroughly fits within a framework of knowledge is worth paying for, worth the trouble that it takes."
To operate competitively, Britannica had to make major organizational changes.
"On the editorial side, some big changes had to take place. We were used to revision cycles based on print. Our whole editorial schedule revolved around that. There was a printing once, sometimes twice a year [which] dictated everything. However, as the print set began to become less important for us, we began looking at our work not as revision based on print cycles but [as a] database – a database from which many products can be made."
In addition, Hoiberg said, day-to-day tasks also changed. Editors were asked to do more than just research and write; they are now required to make changes directly into the database, collaborate with web developers, understand web coding and track and place images.
Britannica also had to make changes to meet user expectations.
"[Users demand] frequent, regular updating. Today, we feel that we have to reflect [important events] as fast as we can. This is definitely a change in user expectation from the days of books, but it's also a change in what we, as Encyclopædia editors, saw as our job. We saw, as our job, more or less, the providing of context, from a stepped-back point of view. We weren't there to be a news anchor or magazine, or report on something until we could clearly tell what that something actually meant. We still cling to that, whenever we can, because people come to the Encyclopædia for that – for context. However, we feel now that we have to make changes as instantly as we can."
The need to provide rapid publishing helped shape the organization of the editorial department.
"It had been a tradition at Britannica for many years to employ generalist editors – editors who could edit anything. Today, our editors now all have Ph.D.s or M.A.s in subject areas [along with] common editorial skills," Hoiberg said.
In addition to organizational changes, the Britannica team had to organize plans to convert massive amounts of content for digital consumption. The team chose 15,000 photos and hundreds of essential maps to be digitized and arranged for more than 2,000 pieces of line art to be redrawn and digitized.
The team also embarked on a project to divide long articles to serve users who "are just looking for a fact or two."
Today, Hoiberg said 100 million people have access to Britannica's institutional sites around the world (most notably K-12 schools and higher education institutions) while about 10 million users visit its consumer site each month.
Looking ahead, Hoiberg is cautiously optimistic.
"We don't know everything that's going to come next. The world is changing so quickly. We have returned to the curriculum development business. That's going to be an important direction for us."
"We've made some mistakes, but we've also done some things right, one of those things being that we sat down and had long conversations about what is the value of what we do for people. If everything else changes, what needs to remain the same? We decided that it's the quality of our content and the process that gets us there. We think it's right. We determined that was the one thing that needs to stay. Media could change, everything could change, but the quality is essential."