Seeing the Opportunities
As superintendent of the Sioux Falls School District, Dr. Pamela Homan, class of 1981, is committed to providing  students the opportunities they need today to succeed tomorrow.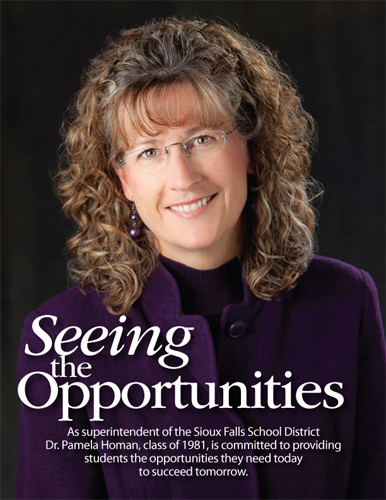 If there's one thing you need to know about Dr. Pam Homan, it's this: she's never been one to shy away from a challenge. In fact, you could say she thrives under pressure.
Take a cool spring weekend in 1981, for example. 
On Friday night, Homan (then Baker) was at her wedding rehearsal dinner.
By midday Saturday, she was in her wedding gown. Later that day, she married her college sweetheart, Tim Homan '81.
On Sunday morning, she was up early, getting ready for another ceremony. In her black gown and classic mortarboard, she made her way to Augustana's Commencement Ceremony to receive her college diploma.
A crazy weekend? Maybe to some. But to Homan, it was an economical and travel-friendly way for family members from various geographies to celebrate two milestone events.
Sure the planning, organizing and choreographing was hard, frenzied work – not to mention the academic commitments and professional preparation a student undertakes prior to graduating – but, in the end, it just made sense.
Finding calm amid the storm is something Homan has done well her entire life. Today, as superintendent of South Dakota's largest school district, complete with 23,000 students, 24 elementary schools, five middle schools, three traditional high schools, an alternative high school, a project-based learning high school, a career and technical education academy and one post-secondary technical institute, she has successfully led students, educators, families and community members during a decade of unprecedented social, technological and economic change.
Seeing Everything as an Opportunity
As a kid, Homan grew up in central Sioux Falls, near Garfield Elementary School. At the time, the state's orphanage was located just down the street, at the corner of 15th St. and Western Ave. Some of the residents were Homan's classmates at Garfield.
"I always reached out to them. I had a sense that they didn't have what I had in my family. I would bring them home to my house so they could experience my family. I became involved with helping kids with disabilities through the YWCA."
As a teen, Homan even helped start a Y-teen club for young girls with cognitive disabilities.
After graduating from Washington High School, she enrolled at Augustana, double-majoring in elementary education and special education.
Choosing education as her major, Homan says, was a natural fit.
"I knew that I always found myself in positions of helping others learn and helping others explore. That became an obvious fit to career."
After graduating, she took a job teaching Special Education at an elementary school in Luverne, Minn., where she served emotionally and behaviorally disturbed students and children with learning disabilities.
"I've always asked myself: 'How can I contribute to others? How can I help others see that 'there's a way' when they feel there isn't one?' I love to help others think. I never see challenges or barriers. I see everything as an opportunity."
After teaching in Luverne, Homan spent two years teaching in Webster, S.D., before accepting a position in Brandon. After her second daughter was born, she spent two years at home raising her children before returning to teaching. (Two of her three children are Augustana graduates – Fenecia, class of '05, and Betsy, class of '07.)
After what she calls "a lot of soul-searching," she decided to pursue her Master's degree.
"I had this thirst for knowledge. [With two small children and very limited income], it was hard. But I knew I wanted to step forward and lead. I can remember so many late nights, rocking a baby to sleep while trying to work on a paper. It was tough, but I made it through."
A short time after receiving her Master's degree in Education from Augustana, she was offered the chance to start a school program and lead certification initiatives for CharterHospital (a former psychiatric institution in Sioux Falls). She got the program going and got it certified in no time.
In 1990, the Sioux Falls School District invited Homan to come on board to start the "Day Adolescent Program" at McKennan Hospital, an initiative designed to serve high school students challenged with diagnoses such as post-traumatic stress syndrome, schizophrenia and adjustment disorders who couldn't function in traditional classrooms.
At the same time, she began pursuing her Ed.D. at the University of South Dakota. Following that same thirst for knowledge, she commuted to classes in Vermillion at night, on weekends and during the summer.
"Status quo feels problematic to me. I've always felt that there needs to be ways to continue to improve – to grow and to accept change. Change is a vibrant part of life."
She later served as an elementary principal in Sioux Falls and started the District's Assessment Department where she led assessment and research.
When the Superintendent's position opened up in 2004, she applied because "I felt there wasn't a better place to be." 
Preparing Students to Succeed
In her current role, Homan says she sees every day as new opportunity.
"Our mission is to educate and prepare each student to succeed in a changing world. We're committed to making sure each child has the full opportunity to succeed and to go out of this school district fully able to compete and be a part of this world in which we live."
That's no small challenge in a city like Sioux Falls which, due to population growth, has experienced a surge in students, many of whom come from diverse backgrounds and live in a wide range of social and economic conditions.
"We're growing. We're growing in diversity; growing in number of students who live in poverty; growing in different family demographics. There are 57 different languages spoken in our district. Nearly 50 percent of our children live in poverty. We look at those numbers as gifts – they present a chance to serve a very diverse culture and to find opportunities for each student to succeed."
While much of her job as Superintendent is about the numbers, Homan says the core of her role is about much more. It's about the students and the educators who serve them.
"It's about each child. From day one, I've committed myself to believing that each student doesn't learn in the same way or same manner. I'm proud that we've worked relentlessly to open the doors of 'multiple pathways' so students have multiple ways to reach our goal of graduation. Each student should be valued for who they are. No child should feel like they're a failure because they didn't fit some traditional pathway."
The brick and mortar of new facilities are one thing, Homan says, but the real key to helping a student succeed is the teacher. 
"I always tell people that every teacher is a leader. They model the way. They model those core values. We're about igniting the hearts and minds of our students. Teachers need to be able to inspire; they need to challenge the process when necessary; and encourage others to come into the fold. A teacher's passion invites every single child to be a part of a community of learners. Passionate teachers don't just love their subject area – they love to bring their students along with what they're teaching."
In South Dakota, the debate over what classifies a teacher as "passionate" and how that passion relates to student performance is a heated one. Following the economic crisis, the state decreased aid to K-12 education by 6.6 percent in 2011. Earlier this year, Gov. Dennis Daugaard proposed sweeping reforms to K-12 education that includes a merit pay system and the elimination of teacher tenure. In an effort to emphasize the importance of the natural sciences, Daugaard has also proposed annual bonuses for teachers who specialize in math and science.
Public reaction to Daugaard's proposal has been mixed and many in the state's education community have been critical, saying the reforms won't fix student performance and could instead, create undue competition among teachers who should be working on the same team, toward a common goal.
"Indeed, times are changing," Homan says. "But, there seems to be a mindset that one size fits all and that's not true."
"There are solutions being offered for problems that just don't necessarily exist in our school district. Right now, we need 99 elementary school teachers over the next three years. We need seven math teachers and 12 science teachers over the same period."
The bottom line, she says, is that public education shouldn't be looked at as an expense.
"It's a sad day in our society when a free, appropriate education is viewed as an expense rather than an investment. Public education lies at the core of our democracy."
The Future
Looking back, Homan reflects fondly on her time at Augustana.
"For me, it was about the Augustana Community as a whole – the people, the beliefs, the support system, the climate, culture – it all came together for me. I felt a part of it. It was a community that surrounded me with the support, the resources, the challenges and the expectations to develop myself into a better person and to prepare me for a profession I'd commit my heart and soul to."
Looking ahead, Homan says she is passionately committed to serving the Sioux Falls School District.
"Every part of me lives and breathes this school district. I see myself continuously serving here and being a relentless advocate for each child of this district so they can have the best future – so they can become contributing, great people in this world."
Homan will be the featured speaker at the Augustana Thought Leader Forum at 11:30 a.m. on Wednesday, Sept. 26. Visit www.augie.edu/thoughtleader for more details.