Sequencing the Future of Medicine
As chief academic officer for Sanford Health and president of Sanford Research, Gene Hoyme '72
is using genetics to enhance primary care and save lives.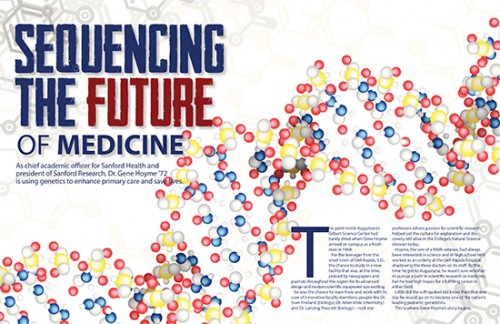 The paint inside Augustana's Gilbert Science Center had barely dried when Gene Hoyme arrived on campus as a freshman in 1968.
For the teenager from the small town of Dell Rapids, S.D., the chance to study in a new facility that was, at the time, praised by newspapers and journals throughout the region for its advanced design and modern scientific equipment was exciting.
So was the chance to learn from and work with its core of innovative faculty members, people like Dr. Sven Froiland (biology), Dr. Arlen Viste (chemistry) and Dr. Lansing Prescott (biology) – rock star professors whose passion for scientific research helped set the culture for exploration and discovery still alive in the College's Natural Science division today.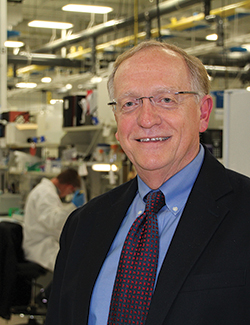 Hoyme, the son of a WWII veteran, had always been interested in science and in high school he'd worked as an orderly at the Dell Rapids hospital, shadowing the three doctors on its staff. By the time he got to Augustana, he wasn't sure whether to pursue a path in scientific research or medicine, but he had high hopes for a fulfilling career in either field.
Little did the soft-spoken kid know then that one day he would go on to become one of the nation's leading pediatric geneticists.
This is where Gene Hoyme's story begins.
Early Influences
Hoyme's father never got the chance to go to college. With the war building overseas, he got drafted soon out of high school and, after scoring well on the U.S. Army's aptitude test, he was sent to the Army Radio School in Kansas City where he learned about radar. During the war, his chief duty was to repair electronic equipment.
After the war, he returned home, got married, took the Civil Service exam and qualified to be a U.S. mail carrier.
Even though he didn't get the chance to attend college, he wanted to make sure his five children did.
"With my dad, there was no question that we were going to college. He didn't go … but we were going to go," Hoyme remembered.
And go, they did. All five attended Augustana.
At Augustana, Hoyme double majored in chemistry and biology. He counts Dr. Arlen Viste, his advisor, among his earliest mentors.
"Dr. Viste had a huge influence on me and my career. He's soft-spoken and gentle, but he's very knowledgeable. He was a great advisor. I think I took every single course Arlen taught – I really liked him. He really cared. If you were gone from class, Arlen might call you on the phone to find out what was wrong."
As a student, Hoyme conducted biochemistry research with Dr. Lansing Prescott;  learned about genetics from Dr. Sven Froiland; and took as many classes as he could in English and history.
"Augie was very formative for me – all the faculty members were very influential for me. [Studying the liberal arts] also gave me a foundation, and it certainly taught me how to write. A liberal arts education can teach you to be a good scientific writer as well. I took probably as many history and English courses as I did science courses at Augustana."
"When you write a scientific paper, it has to be economical in what you say. You don't put anything down that you don't need to put in there," he explained. "Every paragraph has to argue your point."
Following the advice of Viste, after graduation Hoyme applied and was accepted into the University of Chicago's School of Medicine.
West, East, West and Midwest
After choosing pediatrics as his specialty, Hoyme went on to complete his residency at the University of California in San Diego. While there, he had the opportunity to study genetics while working under one of the institution's top geneticists.
He says he found the discipline intriguing.
"Historically, genetics has been the diagnosing and caring for of people with rare disorders. I was attracted to it because of the intellectual variety and the incredible depth of what you can see in patients," he said.
Later, he was offered the chance to complete a post-doctoral fellowship in genetics.
After completing his fellowship, Hoyme would go on to serve at the University of Vermont as a practicing physician and assistant professor, and later at the University of Arizona in Tucson, where he started the institution's medical genetics program.
After 12 years in Arizona, he joined Stanford University where he spent a decade serving as director of the Stanford/University of California Medical Genetics Residency Program, and later as professor of pediatrics and chief of Medical Genetics at the University's Lucile Packard Children's Hospital.
In 2007, he returned to South Dakota to serve as chair of the Department of Pediatrics at Sanford School of Medicine at the University of South Dakota, overseeing the establishment of the pediatric residency program and the opening of the Sanford Children's Hospital in Sioux Falls.
Because of his work, today he is a nationally recognized and award-winning authority on clinical genetics and fetal alcohol syndrome.
He currently serves as chief academic officer for Sanford Health and president of Sanford Research.
Genetics and Precision Medicine
"Genetics," Hoyme said, "has a great role in just about everything about us – including illness. Now, with the ability to sequence the human genome, we are able to provide what I would call 'precision medicine'– using your genetic make-up to more carefully care for you as an individual."
"What genetics does will allow physicians to be much more precise in the way they treat you. Today, if a doctor makes a diagnosis, he or she will treat you based on what works in the vast majority of people," he said.
"So, let's say they diagnose you with having pneumonia. The drug the doctor is going to treat you with is based on studies that have shown that this drug is effective in treating 80 percent of people with pneumonia. But what if you're in the 20 percent? This drug won't be effective in you and today your doctor really has no way of knowing that."
"The way drugs work in you is based on genetics – the way your body metabolizes drugs. So what we'd like to be able to do in the future, before a doctor prescribes a drug for you, is to review your electronic medical record to see, based on your genetic information, whether the drug is or isn't going to be effective in you. If the drug won't help you, the doctor could suggest another drug."
Precision medicine, Hoyme says, will soon become a reality.
Earlier this year, Sanford Health announced a $125 million gift from philanthropist T. Denny Sanford to establish Sanford Imagenetics, a first-of-its-kind program that will integrate genomic medicine into primary care for adults.
While the possibility of integrating genetics into primary care is indeed exciting, Hoyme is quick to point out that genetics is never completely the answer.
"Genetics is one of the important things in medical care," he said. "But it will continue to be important to do a good history, to do a good physical exam and to observe the patient. But, genetics should help you get better faster because the physician can choose the right treatment for you. And, you'll have fewer side effects."
"The most important part in genetics is to sit down with a patient, to take a good history, visit with them about their family, and talk about their illness – to ask them about their symptoms and signs. Then, we need to do a careful physical. Those things show us what to test for," he said.
A good example, Hoyme said, is cancer.
"When we treat cancer – sometimes it's like using a sledgehammer to hit a mosquito. Not that cancer is a minor illness, but the drugs we use for cancer make people sick. Sometimes the drugs kill you – they suppress your immune system, you get sick and you succumb to your illness."
"But what genetics may help with is this: There are a lot of cancer treatments that don't have all these side effects. Depending on the genetics of the tumor, you may be able to be treated with something that doesn't have so many side effects, allowing you to get better quicker."
Using genetics within primary care, Hoyme said, will also increase the need for more geneticists and genetic counselors – scientists who can effectively communicate the scientific findings to patients and their physicians.
In explaining this, he reflected on times during his career when he's had to relay complex genetic information to patients and their families.
"It's important to not take away people's hope. We didn't go into medicine to lay black crepe and make people feel bad. We're there to give them hope, rather than take their hope away. Sometimes things in genetics can look bad, but they're not as bad as they look."
An example, he said, is pre-emptive genomic analysis.
"So, instead of ordering a genetic test when you show symptoms of something, let's say when you're 21 you go to the doctor for a visit and you get your genome sequenced before you're sick. The doctor will then look at the genome when you're young and healthy and could see something that says 'you have this gene which conveys a 20-fold risk for colon cancer.'"
"So instead of the usual kind of treatment – getting a colonoscopy when you're 50 or older – if you knew you had a genetic risk for colon cancer, you'd be referred to a specialist and your medical team could likely prevent cancer in you."
One component of Imagenetics includes initial partnerships with Augustana College and the University of South Dakota Sanford School of Medicine to develop new academic programs which will train the next generation of doctors, nurses and scientists in genomic medicine.
For Hoyme, Imagenetics – and the potential it has to impact health care – represents  much of his life's work.
"It's a good way for me to end my career. I feel that if I'm successful in this genomics initiative, I'll be able to retire saying that I got done what I wanted to get done."
"The reality is that genetics has evolved into an important daily tool that will help every physician care for their patients as one of the many tools that physicians use. In my mind, it's probably one of the most important steps in medicine that has occurred since antibiotics."
Hoyme will be the featured speaker at Augustana's 2014 Commencement, set for Saturday, May 24, at the Elmen Center. In recognition of his efforts to advance health care, he will receive the Spirit of Augustana Award for Research and Innovation during the ceremony.