Servant of Care
At the tender age of nine, Dr. Carole Miserendino was already a practicing nurse.
Clad in a make-shift nursing cap sewn by her older sister, she cared for her father, a World War II veteran, as he battled colon cancer in the family's home in Lombard, Ill., a suburb of Chicago.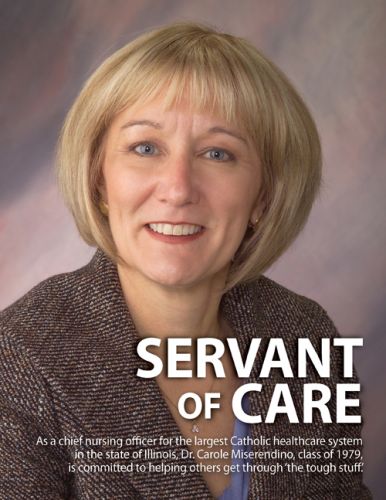 The disease was relentless, ravaging his body for three long years before it eventually metastasized in his bones.
He died when she was 12.
That early experience of tending to her father solidified Miserendino's desire to care for others in need and created the foundation for a career in nursing that has spanned the better part of three decades.
"I always wanted to be a nurse. It allows me to be of service to other people, particularly at the bedside. It's a chance to serve people's physical, psychological and social needs."
Her Parents' Dream
Miserendino says her parents' one wish was for their four children to attend college. It was a dream her father never had the chance to realize. After returning home from the war, he tried to attend college with hopes of becoming an engineer. But, with a growing family to feed and clothe, his college plans were put on the back-burner. He eventually made his career as a telephone installer.
As the youngest in the family, Miserendino was set on making sure her parents' dream was realized. Her determination led her to Augustana in the fall of 1975.
As a nursing major, she counts Dr. Joyce Nelson, professor emerita of Nursing, among her most treasured mentors.
"Joyce was just so special. She was a great lecturer. She'd come out with these phrases that, to this day, I still remember.
'Start with people where they are and the situation as it is … then go from there,' she'd say. She'd tell stories. And, she gave you stuff that would stick with you … not just for class, but for life. She was not only preparing you to be a good public health nurse, she was also preparing you to be a good person – to be a good leader going forward."
"She often talked about 'bucket filling' and 'bucket emptying' experiences. She'd tell us that, as nurses, we'd need to balance that. If our patients were drained, we'd need to find a way to help fill their buckets ... to replenish them. Joyce – and all of the nursing faculty then – they were teaching us far more than just nursing. They were preparing us for life. That still resonates with me. Of all of my alma maters, that's what keeps Augie closest to my heart."
Miserendino also remembered Nelson and other Nursing faculty members stressing the importance of continued education.
"They'd say, 'Don't let this be your end point in terms of your education.' I took that to heart."
The Right Places at the Right Times
Looking back on her career, Miserendino credits a series of mentors who identified her talents and led her to identify new opportunities.
"I didn't necessarily have a driven plan that said, 'by this time I'll be here.' In many cases, I was at the right place at the right time. People saw my talents and pulled me along to where I needed to be.
After graduating from Augustana in 1979, she took a nursing position in the neonatal intensive care unit (NICU) at Loyola University Medical Center. After a year, she entered Loyola University's Marcella Niehoff School of Nursing to obtain her master's degree, taking advantage of the organization's tuition reimbursement program.
After earning her master's degree while working full time and completing her courses part time, she took a nursing manager position at a community hospital, overseeing the nursery with a component of her role assigned to the pediatrics unit.
It was a rewarding experience, she says, especially the opportunity to work with families.
"I have a certain degree of empathy. I think a lot about how 'this could happen to me – I could be going through this, too.' I remember the families of those kids that I took care of. They touched me. They were lovely people. On the night shift, we didn't have open visitation so, oftentimes, parents weren't there at night. Sometimes we were the surrogate parents to help kids get to sleep, give them hugs, make them comfortable."
She went on to become a clinical nurse specialist for the University of Illinois Hospital, where she used her critical thinking skills to problem solve, improve care processes and provide education to patients and staff.
In 1994, after attending a conference on the challenges facing public health, she felt a calling to change course. She made the decision to pursue her doctorate in public health, health policy and administration.
At the same time, her position with the University of Illinois was growing. She served as the assistant director of nursing and was eventually named chief nursing officer, a position she held until 2000.
She went on to serve for some of the nation's top consulting organizations, before joining the University of Pittsburgh Medical Center, a 20-facility healthcare system. As vice president for interval nursing operations, she was responsible for providing clinical operations analysis, supporting infrastructure development for patient care services and serving as interim CNO as needed. She also oversaw much of the organization's international nursing work, including the nursing functions of the Center's hospital in Dublin, Ireland.
The job required 100 percent travel and Miserendino, who was commuting from Pittsburgh to Illinois, says the time away from home was challenging. She made six trips to Dublin in six months.
"I enjoyed the people and I enjoyed the work but 100 percent travel was tough."
Again, she says, she found herself led to a new opportunity.
She currently serves as vice president of patient care services and chief nursing officer for Presence Health Resurrection Medical Center, a division of Presence Health Resurrection Health Care, the second largest healthcare system in Illinois and the largest Catholic healthcare system in the state.
Every day, she says, she is reminded of why she chose a career in nursing and the important role nurses play in helping those in need.
"I see my role as one that serves people – patients and others. How do we make life easier for people? How can we help them get through the tough stuff?
Physicians are great – they know a lot, but they only get snippets of time with patients. As a nurse, you get more time to build a relationship and help people through whatever they're struggling with."
"Among the best parts of my job is working with our staff – the care providers. I love when I hear stories from grateful patients about all of the people who touched their episode of care and created a positive experience. To be able to celebrate that, that's the best. We're here to help people and families through care processes and to make a difference in their lives. I love to celebrate success and acknowledge those who make a difference."