The Standouts
This fall, the Augustana community mourned the loss of Dr. Daniel Swets and Professor Emeritus Dick English, long-serving contributors taken too soon.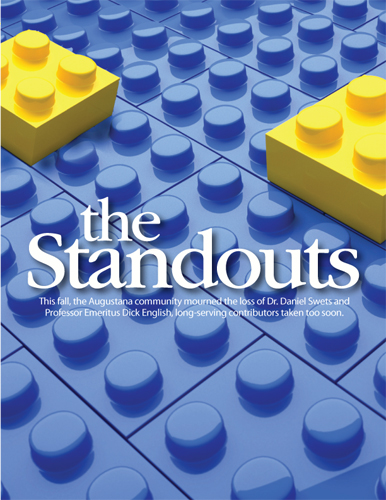 Dan Swets:
Associate Professor, Chair of Computer Science and Mathematics
Dr. Daniel Swets was the kind of guy who judiciously brought orange juice, donut holes and bananas to every test he gave. He was a quiet scholar who didn't seek recognition for the countless grants he secured or for the high-tech scientific endeavors he undertook. He was also a passionate teacher who was committed to helping young people discover the wonder of science.
Swets was killed in a plane crash Friday, Dec. 9, near the Sioux Falls Regional Airport. He was 47. Kevin Anderson, Augustana class of 1987; Joshua Lambrecht; and Brian Blake were among the other victims.
At the time of his death, Swets was serving as associate professor and chair of computer science and mathematics. During his 16 years at Augustana, he taught the hardware sequence for computer science majors and was responsible for many of the upper-level electives in the department, such as Graphics, Networks, and Parallel Processing. His current research interests included algorithm development for remote sensing, computer vision, content-based image retrieval, computer graphics, virtual reality and robotics.
He also served as president of the South Dakota Robotics Association and was a partner at the South Dakota FIRST LEGO League. He played a key role in developing the FIRST LEGO League competition in Sioux Falls, part of a larger program called For Inspiration and Recognition of Science and Technology (FIRST). The competition, the third annual of which was held in his memory on Saturday, Feb. 25, at Augustana's Elmen Center, allows middle school students to design, build, and program an autonomous robot to earn points for accomplishing prescribed missions on a 4x8 playing field. They also give presentations on research projects where they have tackled a problem and propose a novel solution.
Participants must work as a team and be able to articulate what they did and how they accomplished it. The national organization calls it "sport for the mind."
Swets agreed with that description.
"The basic premise is that if what our culture values and emulates is movie stars and sports heroes, why can't we make science just as cool? That's our basic philosophy. We encourage kids to explore science and engineering through fun, hands-on learning that's driven by competition. It gives kids something to work for, and the tournaments make them feel like rock stars," he said last year.
Swets received his bachelor's degree in computer science from Calvin College, Grand Rapids, Mich., in 1986. He received the M.S. and Ph.D. degrees in computer science from Michigan State University, East Lansing, Mich., in 1991 and 1996, respectively.
Since 1983, he had been a computer consultant to the small business community. From 1986-1987, he was employed as a software engineer at Rockwell International, Downey, Calif., on the Space Shuttle Orbiter Backup Flight System. From 1987-1992, he was an aerospace soft­ware engineer at Smiths Industries, Grand Rapids, working on embedded software for flight systems and ground station soft­ware. From 1990-1991, he was an instructor at Grand Rapids Community College and at Grand Valley State University, Allendale, Mich. He was an Ameritech Fellow at Michigan State University, East Lansing, from 1994-1995, while pursuing his Ph.D. degree.
His graduate research encompassed facial recognition software, insti­gating a new approach to image processing, a project that eventually led to a real-time facial recognition program in use after the attacks on 9/11.
Throughout his career, Swets worked on a variety of projects. His most notable successes were his work with the Defense Depart­ment and NASA, working on the guidance system of Marine One as well as the braking system of the Space Shuttle Orbiter.
He served as the associate director for the NASA South Dakota Space Grant Consortium and was chair of the NASA EPSCoR Steering Committee in South Dakota.
Swets also loved music and was a member of the Augustana College Community Band for six years.
Via Facebook and during a memorial service on Wednesday, Dec. 14, in the Chapel of Reconciliation, colleagues and students remembered Swets as a compassionate and dedicated scientist and a true champion for students.
"[Dan] worked tirelessly to instill the spirit of discovery in students and educators across the state and region, especially in fields of science, technology, engineering, and mathematics. [He was also a] prolific grant writer. Since coming to Augustana, he has been the recipient of over $1.5 million in grant awards. These grants have helped build computer and technology infrastructure at the College and have supported teaching and research in science and technology at Augustana and across South Dakota, not only for the benefit of Augustana students, but also to "hook" youth on science and technology," said Dr. Karen Younger, Natural Science Division Chair and professor of Nursing.
"As I reflect on Dan, I think about a man who was soft-spoken and careful with the words he chose. I remember a person occasionally sprinkling in his sly wit to grab our attention and make us smile. He wasn't brash and boastful, yet had much to be proud of. He wasn't loud and comical, yet he was funny, possessing an intelligent sense of humor often reflecting on himself or his own foibles. He never told stories to impress us, but he did tell stories to his students to stretch their imagination and to impress upon them what great things they might do with their lives," said Rob Oliver, president. "I recall speaking with Dan about the South Dakota FIRST LEGO League. He was so passionate and excited about what he imagined as thousands of young people becoming hooked on learning more about math and science. He spoke of kids who were drawn to sports and their many opportunities for competition, and he wanted to ensure that same competitive outlet for kids drawn to the sciences and to the creative problem solving that this program entails. … Dan was a light for us … [I know he] would want us to go on to challenge young people so that they might go into the world to be light for others." 
"Dr. Swets was an incredible man, and an amazing professor. The courses that he taught were not easy, but he knew every bit of information like the back of his hand. If there was a concept or a certain piece of material that was challenging ... he would go above and beyond to make sure that each and every student understood it. Whether it was in class, or outside of class, you could ask a question anytime, and he would always be there to give an answer. I had the opportunity to help Dr. Swets by volunteering at the FIRST LEGO League last year, and am planning on volunteering again. He was extremely passionate about this event, because it really helps to foster science and technology in younger children, and because he had a blast working with the kids as well. He was passionate about everything he did, and his passion and kindness will be missed by everyone who was lucky enough to have known him," wrote Tyler Schultz, class of 2013.
Swets is survived by his wife Robyn; children Joseph, 20; Kira, 18; Megan, 14; and Benjamin, 1; his parents, Kenneth and Rosemary Swets; and siblings Keith, Paul, Lynn, Mark, and Beth.
A memorial scholarship has been established to honor the life and many accomplishments of Dr. Dan Swets.
Dick English:
Professor Emeritus, Business Administration and Accounting
His students remember him as the guy who could do calculations in  his head faster than they could using their calculators. He had a big heart, a big sense of humor, and as many recall, big piles of papers covering the desk in his office. A dedicated and recognized professional, his students remember that Richard "Dick" English, professor emeritus of Business Administration and Accounting, found the greatest joy not in his own accomplishments, but in being able to watch those he loved grow and succeed in their own ways.
English died on Tuesday, Dec. 13, in Arizona. He was 67.
English received his bachelor's degree from Creighton University and earned his M.B.A from Washington University. He joined Augustana in 1974 and served the College for 35 years teaching courses such as "Principals," "Personal Finance," and "Business Ethics," among others. He served as department chair from 1990-1992 and from 1995-1998. He retired in 2009.
In 2010, he was awarded the Outstanding Educator Award by the South Dakota Society of Certified Public Accountants in recognition of his contributions to the accounting profession through both education and practice. The award to English marked the first time in 10 years the honor had been given.
Students, friends and colleagues shared memories of English via Augustana's Facebook page and by email:
"I had Dick for numerous classes and while there were many memorable moments and especially stories shared in those classes, what I will remember most about him is how his passion for his profession and his students extended well beyond the ... classroom. You could always find him tucked behind mounds and mounds of papers in his office ready to chat about absolutely anything and always willing to share a laugh. He and his wife, Bev, also made sure to host the semester-end English Soiree that was always a must-attend (I will definitely never forget how he said "soiree" and especially his description of the strawberry dip with "two-fingers of amaretto.")," wrote Evan Kulesa '08.
"He spoke often and proudly about his family and former students and I always knew that his greatest joys in life were not his own accomplishments (which were numerous), but being able to watch those he loved grow and succeed in their own ways. The more I reflect the more I realize what an indelible mark Dick left on my life and how many great memories we shared. We have lost a big man, with a big heart, and a burning passion to see others succeed, but we can honor his memory by being the family, students and colleagues that he glowingly watched grow to strive for full, happy, and successful lives."
"One of my favorite memories of Prof. English was how he could do all the calculations in his head and faster then we could enter into our calculators," wrote Kathy Kirkeby.
"He was one of my favorite professors during my time at Augustana. He taught the most interesting, challenging, inspirational and humorous accounting classes I've ever taken. A couple of years after graduating from Augustana, I came back as an employee. I always enjoyed our conversations on campus and a few off campus during short games of golf. To me, he was a great professor, co-worker, and friend. He will be greatly missed," wrote Tim Nelson.
Mary Jane Minnig, Social Science division coordinator, worked with English for more than 20 years.
"[He] was the first faculty person I worked with when I came to Augustana 24 years ago.  He had a project for me, election ballots. I had no idea who the people were, what divisions or departments were and it seemed overwhelming.  He sat down next to me and said not to worry, we'd work this thing through. That was Dick's style. He did the same thing with students who might be struggling with an accounting problem.  He would calmly help them solve problems they didn't think they could handle and turned failures into successes," she remembered.
"Dick was described to me as the real Augustana "Ole" and I found that description very fitting. He had a heart as big as he was. He loved Augie and was proud of this place. He loved the students, too. If his students were involved, you would find him there to support them, be it a play, a concert or a sporting event.  He had time to visit with everyone and enjoyed every moment. He remembered every student he ever had – not just because he had a good memory, but because they were important to him. He would follow their careers through the business notices in the newspaper and make sure that others would be aware of their accomplishments," she said. 
"When he served on various committees he was a valiant crusader for everyone; making certain that staff received the same benefits as faculty. Every year I saw people stop by his office for free advice when it came to taxes. He would go out of his way to help everyone. Augustana is a better place because of Dick English. He was "Viking" to the core. I will always miss Dick and his stories, but I will always remember him and his big heart fondly, too," Minnig said.
Associate Professor of Business Administration and Accounting Dr. Anne Oppegard remembers English fondly, as well.
"For 18 years – both in the Old Barracks and in the Madsen building – I had the office next door to Dick's. There wasn't a day that went by that we didn't talk about one thing or another. He loved to laugh, and to tell anecdotes from his work-life and his family. He was so compassionate – a kind and gentle man. He lived the ethics he taught," Oppegard recalls.
"When he cleared out his office he took a leisurely walk down 'memory lane' ... he had advising folders spanning his 30-plus years of advising, and before he disposed of that amazing collection, he reviewed each and every one. For many, he knew where they were and where their lives had led them. For some, he'd have the inevitable story. He'd wander into my office, and chuckle while telling me about the individual in question. What a great guy, what a great mentor and friend to students, what a great colleague and friend," she said.
Dr. Dennis Bolen, assistant professor of Business Administration and Accounting, also called English a long-time colleague.
"His in-class experiences were memorable when things went humorous, such as in the old building which was often overheated. If a student nodded off, he might have received a flying eraser as a wake-up call," Bolen recalled with a smile.
"After graduation, not only at local gatherings of professional accountants in large group venues, but also one-on-one when a graduate of several years was considering moving on to the next career position – his interest in his students was lifelong. He was always proud of what Augie students could, and did, accomplish. He was proud of and committed to his profession and advising his colleagues. That will be missed. The many graduates of Augie were well served by, and should be proud of their connections with, the likes of Professor Richard English," Bolen said.
English is survived by his wife, Beverly; four children, Barbara White and her husband, Monte, Minnetonka, Minn.; Elizabeth O'Connor and her husband, Glen, Kansas City, Mo.; Theresa English, Kansas City, Mo.; Daniel English, Boston, Mass.; six grandchildren; two brothers, Al English and his wife, Alison, Sioux Falls; and Stuart English and his wife, Constance, Gilford, Conn.; several nieces and nephews; and a host of other relatives and friends.
A memorial scholarship has been established to honor the life and many accomplishments of Dick English.