Using Technology to Drive Change
In today's world, where 4.2 billion people own a toothbrush but 5.2 billion own a mobile phone, technology and the virtual world it brings with it permeates every aspect of foreign policy, from revolutions to dealing with terrorism to traditional 'statecraft.'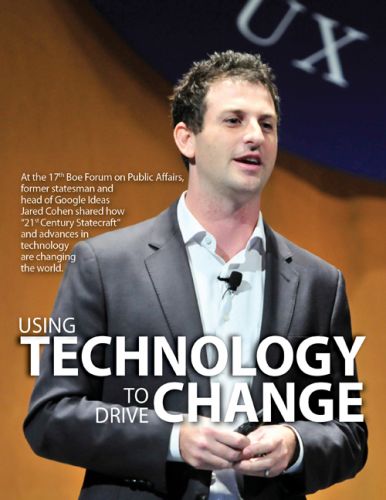 That was the message delivered by Jared Cohen, former advisor to Secretaries of State Condoleezza Rice and Hillary Clinton, author, member of the Council on Foreign Relations and director of the "think/do tank," Google Ideas, earlier this month at the Center for Western Studies' Boe Forum on Public Affairs.
More than 2,000 people filled the Elmen Center to hear Cohen, dubbed by The Washington Post and Harvard's Kennedy School of Government as one of six "Top American Leaders," discuss "U.S. Foreign Policy and the Technological Revolution."
At 30 years old – yes, just 30 – Cohen is the youngest among an elite list of past Boe Forum speakers including Gen. Colin Powell, President of the former Soviet Union Mikhail Gorbachev, Archbishop Desmond Tutu, Vice President Al Gore, former U.S. Secretary of State Madeleine Albright, former President of Ireland Mary Robinson and other world leaders, all of whom were chosen to bring and discuss issues of current global concern to the region. The Forum was established in 1995 through an endowment by the late South Dakota Governor and Federal Judge Nils Boe and his sisters, Borghild and Lois.
Don't let Cohen's age fool you. In the six years since he earned his master's degree from Oxford, where he was a Rhodes Scholar, Cohen's already lived what some might say is a lifetime's worth of experiences.
He first gained national recognition in 2009, two years before the now-famous Arab Spring, a season that saw millions take to Twitter as a way to communicate and organize plans for political and social revolutions in Tunisia, Egypt, Libya, Yemen and other countries, while on assignment in Iran.
On the ground in Tehran, Cohen witnessed intense post-2009 election protests boiling over first-hand. As a member of Secretary of State Hillary Clinton's State Department Policy Team, he urged his friend Jack Dorsey, co-founder and chairman of Twitter, to postpone routinely scheduled maintenance of Twitter.com until after the election protests. The social media site, Cohen argued, was the only outlet Iranians had to voice what was truly happening in their country.
His support of the medium and his outreach to Dorsey were included on CNN's "Top 10 Internet Moments of the Decade," along with the launch of Facebook and the introduction of the iPhone.
It also led to the Obama administration's endorsement and use of "21st Century Statecraft," defined as using technology to advance U.S. interests abroad.


Jared Cohen talked with journalism students from Augustana and area high schools during his visit in November.
In 2010, he left the State Department to become the head of Google Ideas, a think/do tank that convenes unorthodox stakeholders, commissions research, and seeds initiatives to explore the role that technology can play in tackling some of the toughest human challenges.
As a student, and during his career, Cohen has conducted research in Iran, Iraq, Syria, Lebanon, Afghanistan, and Africa. As part of his research, he has interviewed members of Al-Qaeda, Hezbollah, and the Taliban. He is the author of "Children of Jihad" and "One Hundred Days of Silence."
In Sioux Falls, as he spoke to a crowd that spanned the generations, Cohen explained how technology intersects with policy and geo-politics.
"Iran is just one example where the smartphone was a gateway to freedoms and liberties people didn't have," he said. "[Iranians] were using technology to organize and do things they weren't allowed to do per their government."
Cohen predicted that technology will help spur more revolutions in the future.
"They'll happen faster and they'll be easier to start. Technology doesn't start revolutions. It just makes it easier for them to spread. What used to be born in private is now born in public."
To that end, he also stressed that revolutions in the future will be harder to finish.


Augustana senior Alan Thompson interviews Jared Cohen before the 2012 Boe Forum.
"Over time, you'll have to 'back-fill' the celebrity activists with leadership skills. In the past, people were leaders before they became celebrities. Now, people are celebrities then leaders."
Cohen, who was in Egypt at the time of the 2011 revolution, joked that he had something in common with members of the Augustana Band who were also trapped in the country at the same time while on a performance tour.
"We were both stranded in Egypt and our mothers were worried about us," he said.
Today, Cohen calls Egypt a failed state, arguing that the mid-east revolutions haven't produced new leaders.
"The Arab Spring still has many cycles to play out before we can say it was successful."
He said the future of terrorism keeps him up at night as he thinks about the vulnerabilities of the physical and cyber world. For the most part though, he tries to remain optimistic.
"In economic terms, I'd say I'm short on terrorists thriving in the new digital age and I'm long on terrorists suffering in the new digital world. Terrorists of the future have to opt in to technology in order to be relevant."
He shared how a Navy SEAL friend was working in Pakistan to hunt an illusive terrorist. Once the terrorist called a relative in Afghanistan to RSVP to a family wedding, the military traced the call.
"The reality is, they'll leave a digital trail. Even terrorists make mistakes."
In the future, Cohen said governments need to expect that the number of virtual citizens will out-number physical citizens because people can have more than one virtual identity.
He predicts "massive turbulence" for governments who are trying to make sense of it all and make out "what's noise" and "what's real."
That turbulence, Cohen said, will lead to governments attempting to replicate the laws of the physical world in the cyber world.
"I believe the Internet will Balkanize," he said. "Through filtering, the Internet will look different in every country. States will band together to edit the web. The cyber alliances that will form around collective editing may look different than alliances in the physical world."
That could lead to big changes for Internet-based commerce.
"How will an entrepreneur from South Dakota open an Internet business in China? Will he need to apply for a Chinese Visa," Cohen asked.
During his visit, Cohen also took time to talk with journalism students from Augustana and area high schools where he encouraged them to "follow things you're interested in."
He used his own story as an example, explaining that he went to college intent on becoming an anthropologist. As a student, he spent a semester in Kenya "herding sheep and listening to old people and found out I was a terrible anthropologist."
He says he hitchhiked to Rwanda, not knowing a great deal about the genocide that had decimated countless families a decade earlier. He took a cab to the Congo and snuck across the border via a banana truck in order to learn the history first-hand from the people who'd lived it.
"You can't really plan for these types of things that chart the course of your life," he told the students. "It's OK to not have it all planned out."
He told students that while social media sites like Facebook and Twitter are paving the way for unprecedented connectivity, they're also enabling users to create digital timelines and histories. He stressed the need for users to remain vigilant about their privacy.
People today are publishing everything they do from the time they're a sonogram inside their mothers' bellies, Cohen said. "Parents should talk to their kids about privacy and security before they talk to them about safe sex," he said, predicting the future potential for "casualties of social media," especially for public figures.
"Technology," he explained, "doesn't fix bad behavior. It's a tool. Humans determine what they use the tool for. We can't use technology as an excuse for not being good people."
"We're going to proliferate content about ourselves. We're going to meet far more people virtually than we will physically. What that means is that online identity becomes more and more important. Our online identity is shaped not only by content we put out about ourselves but also by content others put out about us. It means that who we are online becomes a management task. Managing and curating who we are online becomes sort of the seminal task of our time."