Viking Athletics Hall of Fame Class of 2012
The new inductees of the 2012 Class of the Augustana Athletic Hall of Fame were honored on Friday, Oct. 5, during Viking Days 2012.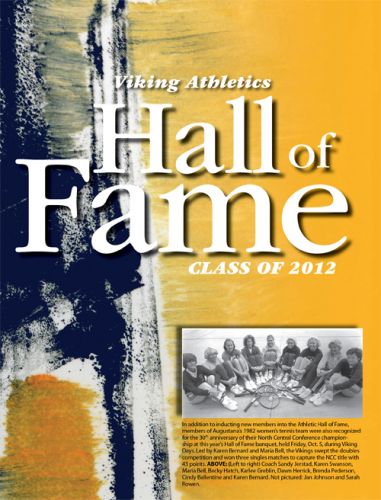 Lee Pulse, Class of 1994
A native of Kimball, S.D., Pulse excelled in football and wrestling at Augustana, achieving All-America status as a somewhat undersized heavyweight on the mat, and becoming a school record holder on the gridiron.
During the 1992 season he was named the North Central Conference defensive player of the week after recording a dozen tackles, two quarterback sacks, and a fumble recovery in a 20-7 win over the University of North Dakota.
Augustana did not win a game in 1991, but Pulse played a role in a resurgent 1992 campaign that saw the Vikings go 8-3 and finish third in the NCC.  He was credited with 54 tackles, including a team-leading 10 for loss, and earned honorable mention on the all-conference team.
In 1993, Pulse logged 44 tackles in a 4-7 season and tied the individual game record with three sacks against North Dakota State University. That season he served as a team captain. He was named to the Academic All-NCC football team and was a second team all-conference choice.
On the mat, he compiled a 70-39 career record. From 1992-1994, he became a three-time All-America with fourth, second, and third place finishes at the national tournament. Following the 1992 season, he was named the Vikings' most valuable wrestler.
Today, Pulse is the co-owner of Kimball Clark LLC, Central Dakota Guide Services LLC, Original Kimball Popcornball LLC, and PHO Properties/Parkway Campground.
Brian Wolf , Class of 1982
Wolf holds the school record for most points scored in the decathlon (7,111). He claimed back-to-back NCC decathlon crowns in 1981 and 1982. He won the 400 intermediate hurdles at the 1982 NCC meet in 52.79 seconds and in 1981 with a time of  52.89. He qualified for the 1981and 1982 NCAA meets in the decathlon and 400 intermediate hurdles scoring points in both events, both years.
In 1985, he placed fifth at the National Indoor Pentathlon Championships. He went on to set the American record for the fastest single run in US bobsled history and was the national bobsled two-man champion in 1987. A volunteer fireman for four years, he won five gold medals at the 1996 World Fire Fighter Games. At age 50, he completed an Ironman Triathlon.
Away from sports, Wolf writes a column for the Herald Journal called "Insider Financial." He teaches an insurance ethics course at Kaplan Professional Schools and is the author of "Please Pass the Memories."
Sara Yager Junkermeier, Class of 1999
As the undisputed leader of the 1997-98 women's basketball team, Yager started all 27 games and led the team in scoring (16.6) and rebounding (9.7). She shot 53 percent from the field and 74 percent from the free-throw line. She was named to the Daktronics Division II All-Region second team.
In her four seasons, the Vikings went 70-39 and advanced to the NCAA postseason in 1996-97.
She never experienced a losing season with the Vikings.
Yager is the 12th leading scorer in Augustana women's basketball history with 1,309 points. She is tied for second place for most field goals in a game (16). She is third in career rebounds (885) and third in blocked shots (149). She is tied for third for most blocks in a game (8). She was named to the All-Academic NCC team in 1998.
Today, she teaches seventh grade health/physical education at Fairmont junior/senior high school in Fairmont, Minn.
Ole Odney Award: Erika Paladino-Hazlett, Class of 1997
Paladino-Hazlett became Sioux Falls Lincoln's head volleyball coach at age 21. During her tenure, she took the Patriots to 12 consecutive state tournament appearances. Her teams won three state championships and were runners-up twice. Her won-loss record with the Patriots is 277-145.
She was a driving force in switching the South Dakota volleyball season from summer to fall, putting the state on equal footing with programs throughout the nation.
Paladino-Hazlett  played four years at Augustana College. She helped the Vikings to a pair of North Central Conference championships, and was named NCC defensive player of the year in 1996. She was an Academic All-Conference choice and graduated magna cum laude.
During her tenure at Lincoln, she was named Greater Dakota Conference coach of the year in 2000, 2003, and 2011. She was chosen Lincoln coach of the year in 2000, 2007, and 2010. She was named the 2011 South Dakota High School Coaches Association volleyball coach of the year.
Today, she is the supervisor of specialized programs for the Sioux Falls School District.
Lefty Olson Award: Jeff McCarron, Class of 1975
In 1972, McCarron was a member of the University of Minnesota's Big Ten Conference championship men's basketball team. He then transferred to Augustana, where he played for Mel Klein in 1973-74 and 1974-75. He helped the Vikings to a 36-18 record in two seasons, including a 19-5 showing in North Central Conference play. The 1974-75 team was the NCC runner-up and four of the players are in the Augustana Athletic Hall of Fame.
McCarron began working in basketball camps in 1976 and created Pacesetter Sports in 1980. He has been a basketball camp clinician and the director of all Pacesetter activities for the past 32 years.
Since starting Pacesetter, McCarron has helped provide over 3,500 programs for more than 250,000 young athletes. He has also been the publisher of Minnesota Basketball News since 1994.
Honored Coach: Ted Kessinger, Class of 1963
Kessinger served as an assistant football coach for 12 years at Augustana College in Rock Island, Ill., and at Augustana College in Sioux Falls. In 1976, he accepted the head coaching post at Bethany College in Kansas.
He compiled a 219-57-1 record In 28 seasons at Bethany. His teams won or shared 16 Kansas Collegiate Athletic Conference (KCAC) titles, and he was named conference coach of the year 11 times. The Swedes were ranked in the final NAIA top 25 poll 20 times and made 13 NAIA playoff appearances during his tenure.
Almost 400 of his players earned all-KCAC honors, 43 received NAIA All-America recognition, and 49 were NAIA Scholar Athletes.
When he retired in 2003, Kessinger was the winningest active coach in victories and winning percentage in the NAIA. In 1979, he received the Ole Odney Award from Augustana College (S.D.) He was inducted into the NAIA Hall of Fame in 2003 and the Kansas Sports Hall of Fame in 2005. In 2010, he was inducted into the College Football Hall of Fame.
Milt and Clara Harvey Award:Lee and Karen Larsen
Lee '68 and Karen '67 Larsen began their association with Augustana as students. Lee played football and Karen played in the band.
The Larsens have been Athletic Club/Booster Club members since 1978. They have generously supported the annual Athletic Club Auction as contributors and volunteers, and Lee serves on the Athletic Club board of directors.
Financial contributions to capital projects include the Elmen Center, the Elmen Center Enhancement Project, and Kirkeby-Over Stadium. The Larsens funded the student/athlete banners that hang in the Sanford Practice Gym, and the keepsake softball/baseball bats for the participants who have set records in those sports. In 2002, Lee spearheaded the WEBS Weight Room effort as part of the Elmen Center Enhancement project.
Honoring: 1982 Women's Tennis Team
In addition to inducting new members into the Athletic Hall of Fame, members of Augustana's 1982 women's tennis team were also recognized for the 30th anniversary of their North Central Conference championship at this year's Hall of Fame banquet, held Friday, Oct. 5, during Viking Days. Led by Karen Bernard and Maria Bell, the Vikings swept the doubles competition and won three singles matches to capture the NCC title with 43 points. ABOVE: (Left to right) Coach Sandy Jerstad, Karen Swanson, Maria Bell, Becky Hatch, Karlee Greblin, Dawn Herrick, Brenda Pederson, Cindy Ballentine and Karen Bernard. Not pictured: Jan Johnson and Sarah Rowen.