Recent Art News
Q&A with Lori Witte '13, a Working Artist
Friday, August 9, 2013
Lori Witte '13, a recent art department graduate, has taken on the responsibility of teaching creativity in her hometown by creating a series of community art classes in Luverne, Minn. She took time to share with Augustana some of her current work in an interview.
Fisher Wins JazzFest Shirt Design Contest
Friday, June 7, 2013
Aimée Fisher, a junior art and education major at Augustana, was chosen as the winner of the Sioux Falls Jazz and Blues annual JazzFest t-shirt design contest. Fisher's artwork (at right), which features Sheryl Crow's lyrics "All I wanna do is have some fun," appeared on T-shirts worn by over 800 JazzFest volunteers.
As the winner of the contest, Fisher received four Jazzfest VIP passes and a special backstage visit to the main stage.
Sarah Schoepf Receives Harold Spitznagel Medal for Achievement in Art
Friday, May 3, 2013
Senior art major Sarah Schoepf (Tea, S.D.) has been awarded the prestigious Harold Spitznagel Medal for Achievement in Art, the highest award presented by the Augustana College Department of Art to student-artists who demonstrate the highest standards of excellence in all their artistic endeavors throughout their Augustana careers. The award, which was presented during the opening reception for the 2013 Senior Art Show in the Eide/Dalrymple Gallery, is only bestowed occasionally and has been given only twice since 2007.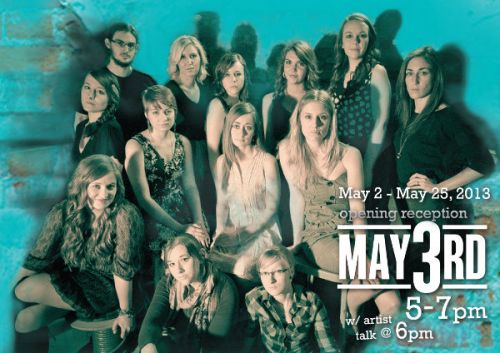 Augustana Senior Show
Wednesday, May 1, 2013
Graduating art students at Augustana College presented their senior show at the Eide/Dalrymple Gallery. The exhibit included a wide variety of mediums including: ceramics, sculptures, printmaking, paintings, drawings, digital photography and graphic design.
The 13 graduating artists are: Kelsey Hansen (Willmar, Minn.), Megan Johnson (Tea, S.D.), Sabrina Johnson (Bellevue, Neb.), Ana Knyazeva (Golden Valley, Minn.), Sean Lares (Lakeville, Minn.), Maxine Melber (Parker, S.D.), Annie Nance (Sioux Falls, S.D.), Laura Nerness (Windom, Minn.), Stephanie Ohden (Raymond, Minn.), Mariya Pabst (Sioux Falls, S.D.), Sarah Schoepf (Tea, S.D.), Mandy Seeley (Sheldon, Iowa), and Tessa VanRavenswaay (Sioux Center, Iowa).