Keynote Speaker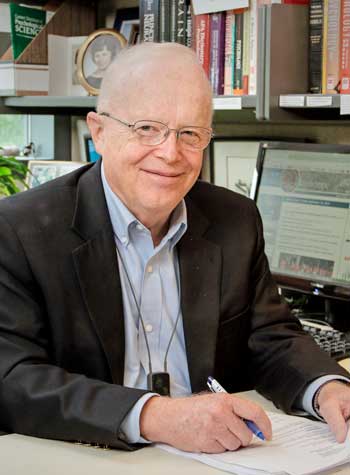 The 2017 Arthur Olsen Student Research Symposium featured a keynote by Dr. David Myers on "Science and Reason in a Post-Truth Age."
Speaking as a science educator and text author, Dr. David Myers illustrated the need for bipartisan critical thinking in the 2017 world of "alternative facts." He will also suggest what his own discipline — psychological science — might contribute.
Dr. Myers also spoke on "Positive Psychology and the Scientific Pursuit of Happiness" at a seminar at 3 p.m. Friday, April 7. He introduced the mushrooming positive psychology movement, and explored the things that do, and surprisingly don't, predict human flourishing.
Dr. Myers is a social psychologist with extensive experience communicating psychological science to college students and the general public. His scientific writings, supported by National Science Foundation grants and fellowships, have appeared in three dozen academic periodicals, including "Science," "American Scientist," "American Psychologist," and "Psychological Science." He is the author of one of the leading introductory psychology textbooks (a book that Augustana uses for PSYC115). He is also skilled at writing about psychological research for the public, publishing articles in four dozen magazines, from Scientific American to Christian Century, and through 17 books, including general interest books and textbooks.
His research and writings have been recognized by the Gordon Allport Prize, by an "honored scientist" award from the Federation of Associations in the Brain and Behavioral Sciences, by the Award for Distinguished Service on Behalf of Personality-Social Psychology, and by three honorary doctorates.
---
Past Keynote Speakers
2016 "Shaping Perceptions from Misconceptions? Analyzing Myths and Realities of the Contemporary U.S. Immigration Debate"
 Dr. Cari Lee Skogberg Eastman '96, author of Shaping the Immigration Debate: Contending Civil Societies on the U.S.-Mexico Border and Immigration: Examining the Facts
2015 "Seriously Amazing Moments in Smithsonian Forensic Anthropology and Skeletal Biology"
Dr. Douglas Owsley, Division Head for Physical Anthropology at the Smithsonian's National Museum of Natural History
2014 "Turn that Frown Upside Down: A Heartwarming Tale of Debt and Deficits in the Modern Economy"
Dr. Stephanie Kelton, professor of Economics at the University of Missouri-Kansas City
2013 "Suffrage Parades, Pickets & Postcards: Images of Vulnerable Bodies & Civic Obligations"
Dr. Catherine H. Palczewski, professor of Communication Studies and Women's & Gender Studies at the University of Northern Iowa
2012 "Academic Malpractice? The Ongoing Popularity of Creationism among High School Biology Teachers"
Dr. Randy Moore, professor of Biology at the University of Minnesota, Minneapolis
2011 "Placing Nuns Inside the Women's West: Convent Archives and Academic Research"
Dr. Anne M Butler, professor emerita of Utah State University
2010 "Archiving American Literature Online: How the Digital Humanities
Dr. Ed Folsom, Roy J. Carver Professor, University of Iowa
2009 "The Human Genome Project: Why All the Fuss?"
Alan E. Guttmacher, MD., Acting Director, National Human Genome Research Institute
2008 "Rule of Law: The Holy Grail — What Is It and Why Is It So Difficult to Build?"
Erik Jensen, Advisor to the World Bank & Asian Development Bank
2007 "A New New World: The Democratization of Knowledge, Culture, Politics, and Pretty Much Everything in Between"
Andrew McLaughlin, Head of Global Public Policy & Government Affairs for Google, Inc. & Senior Fellow at The Berkman Center for Internet and Society, Harvard Law School
2006 "From Garbage to Stuff: How We Recycle Plastics"
Dr. William F. Carroll, Vice-President, OxyChem, 2005 President of the American Chemical Society
2005 "A Defense of Party Spirit"
Dr. Russ Muirhead, Harvard University
2004 "Small Talk: What It Does and Why It Matters"
Dr. Julia T. Wood, professor of Communication at the Univ. of North Carolina - Chapel Hill
2003 "The End of Ethics in the Neonatal Intensive Care Unit"
John Lantos, MD, University of Chicago School of Medicine & MacLean Center for Clinical Medical Ethics
2002 "The Funds, Friends, and Faith of Happy People"
Dr. David Myers, Staley Distinguished Christian Scholar, Hope College
2001 "Ancient Wisdom & Modern Love"
Dr. David O'Conner, University of Notre Dame