Keynote Speaker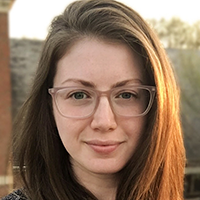 The 2019 Symposium featured a keynote by Kaeti Hinck '07, "Ghosts in the machine: How technology is shaping our behaviors, what we believe, and how we live".
Kaeti is currently a Nieman fellow at Harvard University.
As an editor at The Washington Post, she led a team of visual journalists, developers and data reporters. She has been involved with some of the Post's most ambitious projects, including investigations about unsolved murder, segregation in America, drug industry corruption and police shootings.
Hinck previously worked as design director at the Institute for Nonprofit News and has explored the power of visual communication, technology and design in newsrooms for more than a decade.
During her Nieman fellowship, she is researching how neuroscience and psychology can inform the news ecosystem and reshape approaches to product design, visual journalism and trust.
---
Past Keynote Speakers
2018 "Clouded leopards, orangutans and the quest of feeding 10 billion people a healthy and sustainable diet."
Dr. Brent Loken '94, Science Liaison Officer for EAT
2017 "Science and Reason in a Post-Truth Age."
Dr. David Myers, professor of psychology at Hope College
2016 "Shaping Perceptions from Misconceptions? Analyzing Myths and Realities of the Contemporary U.S. Immigration Debate"
 Dr. Cari Lee Skogberg Eastman '96, author of Shaping the Immigration Debate: Contending Civil Societies on the U.S.-Mexico Border and Immigration: Examining the Facts
2015 "Seriously Amazing Moments in Smithsonian Forensic Anthropology and Skeletal Biology"
Dr. Douglas Owsley, Division Head for Physical Anthropology at the Smithsonian's National Museum of Natural History
2014 "Turn that Frown Upside Down: A Heartwarming Tale of Debt and Deficits in the Modern Economy"
Dr. Stephanie Kelton, professor of Economics at the University of Missouri-Kansas City
2013 "Suffrage Parades, Pickets & Postcards: Images of Vulnerable Bodies & Civic Obligations"
Dr. Catherine H. Palczewski, professor of Communication Studies and Women's & Gender Studies at the University of Northern Iowa
2012 "Academic Malpractice? The Ongoing Popularity of Creationism among High School Biology Teachers"
Dr. Randy Moore, professor of Biology at the University of Minnesota, Minneapolis
2011 "Placing Nuns Inside the Women's West: Convent Archives and Academic Research"
Dr. Anne M Butler, professor emerita of Utah State University
2010 "Archiving American Literature Online: How the Digital Humanities
Dr. Ed Folsom, Roy J. Carver Professor, University of Iowa
2009 "The Human Genome Project: Why All the Fuss?"
Alan E. Guttmacher, MD., Acting Director, National Human Genome Research Institute
2008 "Rule of Law: The Holy Grail — What Is It and Why Is It So Difficult to Build?"
Erik Jensen, Advisor to the World Bank & Asian Development Bank
2007 "A New New World: The Democratization of Knowledge, Culture, Politics, and Pretty Much Everything in Between"
Andrew McLaughlin, Head of Global Public Policy & Government Affairs for Google, Inc. & Senior Fellow at The Berkman Center for Internet and Society, Harvard Law School
2006 "From Garbage to Stuff: How We Recycle Plastics"
Dr. William F. Carroll, Vice-President, OxyChem, 2005 President of the American Chemical Society
2005 "A Defense of Party Spirit"
Dr. Russ Muirhead, Harvard University
2004 "Small Talk: What It Does and Why It Matters"
Dr. Julia T. Wood, professor of Communication at the Univ. of North Carolina - Chapel Hill
2003 "The End of Ethics in the Neonatal Intensive Care Unit"
John Lantos, MD, University of Chicago School of Medicine & MacLean Center for Clinical Medical Ethics
2002 "The Funds, Friends, and Faith of Happy People"
Dr. David Myers, Staley Distinguished Christian Scholar, Hope College
2001 "Ancient Wisdom & Modern Love"
Dr. David O'Conner, University of Notre Dame