Biochemistry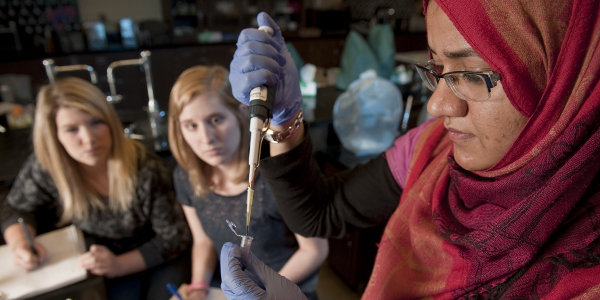 Based on the emerging national consensus that science is best taught and learned in an interdisciplinary context, Augustana has created a Biochemistry major as a collaboration across several departments.
The major is comprised of classes from Biology, Chemistry, Mathematics, and Physics. The nature of how science is currently studied and implemented in the workplace heavily favors those who are readily able to integrate across these disciplines. Students graduating with a Biochemistry major will have the ability to communicate in a variety of scientific "languages" and position themselves at the forefront of integrative scientific discovery.
Augustana junior biochemistry major Ruthellen "Elle" Tornberg has been named a recipient of the prestigious Goldwater Scholarship for the 2013-14 academic year, an honor recognizing accomplished college students who intend to pursue careers in science, mathematics and engineering.
Students will achieve a broad background in the natural sciences that prepares them for a variety of post-graduation options, including research positions, graduate studies, professional health disciplines, biotechnology, chemical industry, and other professions.