2014 ASL Immersion Presenter
We proudly announce the 2014 South Dakota ASL Immersion presenter.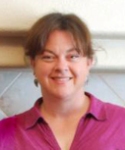 Pamela Moers has worked with American Sign Language for 28 years, beginning her career with early ASL linguist and poet, Clayton Valli, as her mentor. Since then, all her jobs and studies have included the use of language in various ways, earning her degrees in English, Education, and Theater. Her current areas of focus include ASL-English translation, the pragmatics of language use, prosody of language, semantic variations and discourse features.
Moers taught English in Arizona and Minnesota for 9 years before returning to school at the University of Colorado, Boulder, studying Linguistics, focusing on discourse analysis and language processing. She currently resides within view of the mountains with her husband, children and two outdoor-loving dogs — and looks forward to returning to South Dakota!
Questions can be directed to Christa Gunderson at cgunderson@augie.edu.