Athletic Training Staff

Brian T. Gerry, MS, ATC
Brian.Gerry@augie.edu
Hometown: Sioux Falls, S.D.
Brian graduated from Southwest State University (Marshall, Minn.) in 1985 with a B.S. in Physical Education & Health Education. He received his M.S. in Athletic Training from Indiana State University in 1987.
Brian currently serves as the Head Athletic Trainer and Clinical Director of the Athletic Training Program. He has been teaching within the College's Exercise and Sport Sciences (ESS) Department since 1993. Prior to his current position at Augustana, Brian developed the Sports Outreach Program for Sanford Health where he served as coordinator from 1993-2001. Through this position, he secured numerous athletic training service contracts and developed the Summer Strength and Conditioning program, the Sports One Celebrity Football Camp and the Summer Jam Basketball League. He also served as the head athletic trainer for Rhodes College in Memphis, Tenn., from 1987-1993 and previously worked with the Indianapolis Colts of the NFL in 1986.
In 2007, Brian received the Service of Excellence Award from the South Dakota Athletic Trainers Association for appreciation of his 20 years of service. In 1998, he received the Professional Contribution Award to the Department of Physical Medicine and Rehabilitation from Sanford Health. In 1997, he received the Clinical Teacher of the Year Award from the Sioux Falls Family Practice Residency Program. This was the first time that a non-physician had ever won the award. Brian and his wife Kelli have three children: Jennifer, Matthew and Nathan.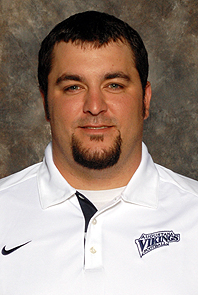 Jason Rinne, MA, ATC
Jason.Rinne@augie.edu
Hometown: Columbus, NE
Jason Rinne, a 2008 graduate of Augustana, joined our staff as an assistant athletic trainer in 2012. Rinne primarily works with the men's basketball team as well as assisting with football and track and field.
After graduating from Augustana, Rinne spent two years as a graduate assistant athletic trainer at the University of Nebraska Omaha. At UNO, Rinne worked with football, ice hockey and men's and women's tennis. Upon completing his graduate assistantship, Rinne worked for Centerpoint Medical Center in Independence, Mo. from July of 2010 to August of 2012. There, Rinne was the athletic trainer for Grain Valley High School. He also was an assistant athletic trainer for the Missouri Mavericks of the Central Hockey League. Jason and his wife Stephanie reside in Sioux Falls.
Sara Bortscheller, MS, ATC
Hometown:  Remsen, Iowa
Sara Bortscheller, a 2010 graduate of Augustana, joined the Athletic Training staff in 2017 as an assistant athletic trainer. Bortscheller will primarily work with volleyball, women's basketball, and softball.
The Remsen, Iowa native graduated from Augustana in 2010 with a double major in athletic training and exercise science.
Upon completion at Augustana, she was a graduate assistant athletic trainer at Iowa Central Community College in Fort Dodge, Iowa. She obtained her master's degree through the University of Central Missouri in Sports Business and Administration.
After grad school, Sara worked for two years at Louisburg College in Louisburg, N.C. and another two years at Mount Marty College in Yankton, S.D. before returning back to Augustana.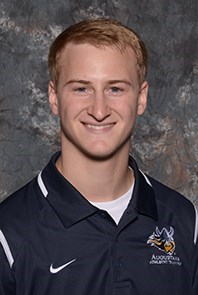 Jordan Lindberg, ATC
Jordan.lindberg@augi.edu
Hometown:  Dell Rapids, SD
 
Jordan Lindberg enters his second season as an assistant athletic trainer at Augustana in 2017-2018. Lindberg will work primarily with soccer, wrestling and baseball programs at Augustana. A 2016 AU graduate, Lindberg spent his senior year at AU as an intern with the Augustana football, soccer, wrestling and baseball teams. Along with interning at Augustana, Lindberg also interned with the Sioux Falls Canaries where he assisted in with treatments and game preparations.While at Augustana, Lindberg won numerous awards including the South Dakota Athletic Training Student of the Year in 2016 and the Jeff Behrens Athletic Training Scholarship. He was also a four-year member of the Augustana University CIVITAS Honors Program, President of the Augustana Athletic Training Student Association and a member of the National Athletic Trainers Association. Lindberg is a Dell Rapids native and earned his Bachelor of Arts in Athletic Training from Augustana in 2016. He resides in Sioux Falls with his wife, Lydia.