In the News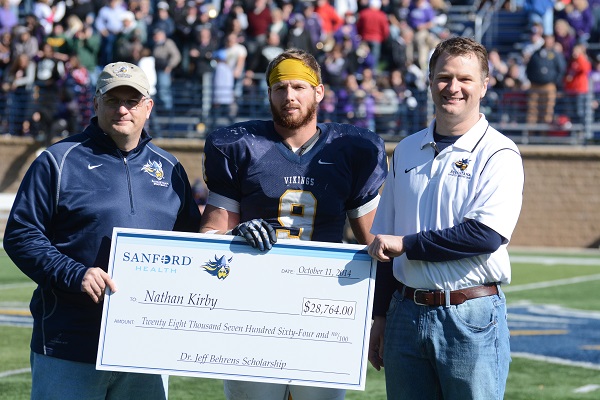 2014-15 Dr. Jeffrey J. Behrens Sports Medicine Scholarship Recipient:
This scholarship is a memorial to Jeffrey Behrens, MD physician for the Augustana athletic teams, special friend of Augustana and a member of the Sanford medical staff.  He was an exceptional doctor and committed to the care of college athletes.  The recipient of this scholarship should preferably be a senior, participating in intercollegiate athletics or be declared as an Athletic Training major and plans on working in a health related field or attend graduate school in a health related field after graduating.  They must also possess a cumulative GPA greater than 3.2.
Nate Kirby is the first recipient of this scholarship.  Nate is an Athletic Training major and has played football at Augustana for the last 4 years.
NEWS FLASH........9 Augustana Athletic Training Students passed their certification test this year. This test is referred to as the BOC and is required by all senior Athletic Training majors if they want to become certified. Congratulations goes out to Sarah Rech, Holly Hafemeyer, Kim Nelson, Zach Barbur, Echo Bartos, Kelli Bolton, Ashley Erschens, Mary Johnson and Jordan Mitzel. They are the newest certified Athletic Trainers at Augustana!!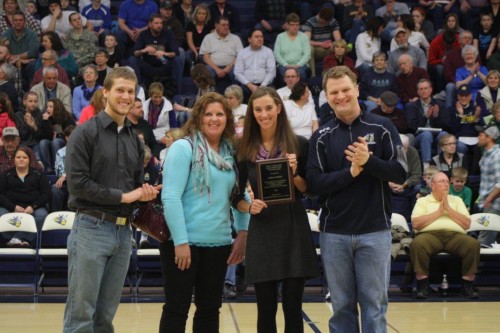 The Dr. Jeffrey Behrens' Athletic Training Student Scholarship Award Winner Sarah Rech!
The Dr. Jeffrey Behren's Athletic Training Student Scholarship Award winner is Sarah Rech, a senior Athletic Training Student from Woodbury, MN.  Sarah is the daughter of Kelly Rech and Tim Rech and has one brother in college named Jeff.  Sarah is engaged to be married to Tyler Schultz.
At Augustana Sarah was a New Student Orientation Leader and currently is president of the Athletic Training student organization.  Sarah is a Mentor for Big Brothers and Big Sisters, volunteers at Sanford and VA Hospitals and is certified as a First Responder and Emergency Medical Technician, EMT.  After graduation Sarah is planning on attending graduate school.
Program Director/ Head Athletic Trainer Brian Gerry has put together an educational video concerning knee injury prevention. Click the link below to view video.