International and Off-Campus Programs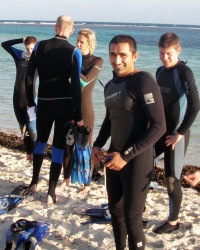 Join our Facebook group, Augustana Goes International for news, opportunities, and events.
Because interpersonal and intercultural relations are a vital aspect of a student's education, Augustana regards the whole world as its classroom.

Our approved study abroad programs range from full college course offerings to specialized study; from courses taken with host-country nationals at their universities to courses taught in English to American students. Students may select year long, semester, January Interim, and short-term programs. Credit earned in an approved study abroad program is accepted just like credit earned on campus.
Augustana professors lead many courses abroad each year, typically during J-Term or Spring Break. Augustana also has many approved third party programs. In addition to semester and year-abroad programs, several providers also offer J-Term options. Augustana also maintains parthernships with sister institutions in Norway, England, Canada and Germany, and is a member of two consortia: the UMAIE consortium (January interim courses) and the Higher Education Consortium on Urban Affairs (HECUA).
Augustana's StudioAbroad portal will allow you to search Augustana's 500 plus approved study abroad programs, request an advising session with a study abroad advisor, get a cost estimate for a study abroad program and much more.
CLICK HERE
to get started using Augustana's StudioAbroad portal!
The International Programs Office (IPO) offers informational sessions, workshops, study abroad fairs, and other programming throughout the year. See upcoming opportunities on the International Programs Calendar of Events. Students interested in speaking to a study abroad advisor are encouraged to call the IPO at 605.274.5050 to set up an appointment.
One of the first questions students and parents often have is about financing a study abroad experience. Learn some of the basics regarding study abroad costs and funding.

In addition to the program provider's application (if applicable), all students must apply to be approved by Augustana for study abroad. Contact the International Programs Office for additional information about this approval process.