2013-14 Art News
Printmakers Steamroll Prints at Iowa State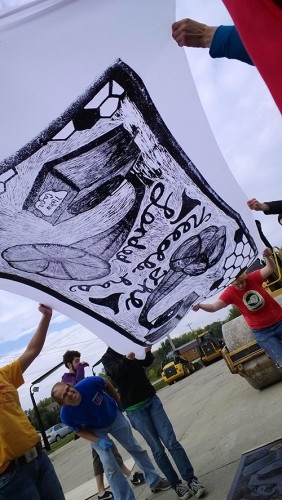 Friday, October 11, 2013
Twenty-two students from two different colleges. Ten 4-foot-by-8-foot sheets of plywood and fiberboard. Seven weeks of designing and carving. Ten gallons of ink. One 22,000 pound steamroller.
Today, these elements are coming together at Iowa State University's 12th annual steamroller printmaking event, held on the Iowa State campus in Ames.
Students in Augustana Associate Professor Scott Parsons' printmaking classes and ISU Professor April Katz's fall 2013 relief printmaking class have spent the first half of the semester carving original designs on birch plywood blocks and full-size MDF (medium-density fiberboard) sheets, which they will print onto fabric by driving a steamroller over the inked wood.
This is the fifth year that Iowa State and Augustana have joined forces for the event. Eight Augustana College students will be printing three different designs. "Cloud Hopper" will evoke an out-of-body flying experience. "The Needle has Landed" plays with cryptic references to the Seattle Space Needle. "El Rio Se Alimenta" is a meditation on riverways in the Andes.
Augustana participants include Camila Aguileras, Mary Brunick, Mariah Greenhoff, Chad Nelson, Zack Nelson, Rebecca Sunde and Anh Ta.
Will-Be Sculpture Connects At-Risk California and South Dakota Youth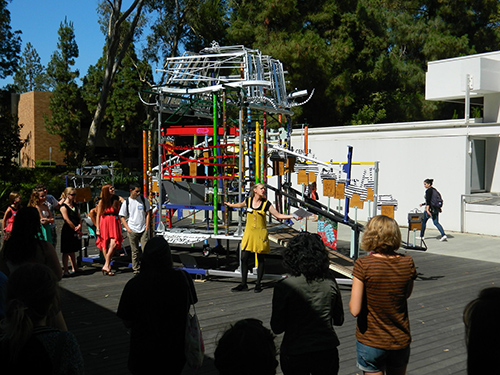 Monday, July 29, 2013
Bridget Beck '00 partnered with the Hammer Art Museum and the South Dakota non-profit Project Respect to create an outdoor collaborative community sculpture with 40 teenage artists from Los Angeles, California and Rapid City, South Dakota. The opening is at the UCLA Broad Art Center in Los Angeles. Listen to an interview with Bridget on South Dakota Public Radio. Read an Open Table Interview with Bridget at the Graphite Interdisciplinary Journal of the Arts.