2014-15 Art News
Aimée Fisher '15, Wins Covenant Award for Liberal Arts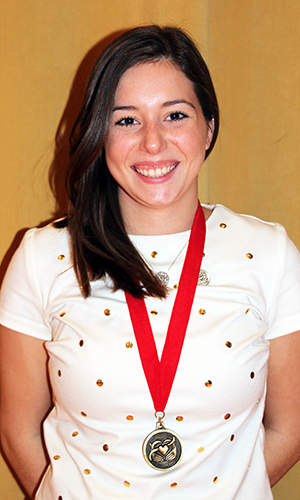 Nominees for the Covenant Award for Liberal Arts are those who have demonstrated a love of learning for its own sake; acknowledged or forged connections between academic disciplines; connected curricular and co-curricular interests; related their studies to important issues of human existence; and whose commitment to the liberal arts has shaped their plans for the future. In receiving this award, Aimée was described by her nominators as someone whose "passion is nothing short of amazing. A 2014 Peace Scholar and a member of Civitas, Augustana's honors program, Fisher's work studying education in India is an example of the "professionalism and passion with which she approaches every aspect of scholarship and work," her nominator wrote. Aimée Fisher is an art and education major from Montgomery, Minnesota. She is the daughter of Rebecca Carson and James Fisher.
April Katz, Visiting Artist, Conducts a Printmaking Workshop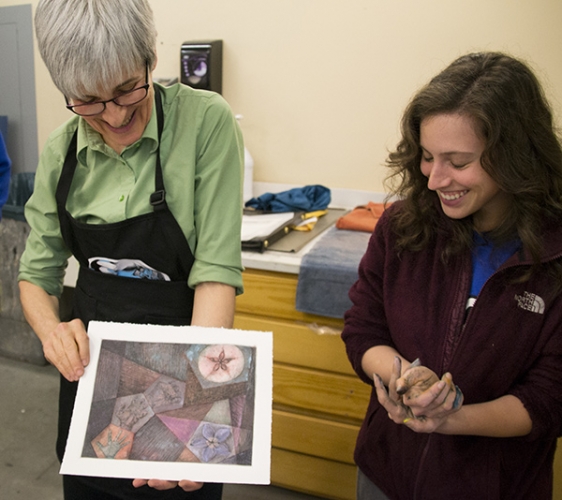 April Katz, Professor of Printmaking from Iowa State, presents a color workshop to the Printmaking students. Four prints were made with collograph, intaglio, relief and stenciling processes.
Augustana Art Students Awarded AURAFA Grant for Exhibition

Eastbank Art Gallery of Sioux Falls is exhibiting "Hashtag YOLO: a Critical Analysis for Today," an installation by Augustana students Aimée Fisher ('15), Anh Ta ('14), Mo Hurley ('14) and Taylor Yocum ('17).  "Hashtag YOLO" is composed of an assemblage of life-size cellophane tape figures molded from the artists' own bodies, in which they imbedded public #YOLO Twittered phrases that emphasize decadence and hedonistic behavior, and through which a video montage of international and domestic events of trauma and social concern was projected.  This work began as a class project for the January 2014 "Art after 1945" Civitas and upper-level art history seminar led by Dr. Lindsay Twa.  It was first staged in the Back Alley, and was also featured prominently at the Augustana Symposium, April 2014. Aimée Fisher and Anh Ta re-developed the piece for the space at Eastbank Art Gallery, for which they received an Augustana Undergraduate Research and Artist Fellowship Award (AURAFA).  This award honors the students' accomplishment by providing a grant to cover their cost of materials.  

Scott Parsons Received the 2014 National Terrazzo and Mosaic Association Honor Award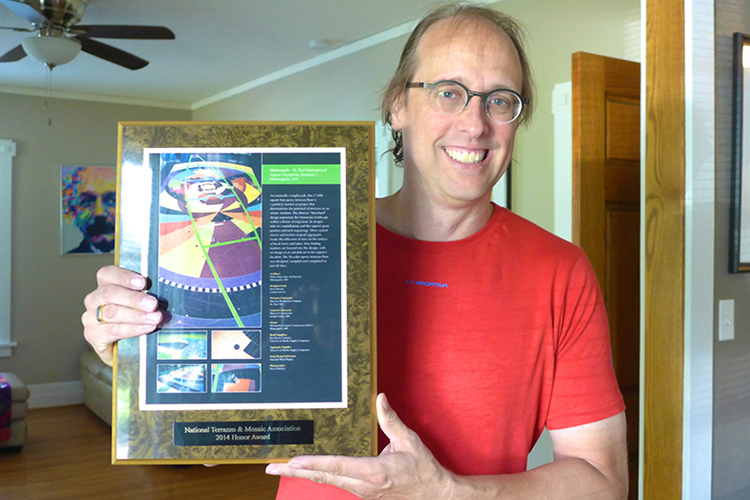 Associate Professor of Art, Scott Parsons, received the 2014 National Terrazzo and Mosaic Association Honor Award for his terrazzo installation at the Minneapolis-St. Paul International Airport. Check out the online gallery of his and other honorees' work.
Shields Art to Display in Capital One Building in Sioux Falls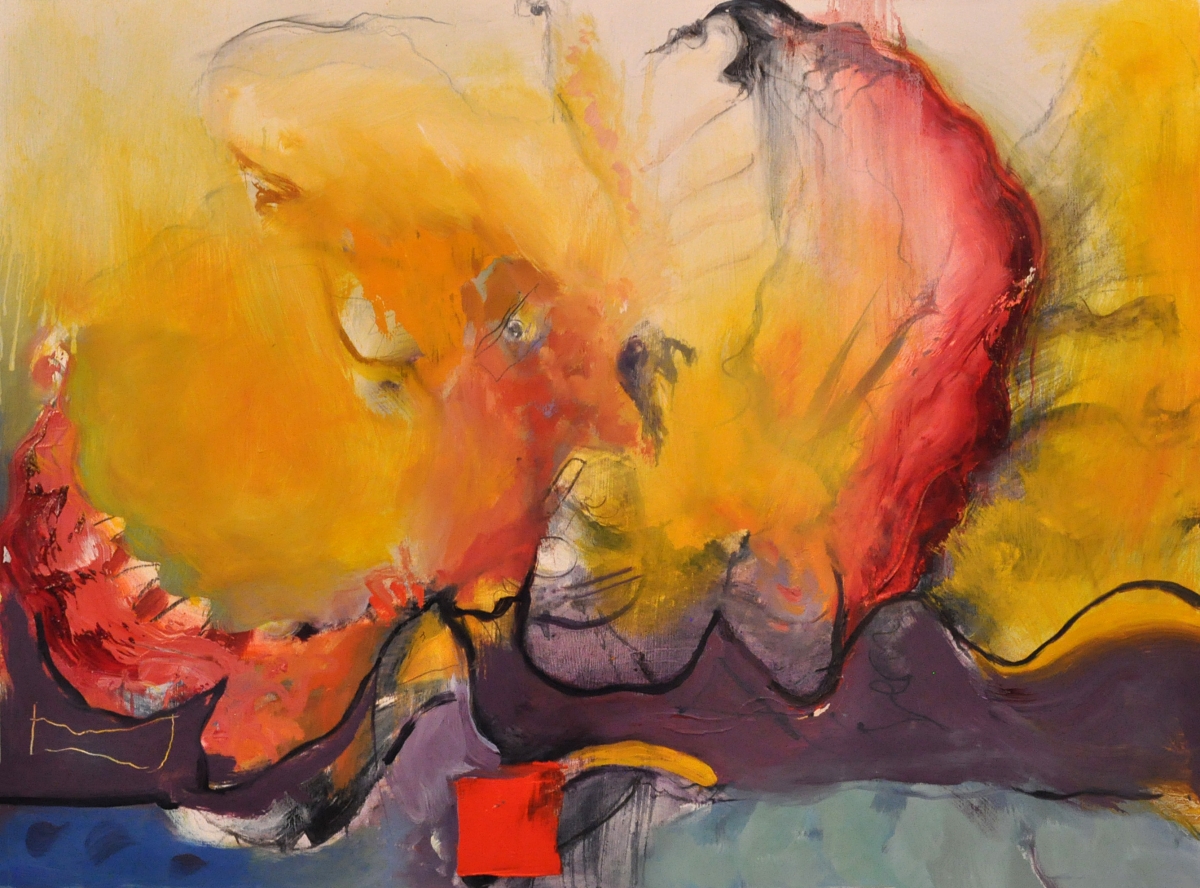 Tom Shields, Associate Professor of Art, has recently been selected for 6 paintings acquisition into the international banking company Capital One collection located in Sioux Falls. 
Twa Selected for Summer Teachers Institute in Technical Art History

Dr. Lindsay Twa was one of fourteen art historians, artists and chemistry professors selected to participate in the Samuel H. Kress Foundation's Summer Teachers Institute in Technical Art History.  The institute educates professors about the techniques of material science in the study and treatment of art objects, from Renaissance masterworks to contemporary painting. Dr. Twa spent one week in residence at the Conservation Center of the Institute of Fine Arts of New York University, and also made visits to the conservation labs of the Metropolitan Museum of Art and the Morgan Library. (Pictured above, the Morgan Library Paper Conservation Lab.)
A Letter from Kiel Mutschelknaus '07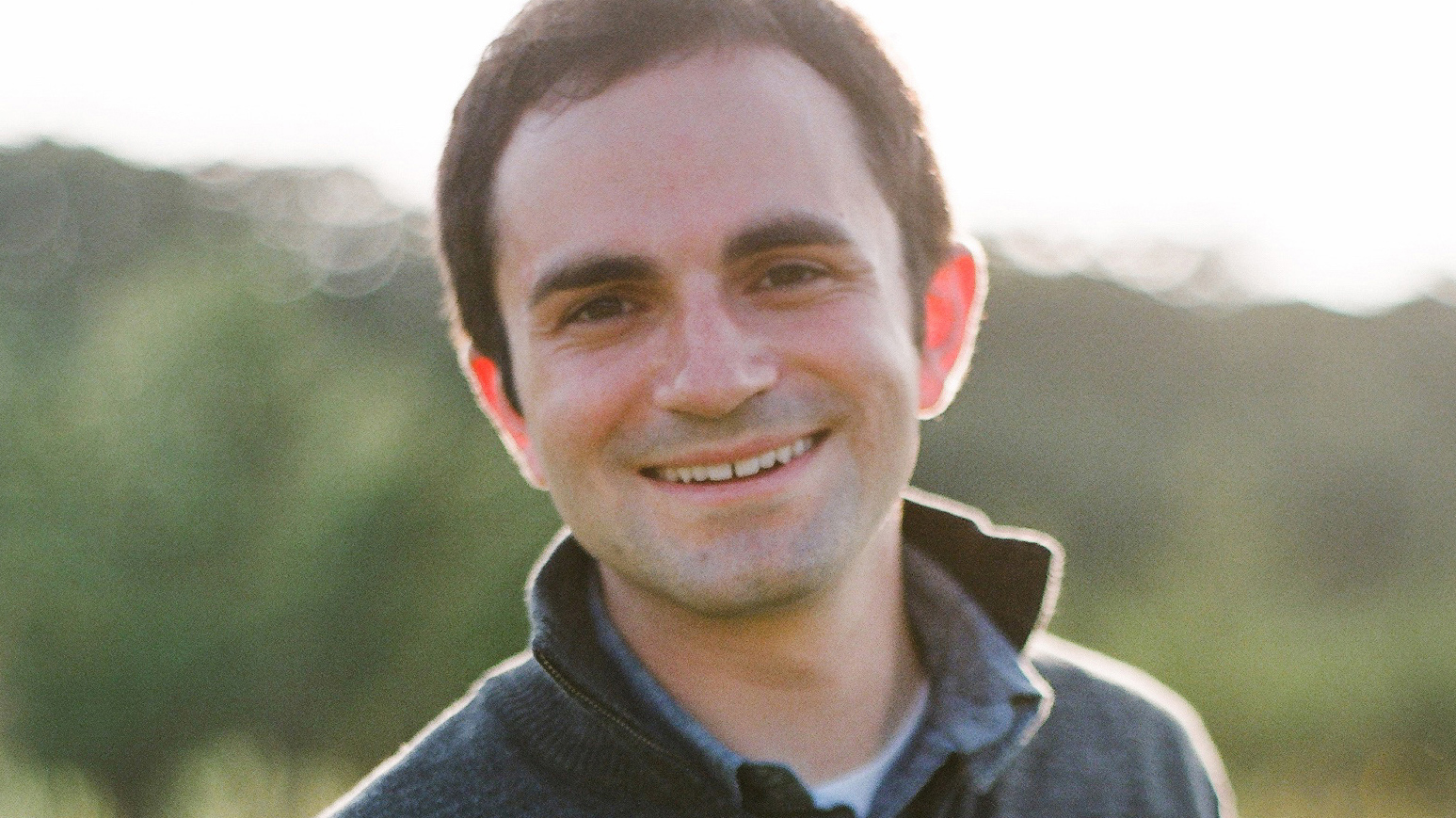 I wanted to email you all with an exciting update on my career! Come Fall 2014, I will be joining Maryland Institute College of Art as a full-time faculty in their undergraduate graphic design department. I'll be teaching both undergraduate and grad level courses. As I'm currently located in the DC area, this is a dream position for me and I continue to pinch myself in disbelief.
I know getting to this point is in large part due to the great foundational skills and strong work ethic I developed in the Augie Art Department. So thank you all for your help and all the roles you've played in my education. From my very first drawing class (Carl Grupp) to providing me a great recommendation for this very position (Lindsay Twa), all of you have helped me tremendously and I thank you from the bottom of my heart. I hope to be as good an educator to my students as you were all to me.
Hope you have a great summer and I look forward to crossing paths with you all in the future!
And again, with all the gratitude I have: Thank you.
Kiel M. '07
kielm.com
Learn more about Mutschelknaus and his unique style.
Sustainability Campaign Showcases Work of Augustana Art Graduate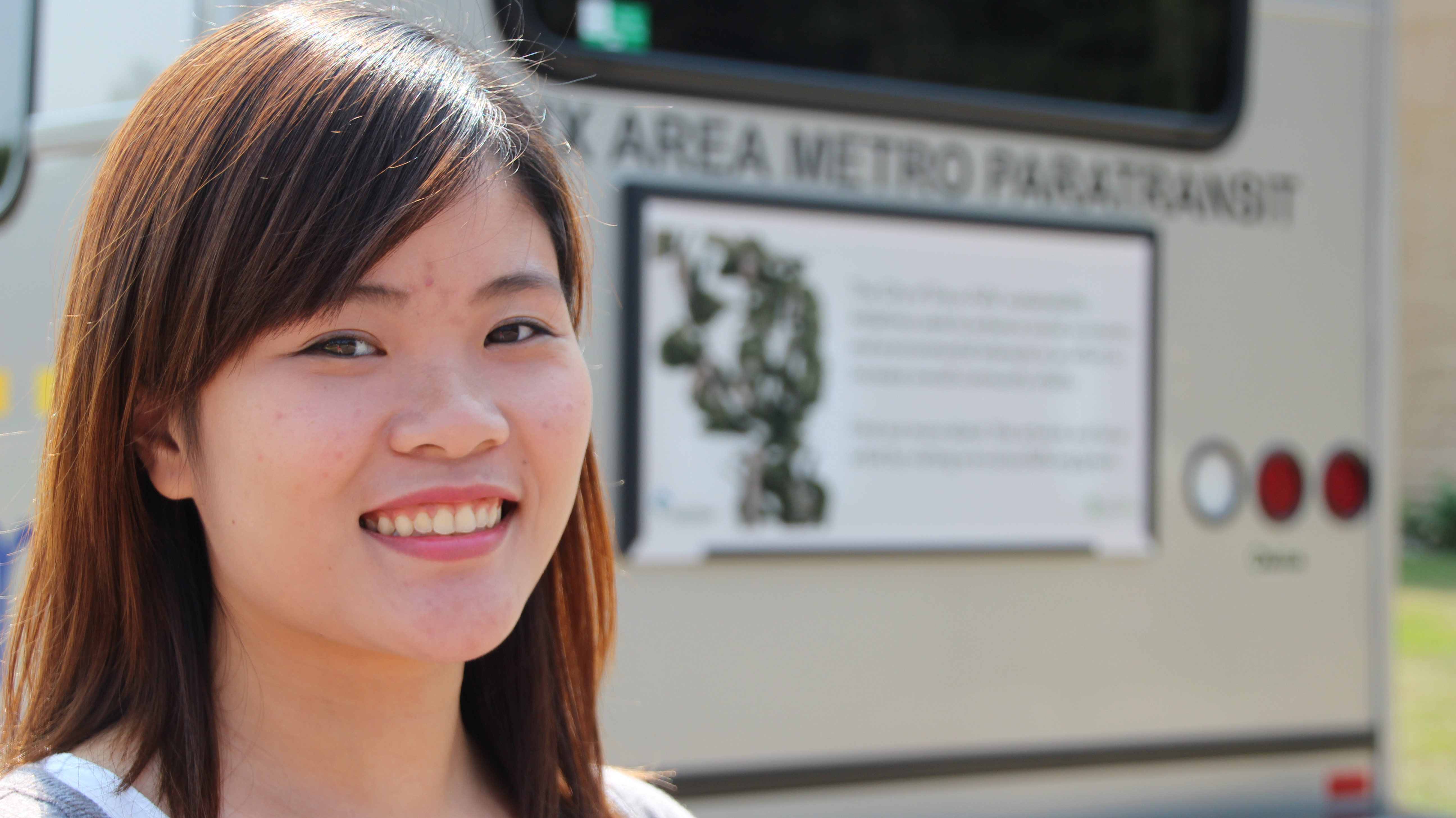 2014 Augustana graduate Anh Ta created "Vitality," a piece that appears in a new ad campaign designed by Sioux Falls' Public Works Environmental Division.
Seniors Present Final Art Show: "To Be Continued..."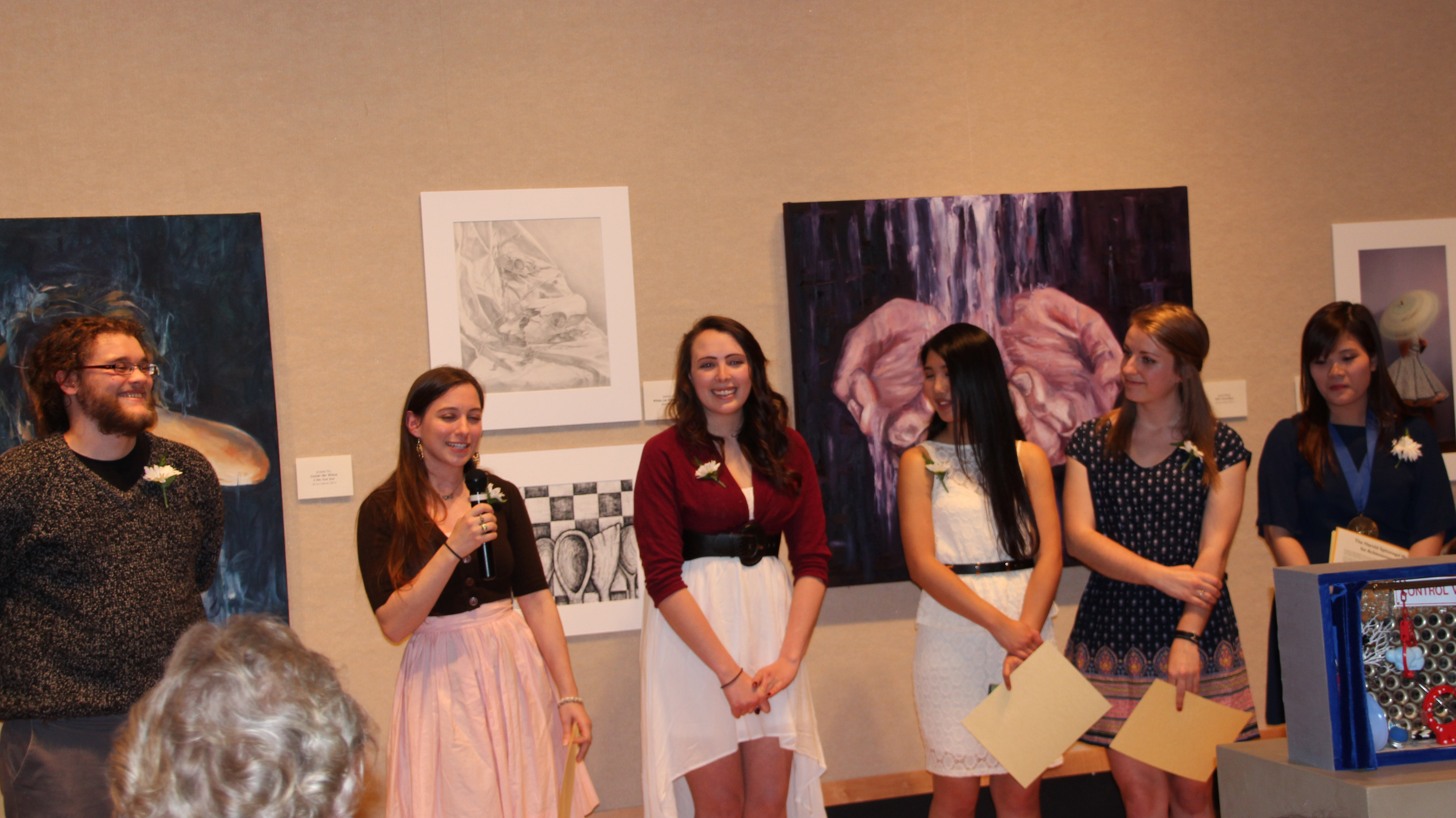 Graduating art students at Augustana College presented their senior show titled "To Be Continued..." at the Eide/Dalrymple Gallery. On exhibit was a wide variety of works including ceramics, sculpture, installation, printmaking, painting, drawing, digital photography, and graphic design. Read more about these seniors and "To Be Continued..."
Associate Professor of Art, Dr. Lindsay Twa Publishes Book, "Visualizing Haiti in U.S. Culture 1910-1950"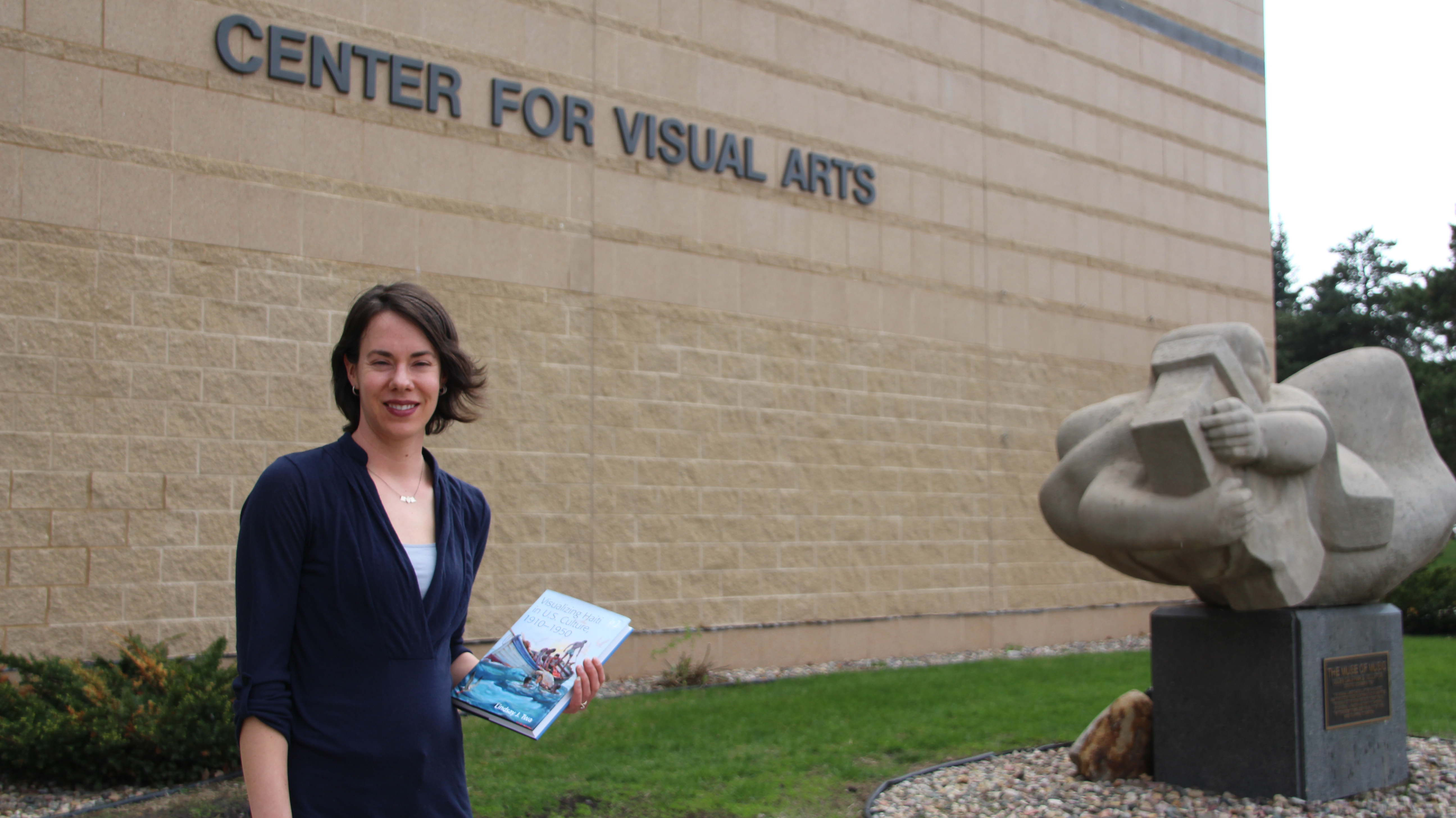 Dr. Lindsay Twa, associate professor of art and director of the Eide/Dalrymple Gallery, recently authored the book, "Visualizing Haiti in U.S. Culture 1910-1950." Read more about "The Art Investigator."
Marit Lhotzky Awarded a Cloisters Museum Internship at the Metropolitan Museum of Art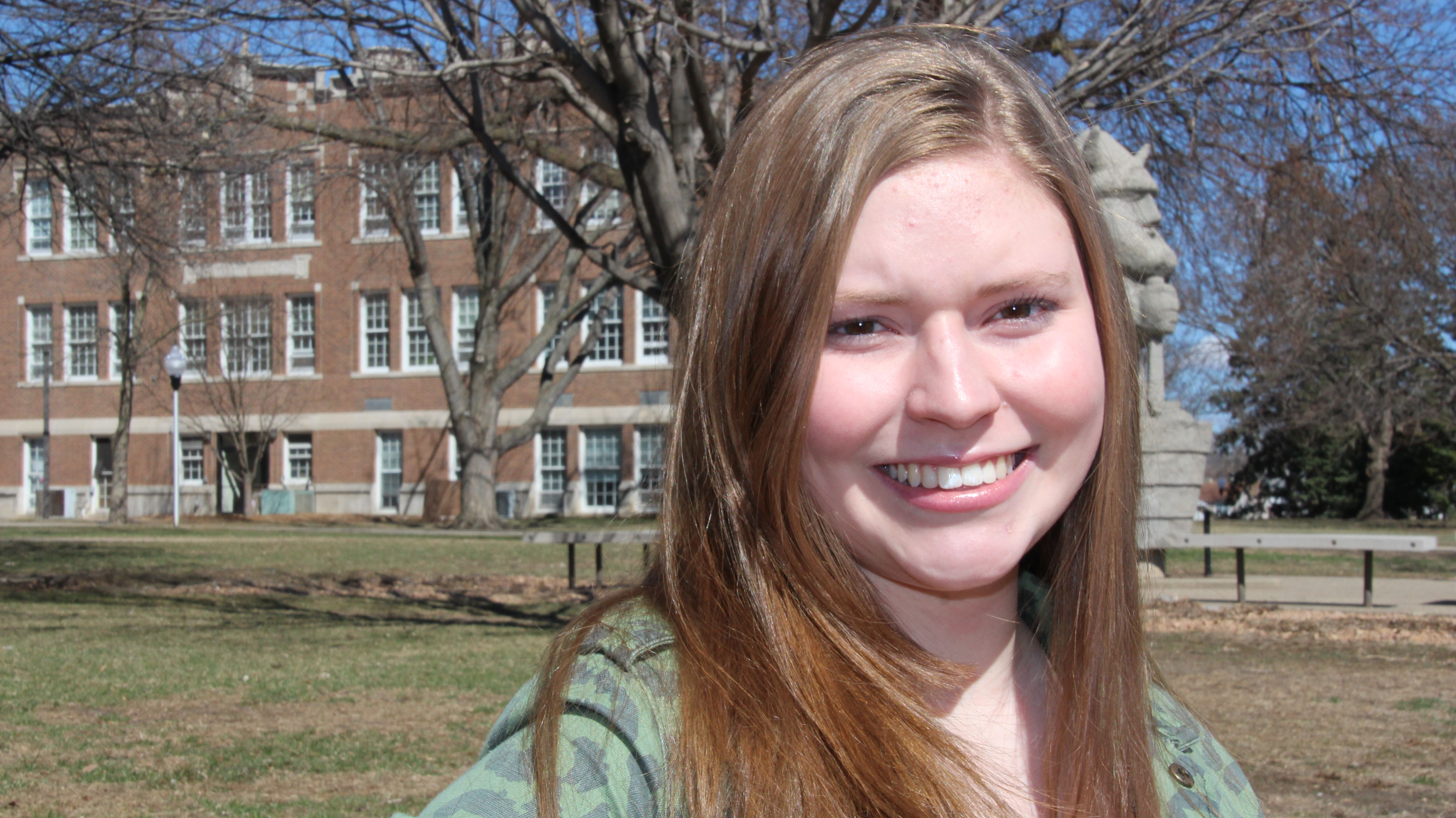 New York's famed Metropolitan Museum of Art is home to 2 million pieces of art covering nearly 5,000 years of history. It's widely considered the largest and most diverse museum in the Western Hemisphere. And it's where freshman Marit Lhotzky will spend her summer.
Senior Anh Ta's Prints Open at East Bank Gallery

Senior Anh Ta will exhibit her graphic design and intaglio prints at the East Bank Gallery, 401 E 8th Street, in Sioux Falls through the month of April. Anh's specialization is mezzotint, which she studied with Art Werger at Frogman's and Scott Parsons here at Augustana. Anh's starts her work with a coarsened plate of copper, spending 10-20 hours rocking with a mezzotint rocker until the plate prints , then she flattens areas by rubbing the surface of her plate to bring light to her image and allows her forms to emerge from the surrounding darkness. Her recent work results from her travels to Vietnam, Germany, France, and New York.
Professor Installs Stained Glass Windows in Colorado

Scott Parsons '87 created 16 stained glass windows at Derix Glasstudios in Germany for Our Lady of Loreto Parish in Foxfield, Colorado. The windows were blessed in a ceremony by Msr. Ed Buelt on March 9, 2014. See more at: damnfineart.com.
Noah's Art Shanty Project

Dave Greenlund '89 and his congregation at Peace Lutheran Church in Lauderdale, Minnesota, created an ark shanty which they set on White Bear Lake north of Minneapolis this month. The proejct is an artist driven temporary community of 20 shanties exploring the ways in which the relatively unregulated public space of the frozen lake can be used as a new and challenging artistic environment to expand notions of what art can be.
Aimée Fisher Named a 2014 Augustana Peace Scholar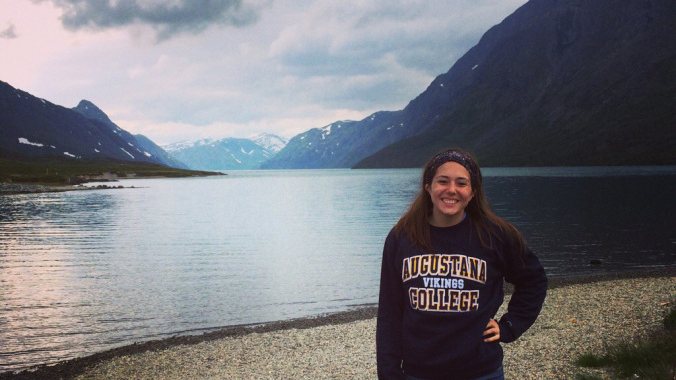 Aimée (pictured above, center) is an Art and Education double major. As a Peace Scholar, Aimée will receive a seven-week academic experience in Norway designed to deepen their understanding of the central issues and theories related to peace, justice, democracy and human rights. Aimée will study at the Nansen Dialogue Network in Lillehammer and at the University of Oslo International Summer School June 15 - Aug. 1. The Peace Scholars program is sponsored by a consortium of six colleges founded by Norwegian-American immigrants: Augustana College, Augsburg College, Concordia College (Moorhead), Luther College, Pacific Lutheran University and St. Olaf College. Two students from each of the participating colleges are selected as Peace Scholars each year.