Le Cercle Français
Le Cercle Français, the French club at Augustana College in Sioux Falls, South Dakota, sponsors semester events for students and members of the Sioux Falls community interested in French language and culture. The four officers of the club form Le Cabinet and meet once or twice each semester to plan activities. Any Augustana College student who is interested in French language or culture may participate in the club; students do not need to be French majors or minors to be a members of the club, to participate in any activity sponsored by the club, or to hold a positions as officers of the Cabinet. For more information on Le Cercle Français consult the club's constitution or contact the club's faculty advisor Dr. Scott Fish.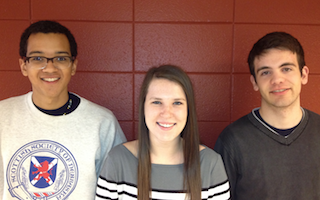 Le Cabinet 2013-2014
Officers of Le Cercle Français are (from left to right): Dillon Cathro (Secrétaire—fall), Claire Frost (Présidente) and Karl Lund (Secrétaire—spring).
Activities and Events
For information on the activities and events sponsored by the club this semester, visit the Department's Celebration of Cultures series calendar; most events are free and open to the public. Students are also invited to join our Cercle Français Facebook Page.