Recent News
| | | |
| --- | --- | --- |
| Discover what special events, films, student research presentations and guest speakers we're sponsoring by visiting our Celebration of Cultures series calendar. |   | Alumni, current and future French, German, Spanish and MFL majors and minors, as well as friends of the Department, are invited to join our Facebook Page. |
Six Students from Sioux Falls Visit Potsdam, Germany
Wednesday, January 21, 2015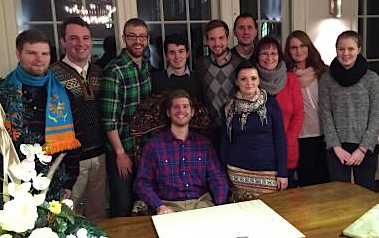 Six students from Potsdam's American Sister City Sioux Falls have been guests in Potsdam since January 5th. Christian Einertson, Creighton Gerber, Keegan Hecht, Phillip Elyea, Reid Rasmussen and Tom Gehring are studying German at Augustana College in Sioux Falls and are using their J-Term or January Interim to get to know their Sister City and improve their German language skills. They also have study projects to work on during their three week stay. Examples of their project topics include the Multicultural Architecture of Potsdam, topics regarding World War I and II, as well as a comparison of the supermarket chains Kaufland and HyVee.
All six of the students are housed with host families. The host families serve to share daily life and the area with the students in their free time. Dr. Sigrid Sommer, Director of the Department of Public Relations and Marketing for the City of Potsdam, explained, "Placing the students with host families is especially important to us. This is the only way that young people can really learn something about the culture and the way of life in another country. We are so pleased to have been able to find such fitting host families for the students." There were already three students from Augustana in Potsdam last January. One of them was Keegan Hecht who is thrilled to once again be in Potsdam. The future German and History teacher has had an internship experience here at the Protestant Hermannswerder Gymnasium Prep School. The six young men will be leaving again on January 26th. A couple of the them are combining their stay with a small trip through Germany. After their return, they will be telling their fellow students about their experiences in Potsdam.
The Sister Cities relationship between Potsdam and Sioux Falls will be celebrating its 25th anniversary this year. The partnership is of particular import because it was entered into before German reunification. Contacts and connections have been growing ever since. Particularly strong connections exist between the Humboldt Gymnasium Prep School and Lincoln High School, between the University of Potsdam and Augustana College, as well as the Brandenburg School for Medical and Social Work Professions and Augustana College. But there have also been many private connections that have resulted over the many years of the Sister City relationship. Proof of that are seven German-American marriages between citizens of Potsdam and Sioux Falls.
Translator's Note: The above Press Release was issued by the City of Potsdam and was posted on Potsdam's website.
Celebrating National French Week
Wednesday November 5-Saturday November 15
Members of Augie's Le Cercle Français (French Club) and Mu Alpha chapter of Pi Delta Phi, the National French Honor Society, celebrated National French Week sponsored by the American Association of Teachers of French (AATF). Students participated in French language conversation tables, tasted a variety of French cheeses before screening a French movie, and enjoyed a French crêpe party. The faculty advisor to both student groups is Dr. Scott Fish. The week's events, followed by photos, included:
Wednesday, November 5-Saturday, November 15

Photo Display: more than seventy-five photographs of famous Francophone writers, singers, scientists, politicians, actors, poets, philosophers, and more are displayed throughout the third-floor Humanities Center hallways (answer keys are also provided).

Wednesday, November 5

National Pi Delta Phi Day. Members of the Society throughout the U.S. are encouraged to wear their pins today to celebrate and to promote the French language and the many cultures and literatures of the French-speaking world.
Pause Café: French conversation table: 10:00-10:40 A.M. Humanities Center room 325, coffee provided.

Wednesday November 12

Pause Café: French conversation table: 10:00-10:40 A.M. Humanities Center room 325, coffee provided.
French cheese tasting, 6:00-6:30 P.M. Humanities room 320.
Free French film, La fille du puisatier (The Well-digger's Daughter) (2011), 6:30-8:30 P.M., Humanities Center room 320.

Saturday November 15

French crêpe party: students enrolled in French courses French majors and minors will enjoy homemade crêes with a variety of delicious fillings, 1:00-3:00 P.M. at the home of Dr. Fish.
MDFL Faculty Selected to Participate in Advanced Placement Reading Programs
Friday, June 20, 2014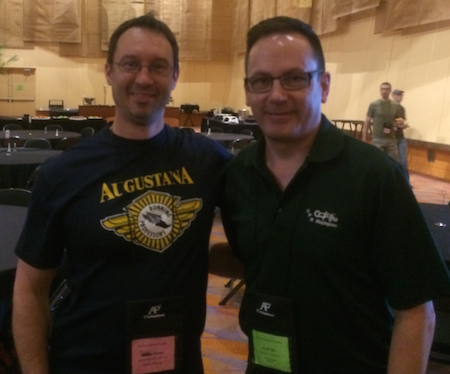 Dr. Scott Fish, Associate Professor (French) and Dr. Michael Rueter, Assistant Professor (Spanish) in the Department of Modern Foreign Languages were again selected to participate in the College Board's Annual Advanced Placement (AP) Reading in French and Spanish in Cincinnati Ohio. Each June, AP teachers and college faculty members from around the world gather in the United States to evaluate and score the free-response sections of the AP Exams. During the June 2014 scoring sessions, more than 12,500 AP Readers evaluate more than 4.2 million AP Exams.
AP Readers are high school and college educators who represent many of the world's leading academic institutions. The AP Reading is a unique forum in which an academic dialogue between educators is both fostered and encouraged. "The Reading draws upon the talents of some of the finest teachers and professors that the world has to offer," said Trevor Packer, Senior Vice President, AP and Instruction at the College Board. "It fosters professionalism, allows for the exchange of ideas, and strengthens the commitment to students and to teaching. We are very grateful for the contributions of talented educators like Drs. Fish and Rueter."
The Advanced Placement Program® (AP®) enables willing and academically prepared students to pursue college-level studies – with the opportunity to earn college credit, advanced placement or both – while still in high school. Through AP courses in 34 subjects, each culminating in a rigorous exam, students learn to analyze complex problems, construct solid arguments, and see many sides of an issue – skills that prepare them for college and beyond. Research indicates that students who score a 3 or higher on an AP Exam typically experience greater academic success in college and are more likely to earn a college degree than non-AP students.
Nine Inducted into French National Honor Society
Wednesday, May 14, 2014
p>Nine Augustana College students were inducted into the Mu Alpha chapter Pi Delta Phi, the French National Honor Society of college and university undergraduate and graduate students: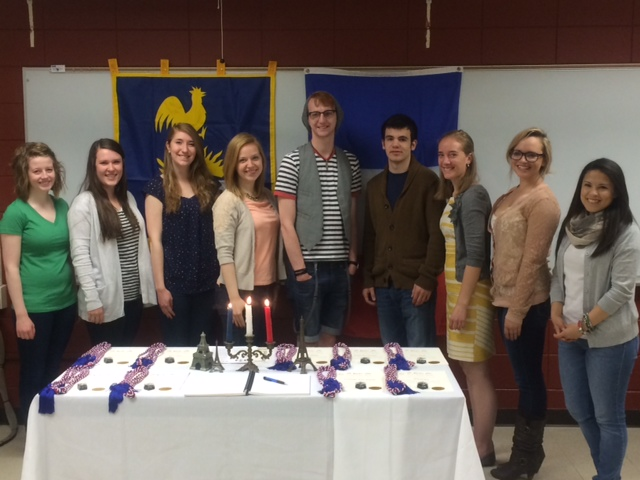 Claire Frost
Bailey Ketelsen
Monica Llaguno
Karl Lund
Austin Mielke
Melissa Soe
September Symens
Alexis Vana
Bianca Wilbur
Pi Delta Pi, established in 1906 at the University of California, Berkeley, is the oldest national academic society for a foreign language in the United States and currently has more that 375 chapters and 75,000 members. The purpose of the Society is to recognize outstanding scholarship in the French language and Francophone literature, to increase the knowledge and appreciation of Americans for the cultural contributions of the French-speaking world, and to stimulate and to encourage French and Francophone cultural activities. Augustana's Mu Alpha chapter was established in 1997 and is the only chapter of the Society in South Dakota. The faculty advisor is Dr. Scott Fish.
MDFL Students Present Research
Saturday, Apr. 12, 2014
Language majors will present their research at this year's Augustana College Symposium on Saturday April 12, 2014, which takes place from 12:00-4:00 P.M. in the Madsen Center.
Further information and presentation times are available on the Symposium page.
Marit Lhotzky, "Die Manessische Liederhandschrift"
Research Director: Dr. Stephan Lhotzky
Austin Mielke, "Denglisch: gefährlich oder einfach normal?"
Research Director: Dr. Stephan Lhotzky