French Major Receives Sophomore Honors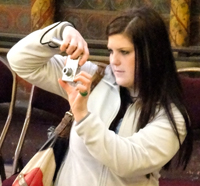 Chelsey Viger at the Sainte-Chapelle in Paris.
French Major Receives Sophomore Honors
Friday, July 2, 2010
Chelsey Viger, along with three other students, will receive Augustana College's Sophomore Honors Award on September 8 during the Opening Convocation for the 2010-11 academic year. Viger, who is the daughter of Patty Nikkila and Shane Viger, is majoring in French and psychology.
The Sophomore Honors Award recognizes students who have demonstrated outstanding achievement at an early stage of their college career. These honors are conferred on four representatives of the preceding sophomore class, who have been selected by the faculty on the basis of scholarship, character, personal traits, and other evidences of achievement.