Akeda Conference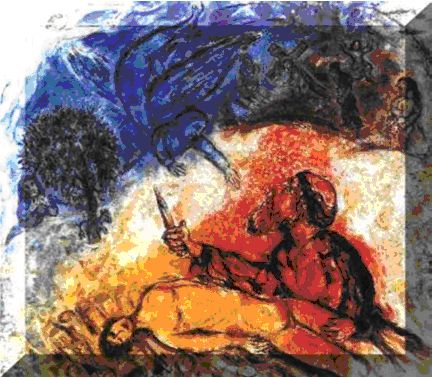 Augustana College presents:
"The Binding of Isaac"
(Genesis 22)
April 13-15, 2010
The story of Abraham and his sacrificial offering of Isaac,
from Jewish, Christian & Muslim perspectives.
 

Presentations and Panel Discussion held in
Kresge Recital Hall (Humanities Building)
April 13, Reception 4:00 p.m. in CVA Atrium
(Image by Marc Chagall, "The Binding")
For more information, contact Dr. Murray Haar, 605.274.5484

Dr. Gary Anderson
Professor of Old Testament/Hebrew Bible, Dept. of Theology, Notre Dame University.
Dr. Anderson's interests concern the religion and literature of the Old Testament/Hebrew Bible and the early reception of those books in early Judaism and Christianity. Of particular interest has been the book of Leviticus, dealing with matters of Temple and priesthood in general. His two most recent books are Sin: A History (Yale University Press, 2009) and The Genesis of Perfection: Adam and Eve in Jewish and Christian Imagination (Westminster John Knox, 2001).

Dr. Danna Nolan Fewell
Professor of Hebrew Bible, Drew Theological School and the Casperson School of Graduate Studies. Madison, NJ.
Dr. Fewell's most recent published works include: The Children of Israel: Reading the Bible for the Sake of Our Children ; Icon of Loss: The Haunting Child of Samuel Bak; and Representing the Irreparable: The Shoah, the Bible, and the Art of Samuel Bak.

Dr. Terence Fretheim
Elva B. Lovell Professor of Old Testament, Luther Seminary, St. Paul, Minnesota.
Dr. Fretheim, graduate of Luther College, Decorah, Iowa (B.A., 1956), earned the M.Div. degree from Luther Seminary in 1960 and the Th.D. degree from Princeton Seminary in 1967. He has also studied at the University of Durham, England, the University of Minnesota, the University of Heidelberg in Germany, Oxford University in England, and the University of Chicago. Dr. Fretheim has published numerous articles and books. More recent titles include: The Pentateuch Proclamation 6; The Bible as Word of God in a Postmodern Era; First and Second Kings; About the Bible: Short Answers to Big Questions; In God's Image: A Study of Genesis; A Theological Introduction to the Old Testament, with B. Birch, W. Brueggemann, and D. Petersen; and Jeremiah: A Commentary; God and World in the Old Testament: A Relational Theology of Creation; Hope in God in Times of Suffering (with Faith Fretheim); and Abraham: Journeys of Family and Faith.

Dr. Jon D. Levenson
Albert A. List Professor of Jewish Studies, Harvard Divinty School
Dr. Levenson began teaching at Harvard in 1988, having previously taught at the University of Chicago and at Wellesley College. His work concentrates on the interpretation of the Hebrew Bible, including its reinterpretations in the "rewritten Bible" of Second Temple Judaism and rabbinic midrash. He also teaches a seminar in the use of medieval Jewish commentaries for purposes of modern biblical exegesis. He has a strong interest in the philosophical and theological issues involved in biblical studies, especially the relationship of premodern modes of interpretation to modern historical criticism. Much of Professor Levenson's work centers on the relationship of Judaism and Christianity, both in antiquity and in modernity, and he has long been active in Jewish-Christian dialogue. His interests and courses in Jewish theology include the modern period. His book Resurrection and the Restoration of Israel: The Ultimate Victory of the God of Life (Yale University Press, 2006) won a National Jewish Book Award and the Biblical Archaeology Society Publication Award in the category of Best Book Relating to the Hebrew Bible published in 2005 or 2006. His most recent book is Resurrection: The Power of God for Christians and Jews (Yale University Press, 2008), which he wrote with Kevin Madigan of HDS. In all his work, Professor Levenson's emphasis falls on the close reading of texts for purposes of literary and theological understanding.

Dr. Walid Saleh
Associate Professor, Dept. and Centre for the Study of Religion, University of Toronto.
Dr. Saleh received his B.A. in Arabic Language and Literature from the American University in Beirut. His interest in these two topics still animates his research, and he is a close follower of modern Arabic poetry. He then went on to receive both his M.A. and Ph.D in Islamic Studies from Yale University. In addition to his doctoral studies at Yale University, where he studied the Qur'an and its exegesis in medieval Islamic civilization, Dr. Saleh has also studied at Hamburg University. His first teaching appointment was at Middlebury College.
He is a specialist on the Qur'an, the history of its interpretation (tafsir), the Bible in Islamic imagination, and Islamic intellectual history. He is the author of In Defense of the Bible (Brill, 2008), a critical edition and an introduction to a late medieval treatise on the status of the Bible in Islam. His first book was The Formation of the Classical Tafsir Tradition (Brill, 2004).
 
Tuesday, April 13, 2010

10:00 a.m.
Opening Keynote Address:
Jon Levenson

11:00 a.m.
Responder: Terry Fretheim
General Discussion

12:00 p.m.
Participants Lunch with
Department Faculty

2:00 p.m.
Presenter: Gary Anderson

3:00 p.m.
Responder: Walid Saleh
General Discussion

3:30 p.m.
Concert:
Lodine/Svenningson performance of "Abraham and Isaac"

4:00 p.m.
Reception
(CVA Atrium)

5:00 p.m.
Dinner Break

7:00 p.m.
Presenter: Danna Fewell

8:00 p.m.
Responder: Gary Anderson
General Discussion

Wednesday, April 14, 2010

8:30 a.m.
The Binding Of Isaac -
An interpretation by the Provoking the
Gospel Storytelling Project.

Responder: Murray Haar
General Discussion

10:00 a.m.
Chapel Service
Richard Bowman:
The Akeda in Old Testament Context

12:00 p.m.
Lunch with the Crossroads Conference Pastors - Chris Croghan, Richard Bowman: Luther & the Akeda

2:00 p.m.
Presenter: Walid Saleh

3:00 p.m.
Responder: Danna Fewell
General Discussion

5:30 p.m.
Dinner Break

7:00 p.m.
Presenter: Terry Fretheim

8:00 p.m.
Responder: Jon Levenson
General Discussion
Thursday, April 15, 2010
10:00 a.m.
Closing Panel Discussion
What I Learned & Where Do We Go From Here?
Presentations and Panel Discussion will be held in the Kresge Recital Hall (Humanities Building)

April 13, Reception 4:00 p.m. in CVA Atrium
Augustana College is located in the south central part of the city of Sioux Falls, S.D.,
approximately 10 minutes from the Sioux Falls airport. Maps and Directions
(To Augustana Campus—Humanities Center)
From Interstate 29:
Exit east on 41st Street.(Exit 77)
Take 41st Street to Kiwanis Ave. (1 mile).
Turn left on Kiwanis Ave. & drive north to 33rd Street (.5 mile).
Turn right on 33rd and drive east to Grange Ave. (1.2 miles).
Turn left on Grange Ave.
Turn right into Commons Circle entrance (just past tennis courts).
Humanities Center is on the right & the visitor lot is on the left.
From Interstate 229:
Exit north on Minnesota Avenue. (Exit 3)
Take Minnesota Avenue to 33rd Street (1 mile).
Turn left on 33rd and drive west (five blocks) to Grange Ave.
Turn right on Grange Ave.
Turn right into Commons Circle entrance (just past tennis courts).
Humanities Center is on the right & the visitor lot is on the left.
Religion Department Hosts


Dr. Richard Bowman
Professor of Religion, Stanley L. Olsen Chair of Moral Values
Ph.D., Union Theological Seminary


Dr. Chris Croghan
Assistant Professor of Religion, Luther House of Study
Ph.D, Luther Seminary

 

Dr. Murray Haar
Professor of Religion and Jewish Studies, Department Chair.
Ph.D., Union Theological Seminary

Dr. Laurie Jungling
Assistant Professor of Religion and Ethics
Ph.D., Graduate Theological Union


Dr. Kirsten Mebust
Assistant Professor of Religion
Ph.D., Union Theological Seminary

Dr. Ann Pederson
Professor of Religion and Philosophy
Th.D., Lutheran School of Theology

Dr. Richard Swanson
Professor of Religion & Classics
Ph.D., Luther Seminary
Related files
SD-pastors-brochure.pdf