Hands-On Learning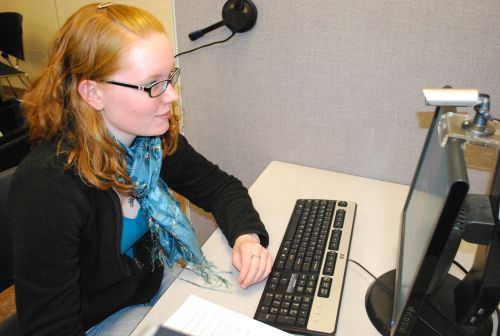 ASL Lab:
Augustana College has a state-of-the-art computer lab that is used by all ASL students and Sign Language Interpreting majors.
Sign Language Interpreting courses are offered in this dynamic lab where students have an opportunity to hone their skills. The SANS Sony Soloist system allows for convenient click-of-a-button completion of assignments. This interactive technology suite, designed specifically for ASL and Interpreter Training applications, includes the Sony Virtuoso ASL Instructor Control Software and the Sony Soloist® ASL Digital Comparative Recorder Software for each student. Both components include high quality video cameras providing clear visual communication between the instructor and all of the students, a selected student, or several students working together.
Our lab is staffed 40 hours per week with Deaf individuals ready and waiting to assist you with any homework concerns or questions. The ASL Lab is open convenient student-friendly hours evenings and weekends in order to be flexible for your schedule.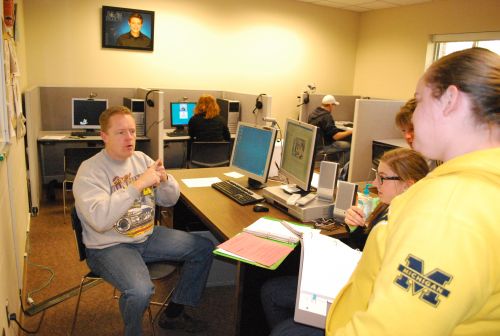 Mentoring:
Our Sign Language Interpreting majors begin working one-on-one with an ASL mentor during ASL 210 class and continue throughout their program. Most students meet with their mentor once a week year-round. This additional personal attention enhances the learning capabilities of all of our students.
The South Dakota Department of Human Services supports mentoring in order to promote certification and to support the advancement of interpreters to the highest level possible in order to assure quality interpreting services for individuals who are Deaf and hard of hearing.
Service-Learning:
Beginning junior year, students have an opportunity to bring their new founded skills out to the community to interpret in front of a live audience of willing deaf participants. We work very closely with the local Deaf community to provide opportunities for our students to work in live interpreted situations. These activities range anywhere from Boy Scout meetings and churches to Pampered Chef parties. The Deaf community in Sioux Falls, SD has really taken on the responsibility to assist Augustana in creating an exceptional training program.
"Augustana College was an amazing experience for me and I am extremely grateful for the wonderful professors and classmates that I met while I was there. The professors at Augustana are very encouraging, supportive and always had faith in us. The professors are passionate about what they teach and encourage students to work hard to become successful." - Nicki Hutchinson, Class of 2012