Farsighted on Healthcare Equality
Cataract surgery takes about seven minutes; yet, cataracts are the No. 1 cause of treatable blindness worldwide. Dr. John Berdahl '99 is working to raise awareness about blindness and the need for better healthcare delivery, research and quality healthcare around the world.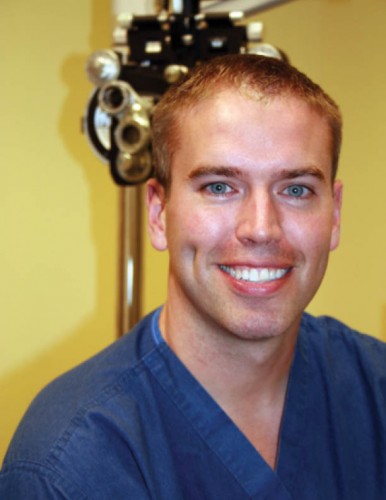 In 2004, Dr. John Berdahl, class of 1999, spent time performing eye care procedures in Myanmar (Burma) – a country in Southeast Asia that's home to more than 58 million people and one of the worst health care systems in the world, according to the World Health Organization. The experience, he says, was unforgettable.
"We took the cataract out of people who had been blind for 10 years and we got to watch them see their spouse for the first time in a decade. We got to watch them see themselves in the mirror. Grandparents saw grandchildren they didn't even recognize."
Cataract surgery, Berdahl says, takes about seven minutes yet, cataracts are the No. 1 cause of treatable blindness worldwide.
"We're losing the battle [in third world countries]. We have the solution … it's just a matter of implementing it."
Berdahl, an ophthalmologist for Vance Thompson Vision in Sioux Falls, has spoken often as a way to raise awareness about blindness around the world and the need for better healthcare delivery, research and quality healthcare worldwide."It takes someone else to care for a blind person. In seven minutes, we can free two people of blindness. We can free them from not being productive in society."
"How do we reconcile the quality of care we can provide with areas of the world where there is no care? In Sioux Falls, we have access to exceptional healthcare. In other areas of the world, it's the exact opposite. In order to qualify for cataract surgery in Burma, you basically had to be able to say, 'I can't even see the Big E on the eye chart.' You had to be functionally blind."
Berdahl specializes in advanced cataract, corneal and glaucoma surgery, in addition to refractive surgery to correct nearsightedness, farsightedness and astigmatism. He earned his medical doctorate, graduating with honors from Mayo Medical School in Rochester, Minn., and finished his internship at the Mayo Clinic in Scottsdale, Ariz. He completed ophthalmology residency at Duke University where his published work, research, teaching and care of patients brought him many honors including best resident and national recognition as first place winner of the Resident Writers Award.
Berdahl pursued additional advanced surgical training at the most coveted cornea and glaucoma fellowship in the country at Minnesota Eye Consultants. As a fellow he received the Claes Dohlman Award from Harvard University, which is given to the top cornea fellow in the country.
Originally from Hills, Minn., Berdahl taught and coached at Hills-Beaver Creek prior to entering medical school.
"I loved teaching. I loved the idea that you could challenge someone to be better than they thought they were. I loved it when students came up with an original question – when they applied critical thinking to their outside-the-box mentality in order to solve a problem."
He remembers his time as a student at Augustana fondly.
"Augustana was a great place to serve as a launch pad for my career. And, to gain these special skills and bring them back to the community that helped raise me – that's really special," he said.
He has published numerous book chapters and peer-reviewed articles and his extensive research has been presented nationally and internationally. Recently, his research has brought him into consultation with NASA to combat eye disease during extended space flight. His commitment to those in need is demonstrated by his leadership role in EyeCare America (which provides free eye care to the underserved) and the numerous surgical mission trips he continues to participate in worldwide.