Frontiers in Science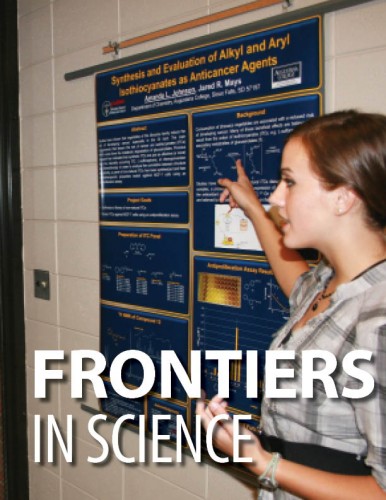 Last summer, 69 Augustana students conducted scientific and biomedical research and/or completed internships or volunteer positions at facilities throughout the U.S. as part of the College's Summer Research Program, an initiative that places undergraduates in the field at laboratories, hospitals and study tanks throughout the U.S. They presented their findings this fall during Augustana's annual "Undergraduate Summer Research" poster presentations.
Senior chemistry major Joseph Keppen, a native of Sioux Falls, presented his summer research entitled, "Synthesis of a DiArETE Chemosensing Oligomer." He conducted his studies and experiments on campus, but worked in conjunction with researchers at the State University of New York. Dr. Jetty Duffy-Matzner, associate professor of organic chemistry, served as his mentor.
In describing the practical application of his work, Keppen said the research may one day lead to the ability to detect metals in the environment and could support efforts to prevent or reduce environmental pollution.
Soon, Augustana students will have a new facility in which to conduct research.
In September, the College announced plans to build a new, state-of-the-art science facility following the largest gift in College history.
A $20 million challenge gift from Sanford Health, in conjunction with commitments from the Momentum Augustana Campaign, the most aggressive fundraising effort in the College's 152-year history, will launch a new $30 million science facility featuring eco-friendly, modern classrooms and laboratories for basic and advanced courses in the natural sciences, along with flexible research laboratories to accommodate growing student-faculty research initiatives.
The new building will be named in honor of Dr. Sven Froiland, professor of biology from 1946-1987 and a man many consider to be among the iconic pioneers of scientific research during his four decades of service to Augustana.
The new facility represents the first phase of the project. The second phase involves a $10 million renovation of the Gilbert Science Center.
"The future of science at Augustana begins today," said Rob Oliver, president. "This transformational gift will enable us to achieve our vision of becoming a leading institution for scientific and biomedical exploration and discovery and will pave the way for our undergraduate research efforts to grow and thrive."
News of the project comes at a critical time for Augustana. Students who are pursuing majors within the Natural Sciences have been steadily on the rise. For the 2011-2012 academic year, the College reported a 42 percent increase in biology majors from five years prior; a 51 percent increase in chemistry majors; and a 28 percent increase in physics majors.
"The future of science at Augustana begins today."

– Rob Oliver, President
Of the students enrolled during the 2011- 2012 academic year, roughly 40 percent identified themselves as natural science majors, most of whom will pursue graduate and professional school training upon their graduation.
At a recent meeting, the Augustana Board of Trustees voted unanimously to move forward on the project.
"Now is the time. This endeavor paves the way for our strong programs to grow stronger and for our already extraordinary student outcomes to advance to new levels," said Board Chair John Thomas. "This project will allow Augustana to combine the best of the liberal arts with the best of scientific research and discovery to create an even better learning environment for generations to come, particularly the doctors, nurses, teachers, engineers and scientists who will lead our world tomorrow."
The existing 85,550-square foot Gilbert Science Center is home to the Natural Science Division that includes the departments of biology, chemistry, physics, nursing, computer science and mathematics. The building was named in honor of Gerhard A. Gilbert, a South Dakota-based businessman who served as mayor of Watertown, S.D., from 1948-1954.
With a new science facility, College officials say, Augustana has the potential to send even more graduates on to master's and Ph.D. programs within the sciences, as well as to top-ranking medical schools. Over the last three years alone, Augustana graduates have enrolled at Duke, Princeton, Kansas, the University of South Dakota School of Medicine, South Dakota State University, Yale, Harvard, North Carolina, Mayo and Washington University, among others.
Above: Amanda Johnson presents findings from her summer research during the annual poster presentations held earlier this fall inside the Gilbert Science Center.